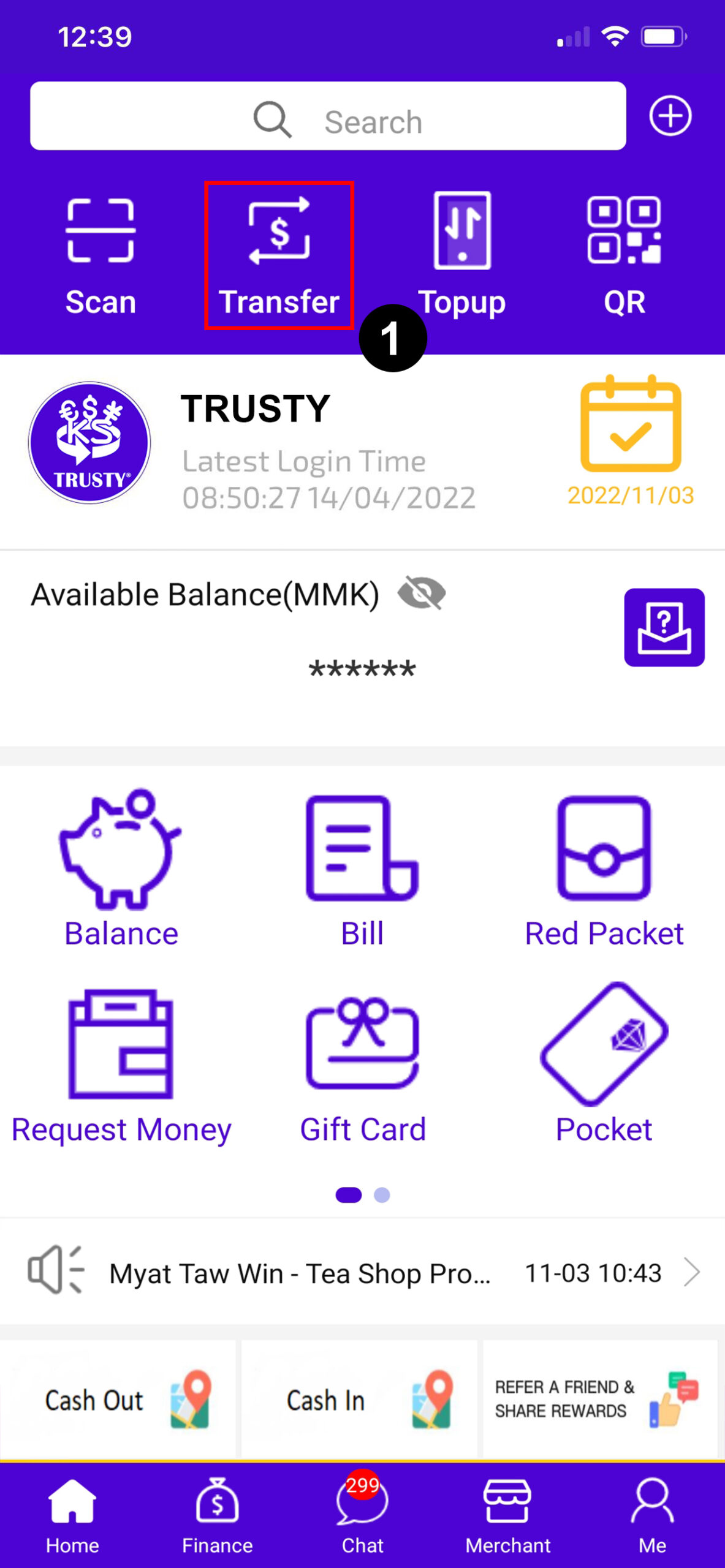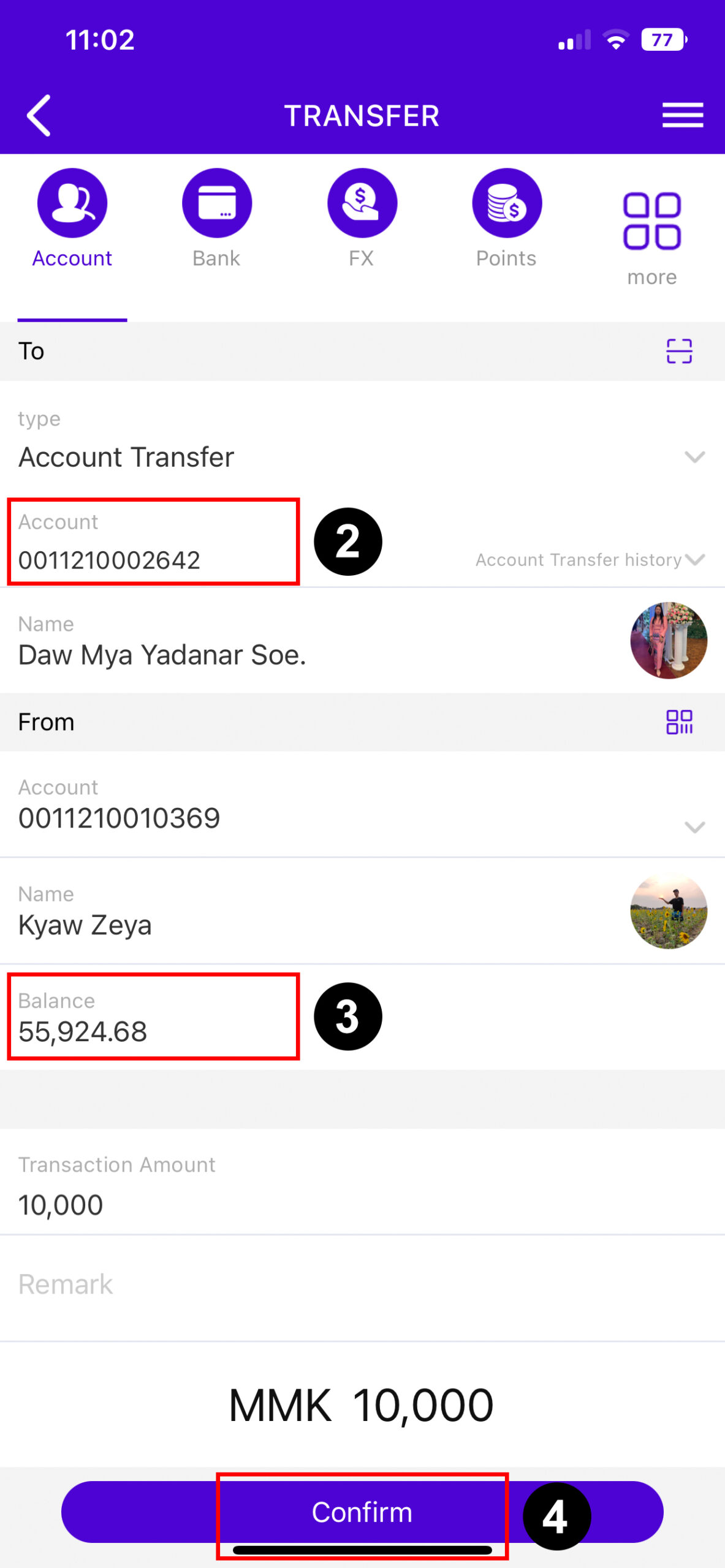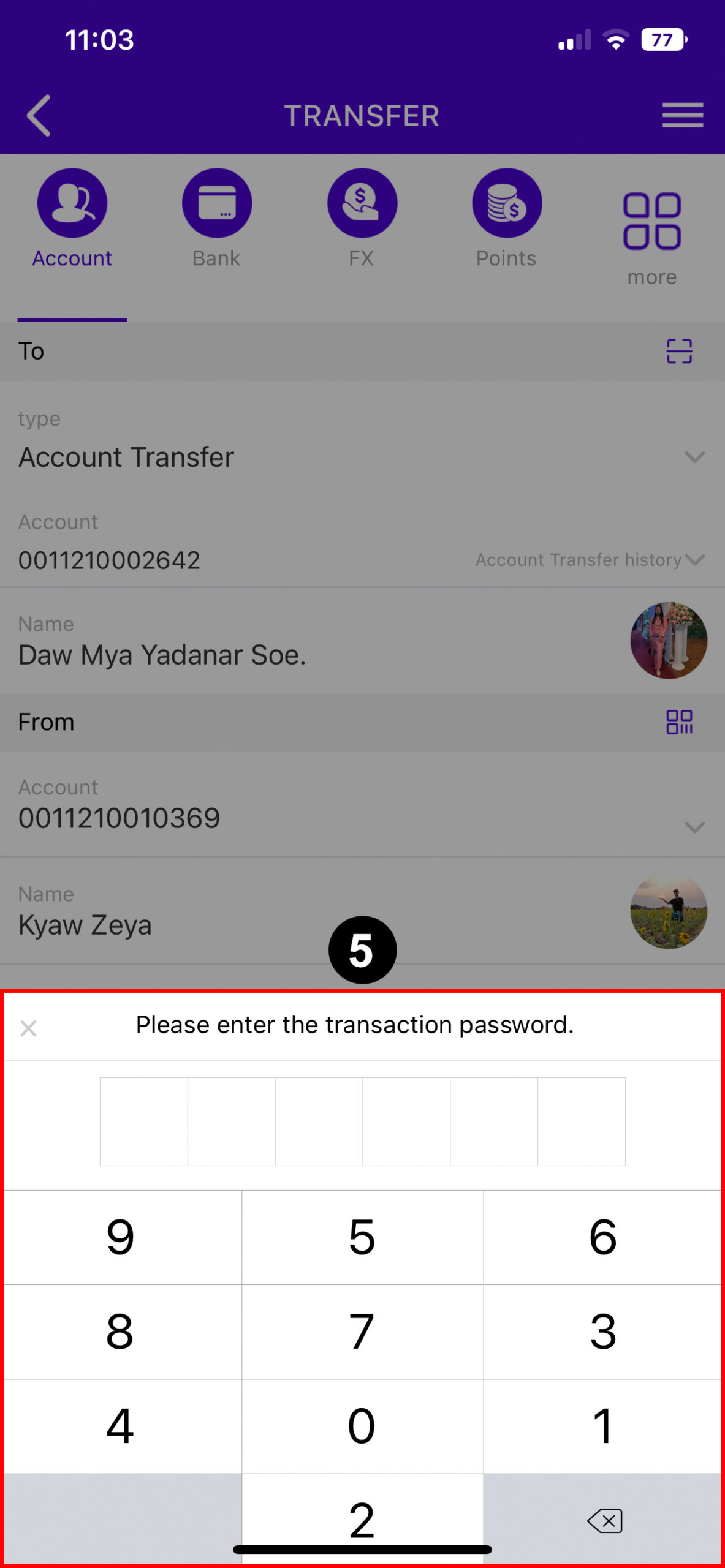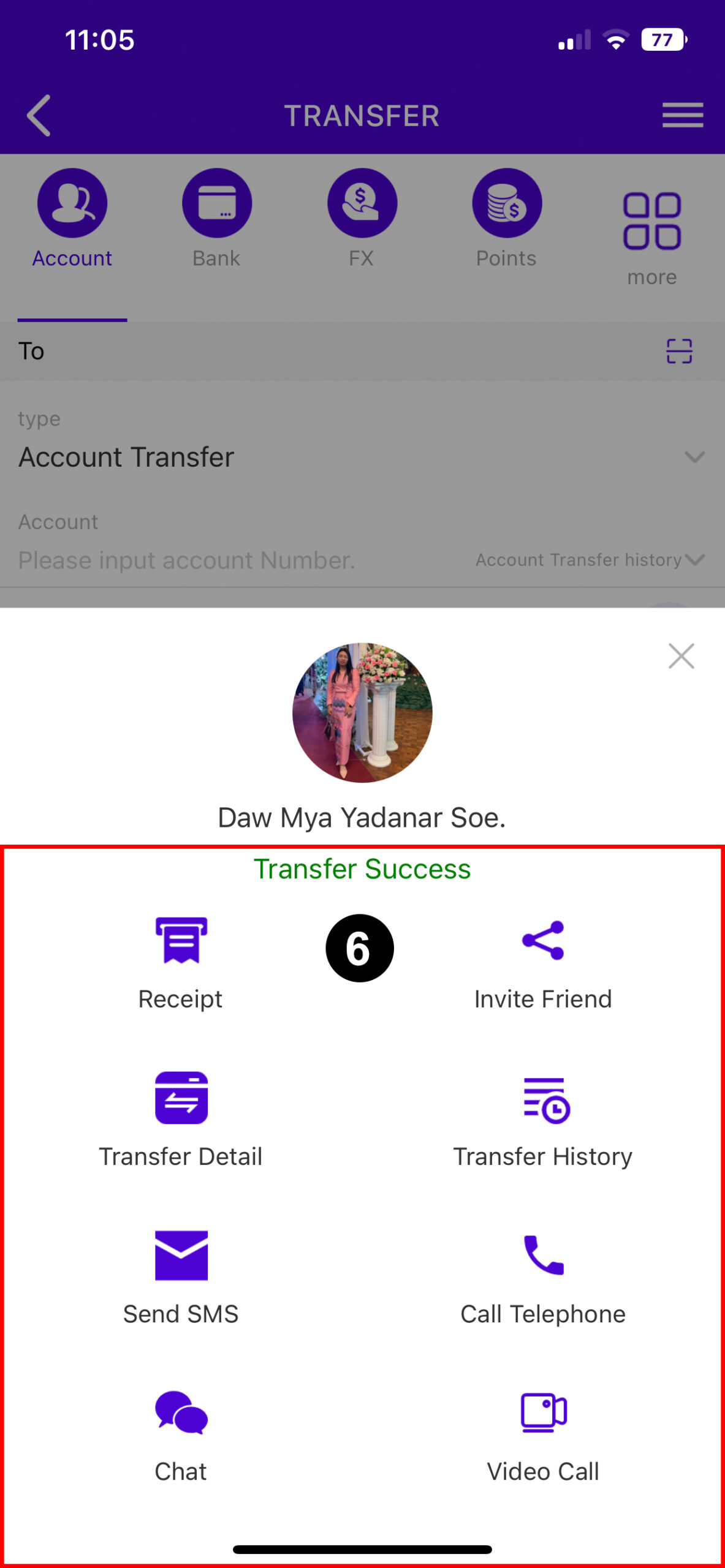 Close


Transfer
You can easily transfer money from TRUSTY to TRUSTY Account using "Transfer" Function. It is more convenient to transfer money to any place in Myanmar at any time with the Internet. Every transaction can be checked and the money transfer fee is free.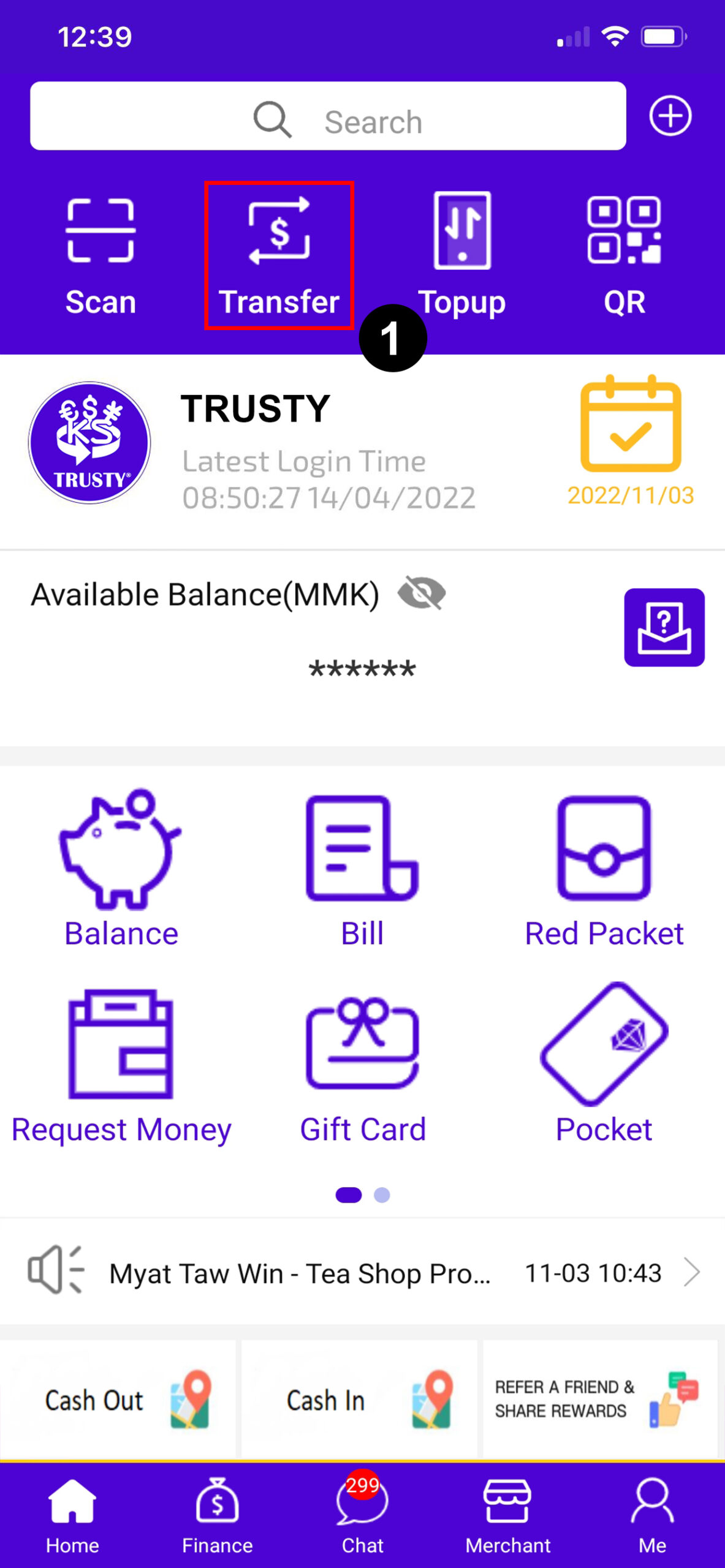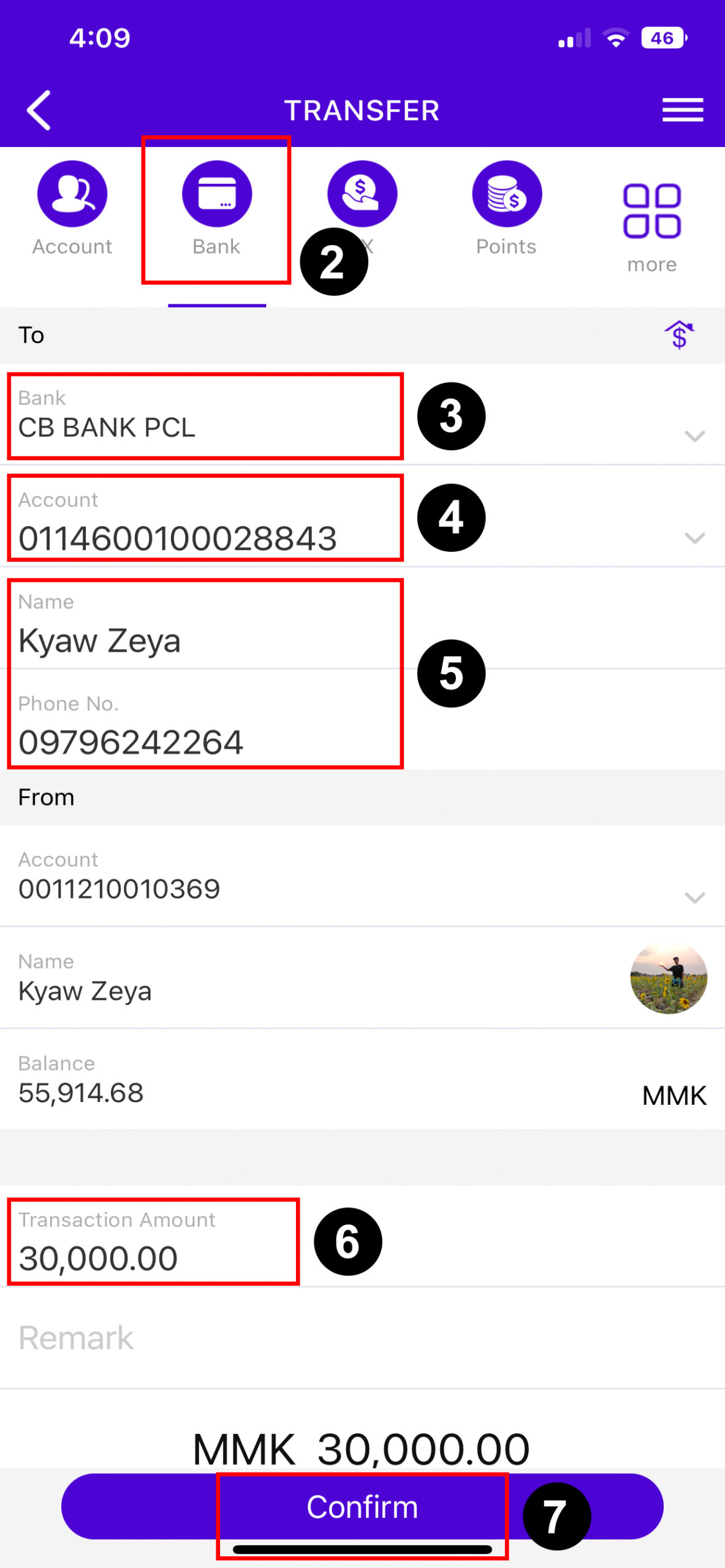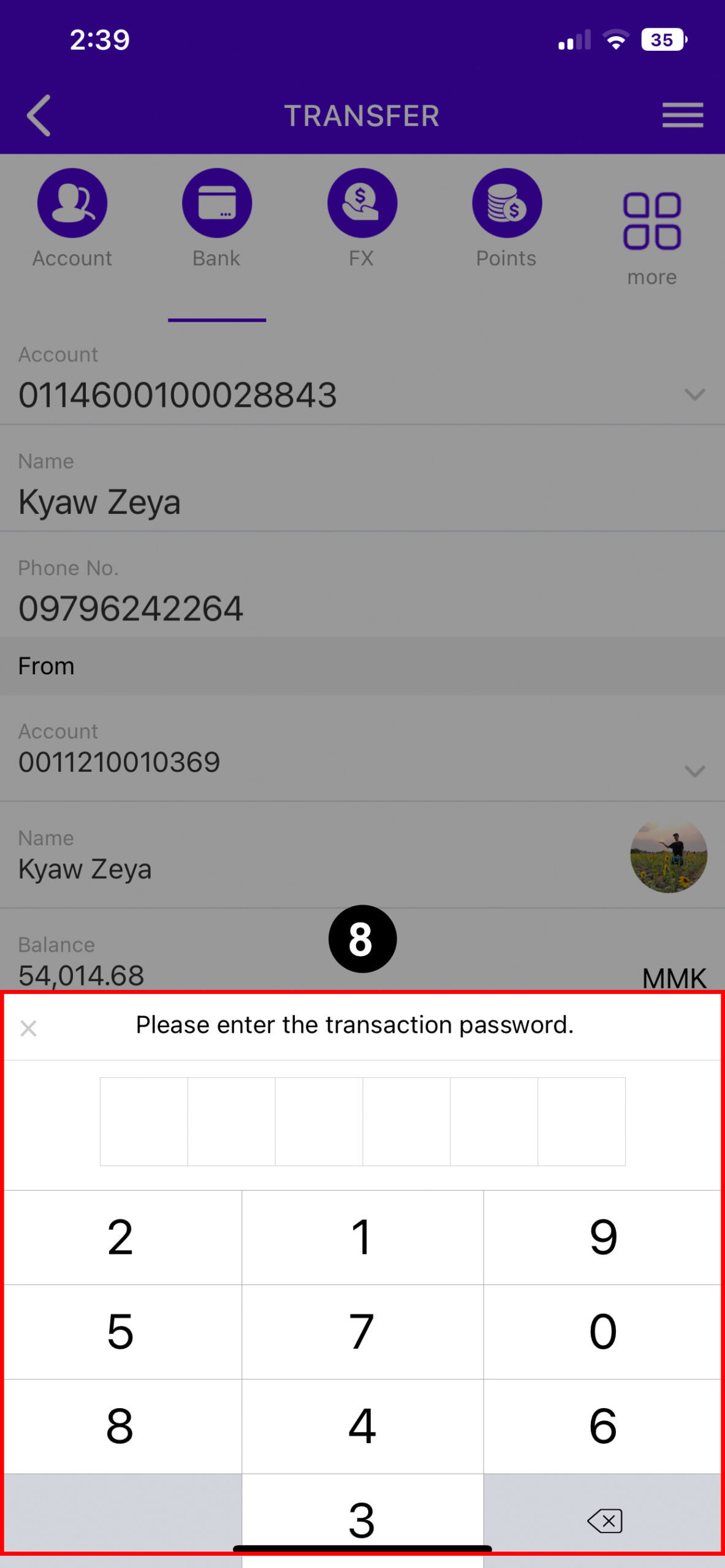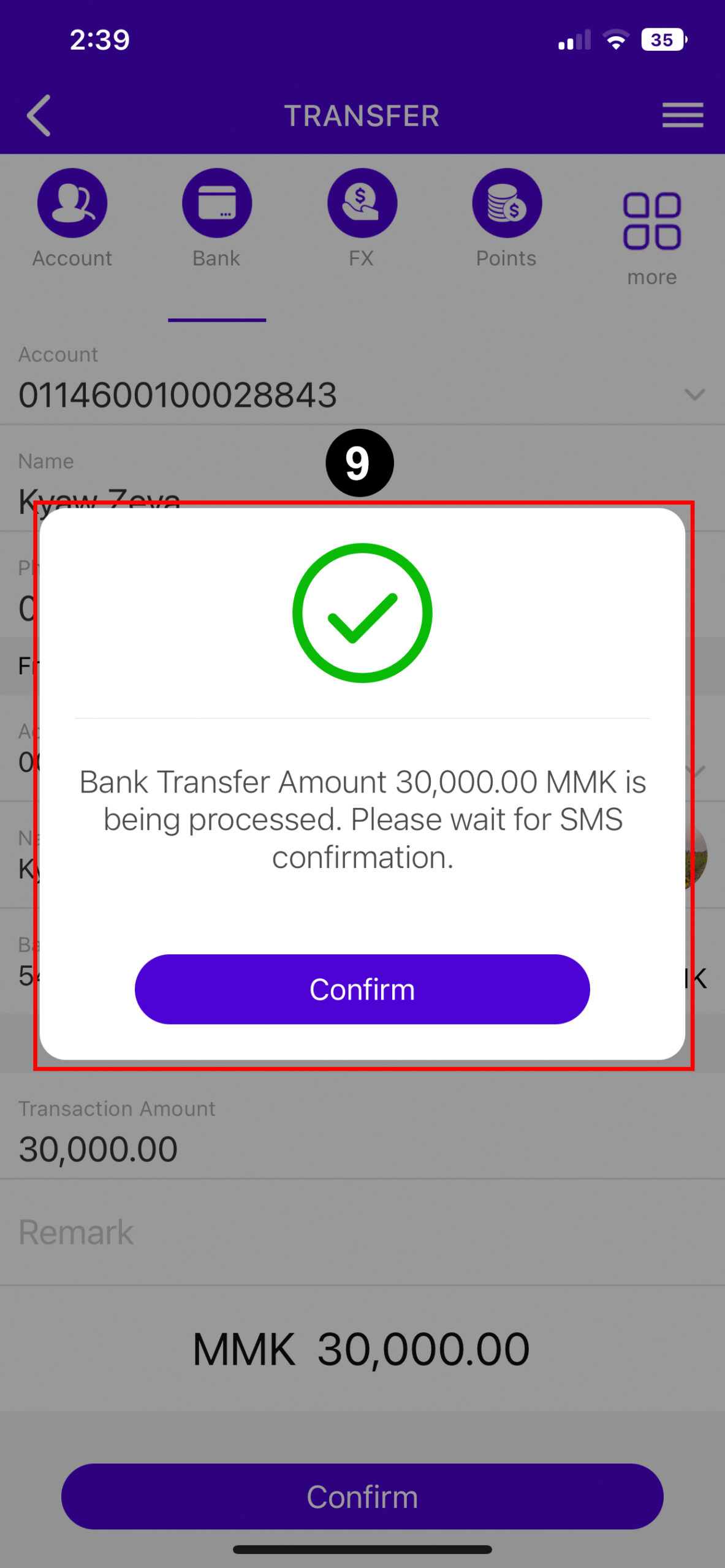 Close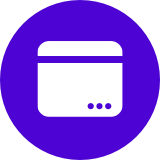 Bank Transfer
Using TRUSTY's Bank transfer function, you can transfer money directly from TRUSTY to local banks. Without having to visit to a bank, you can transfer money in a short time and transactions can also be easily checked. The following banks allow you to transfer from TRUSTY.
KBZ Bank
CB Bank
Yoma Bank
Ayeyarwady Bank
UAB Bank
MAB Bank
AGD Bank
Shwe Bank
A Bank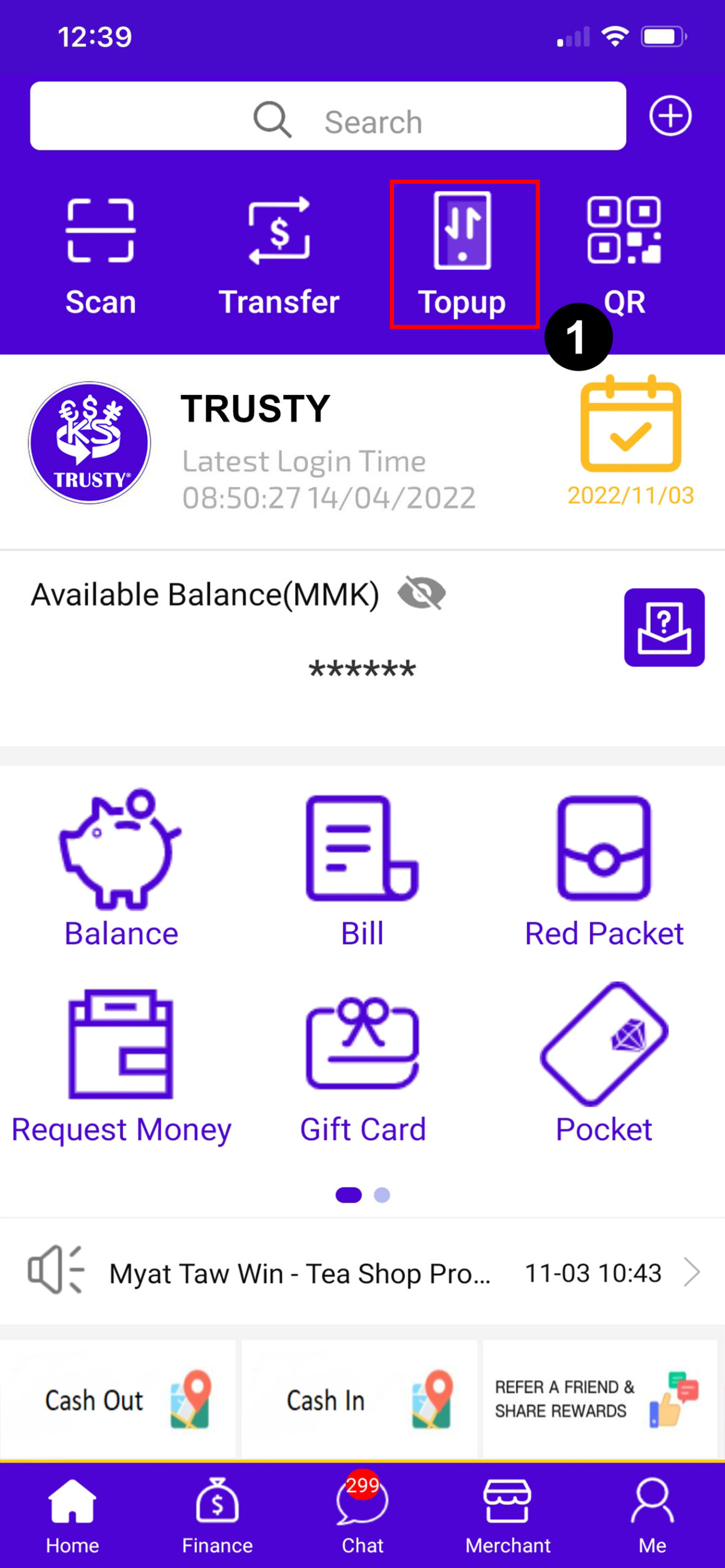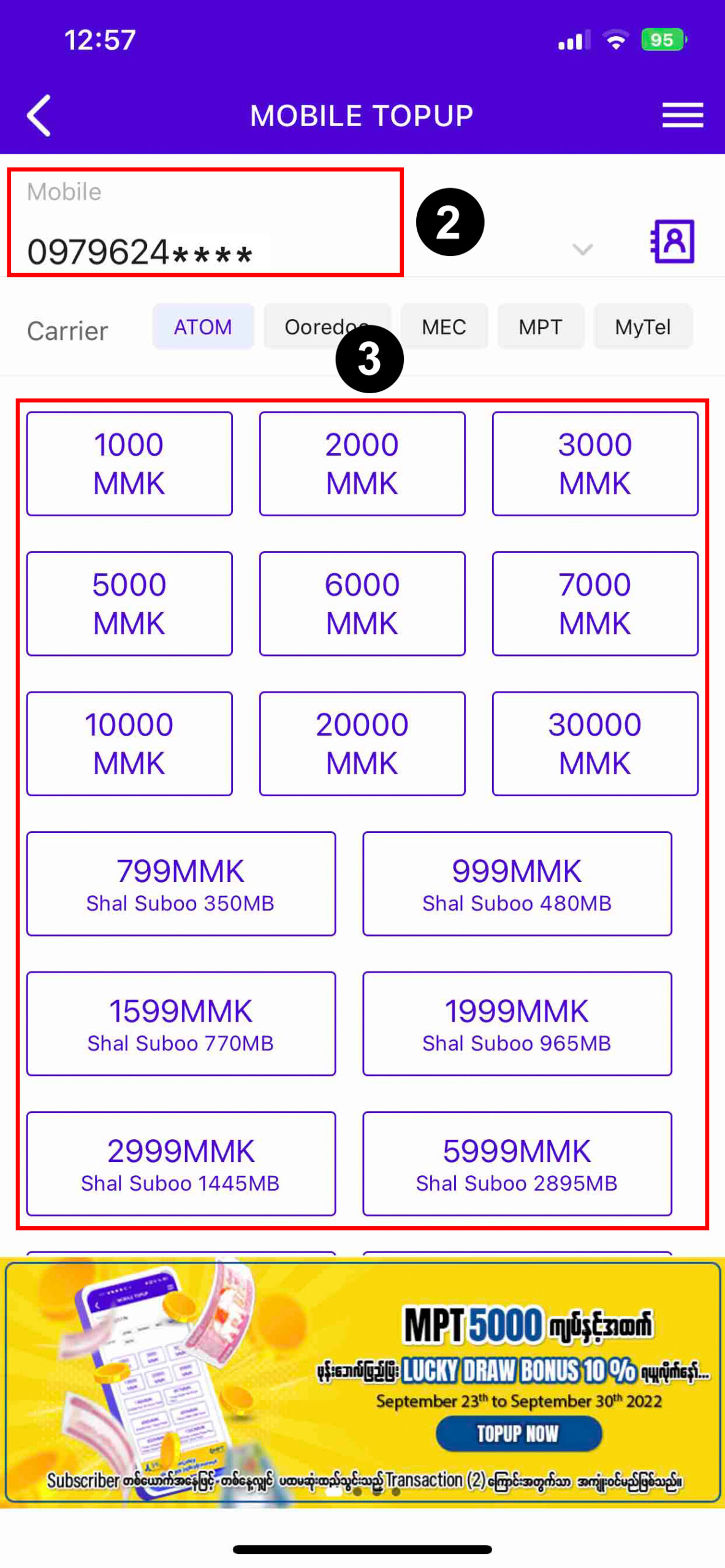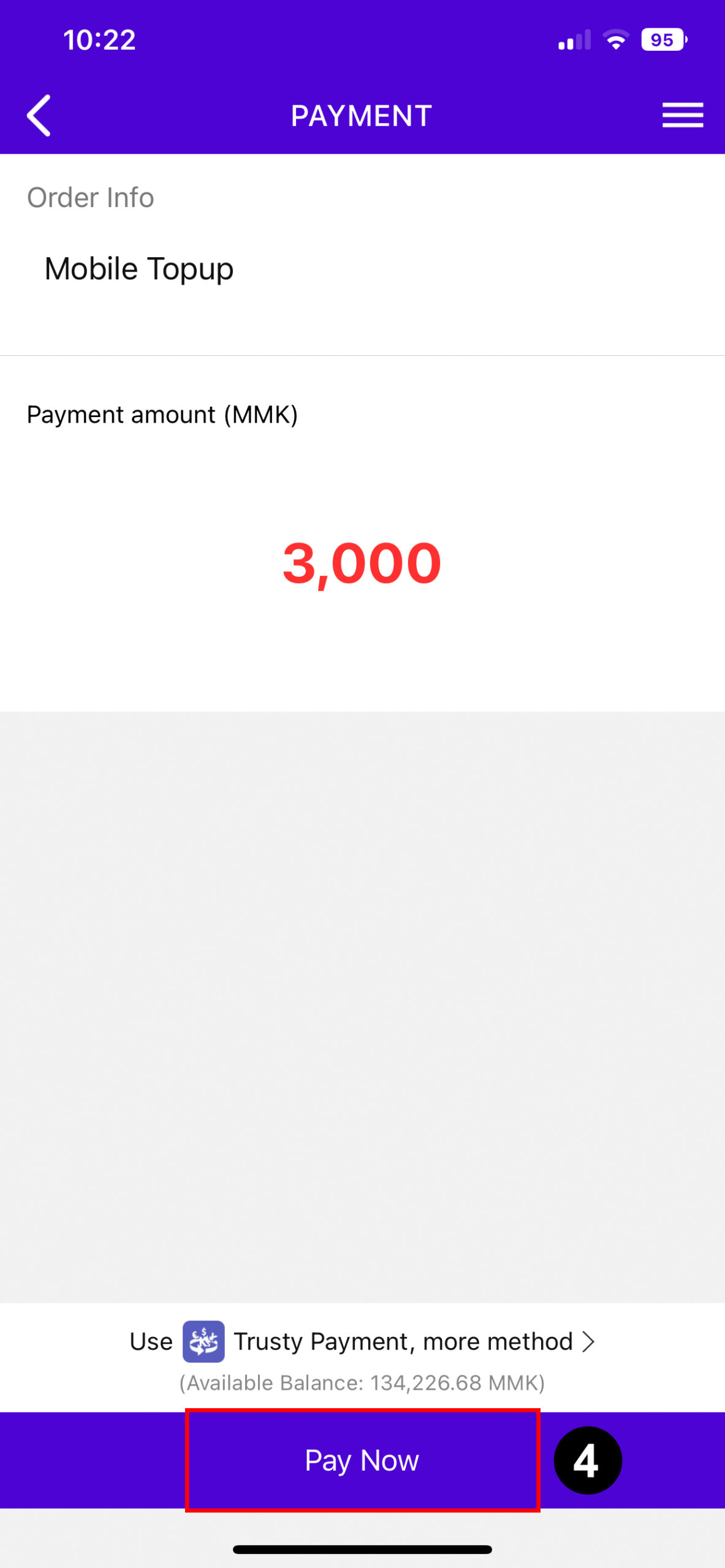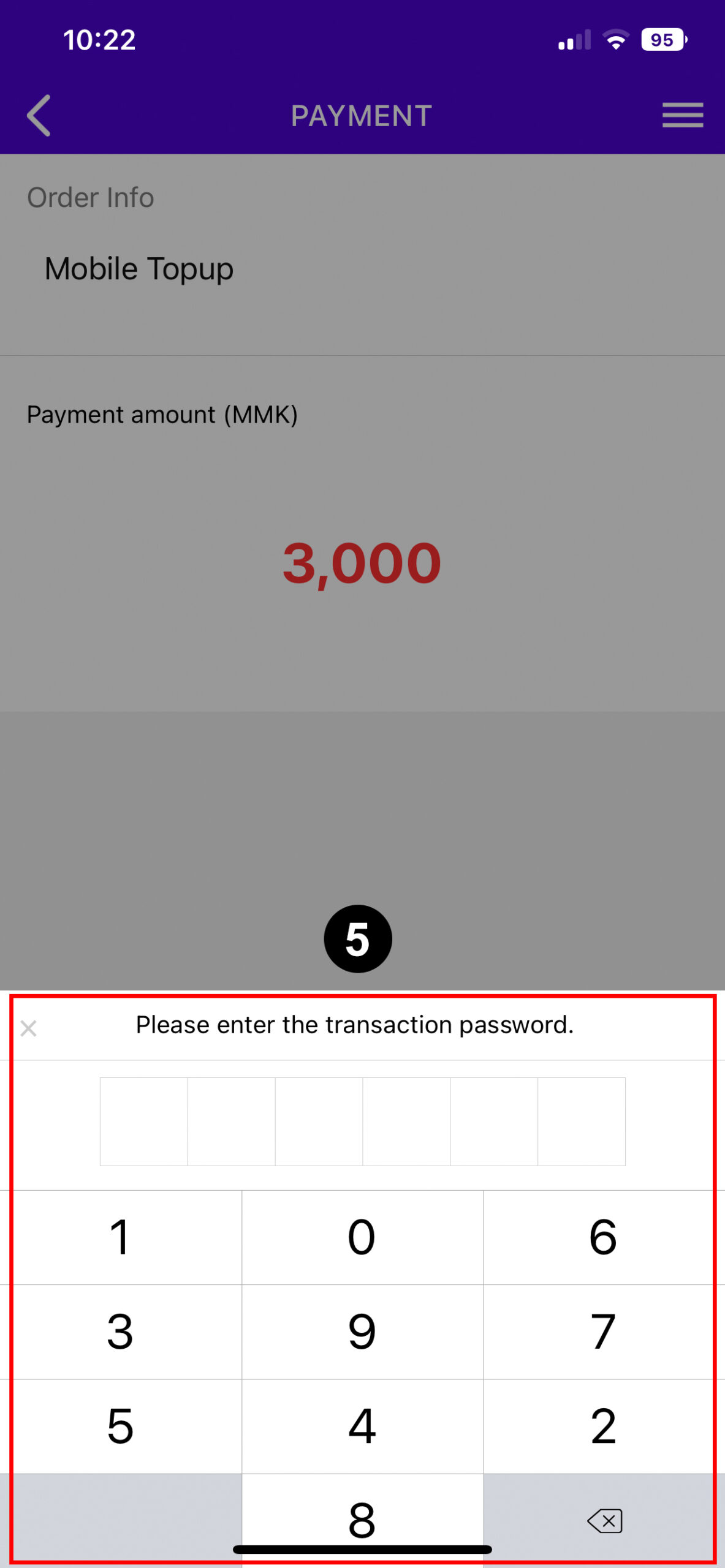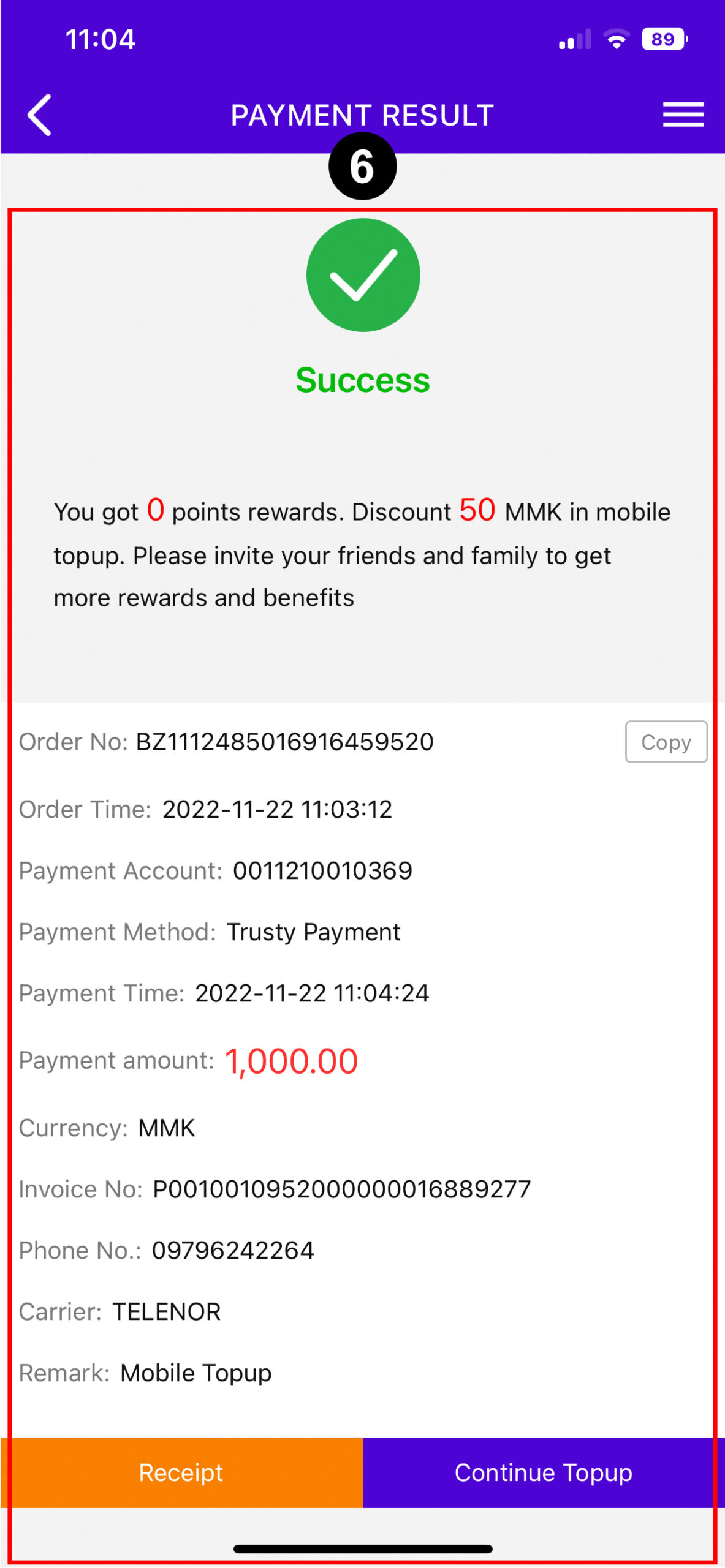 Close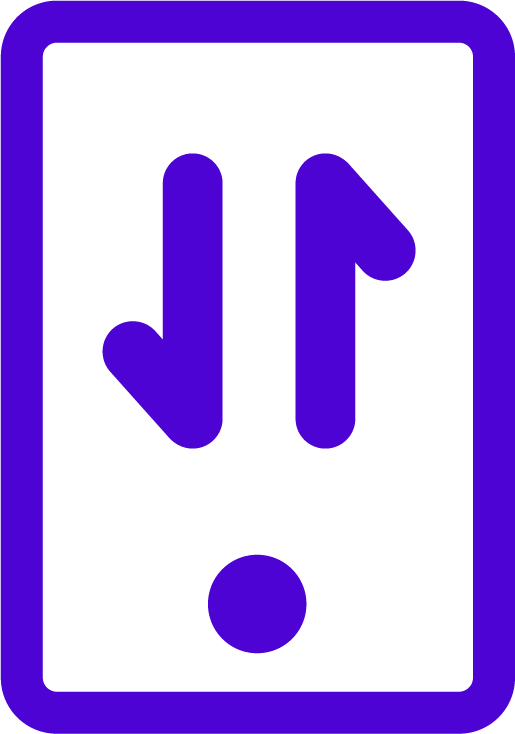 Topup
With TRUSTY mobile top-up, you can easily purchase phone bills and data from any operator in Myanmar. The following operators are available for purchase.
Atom
Ooredoo
MEC
MPT
Mytal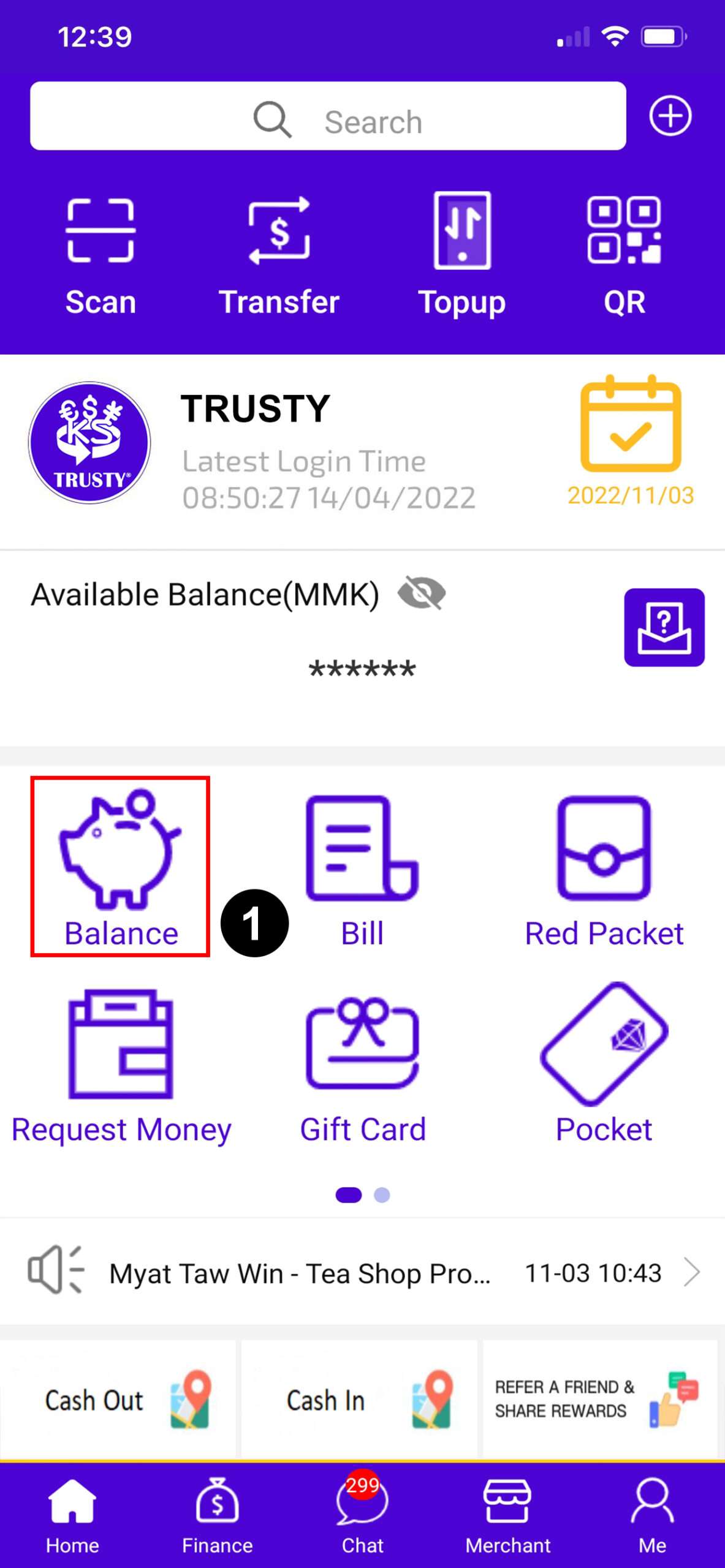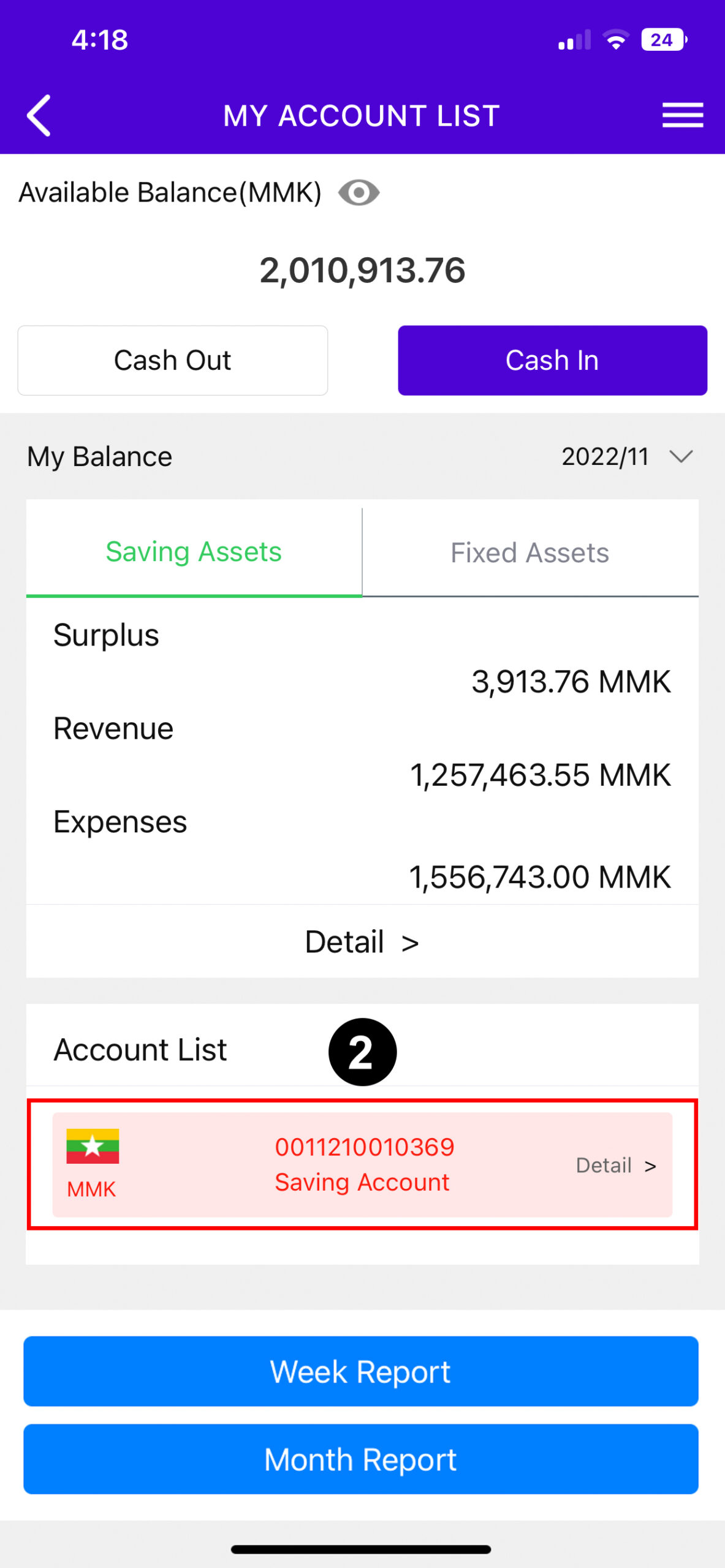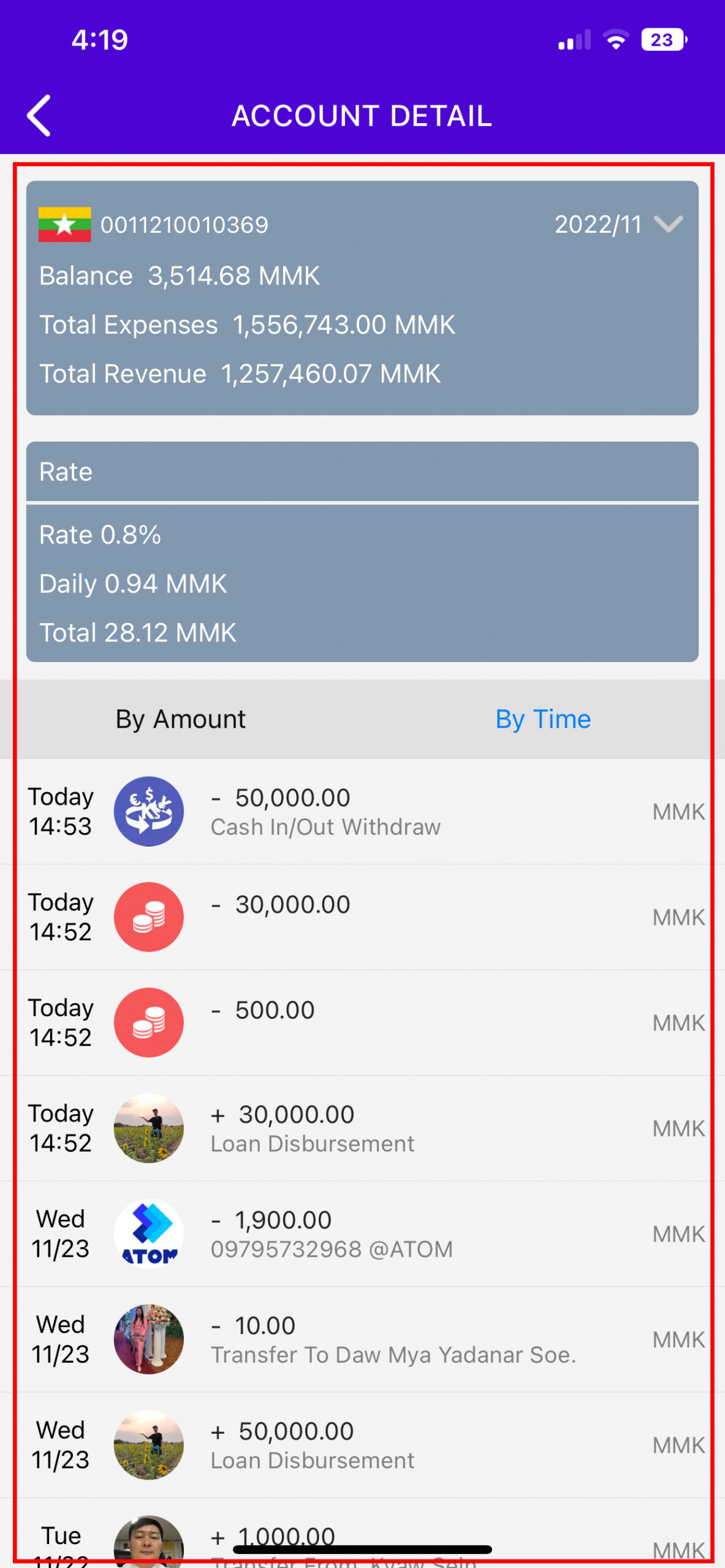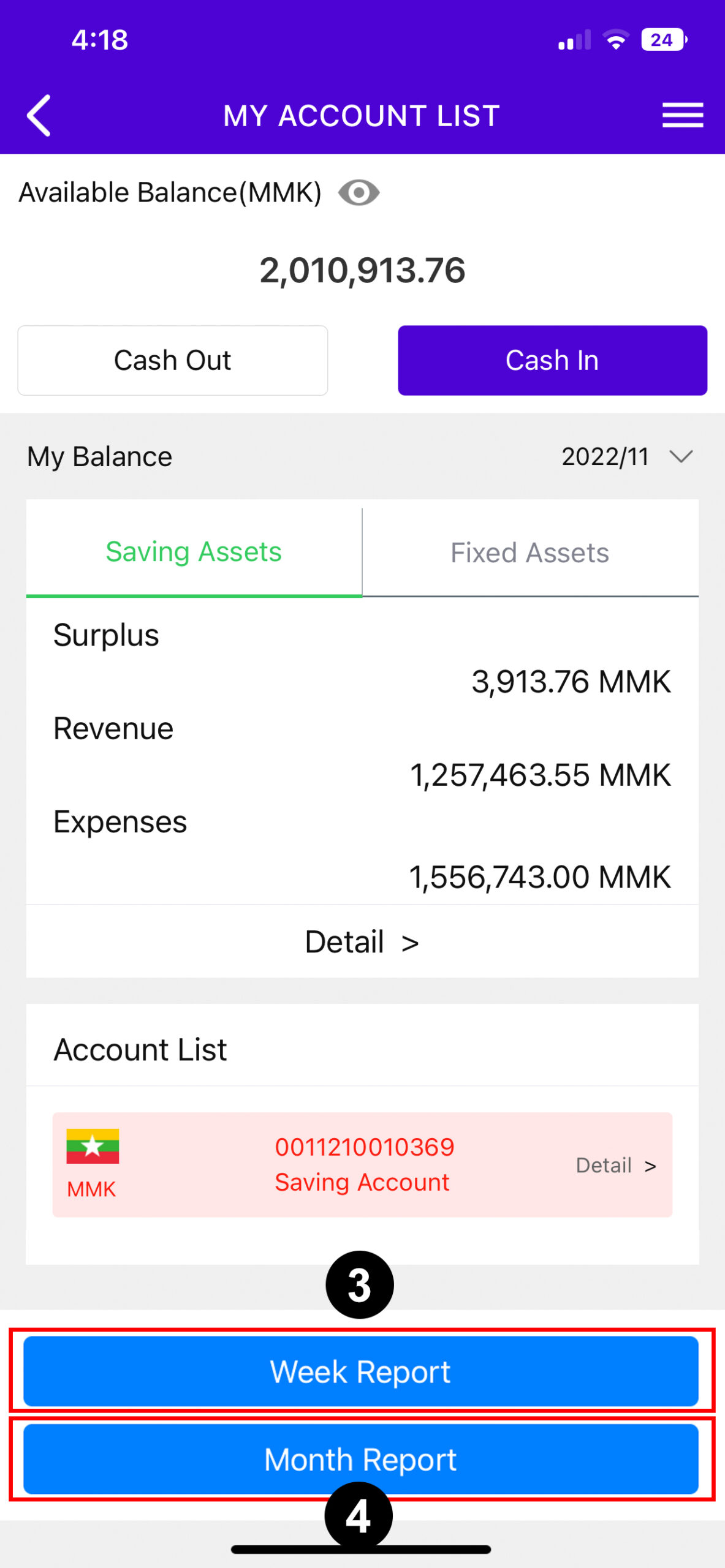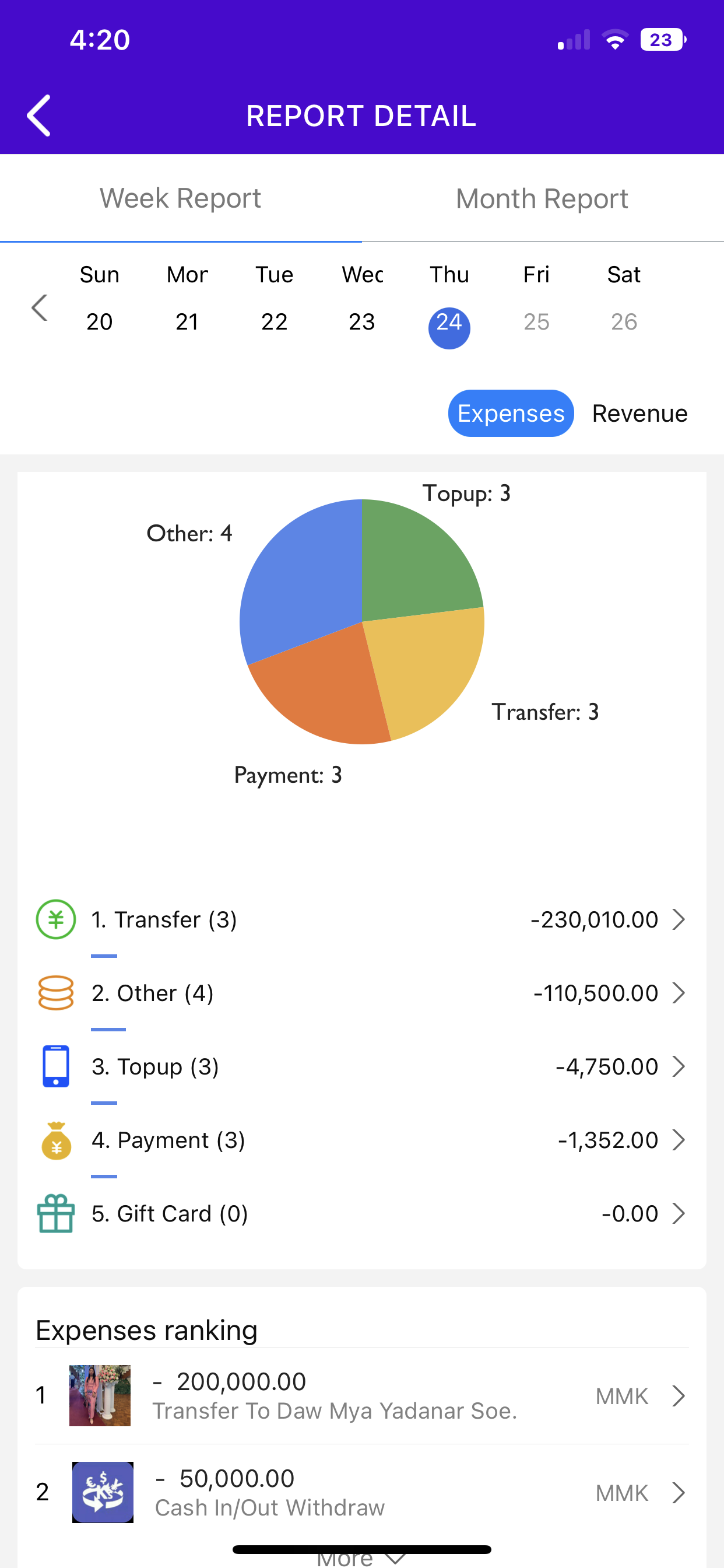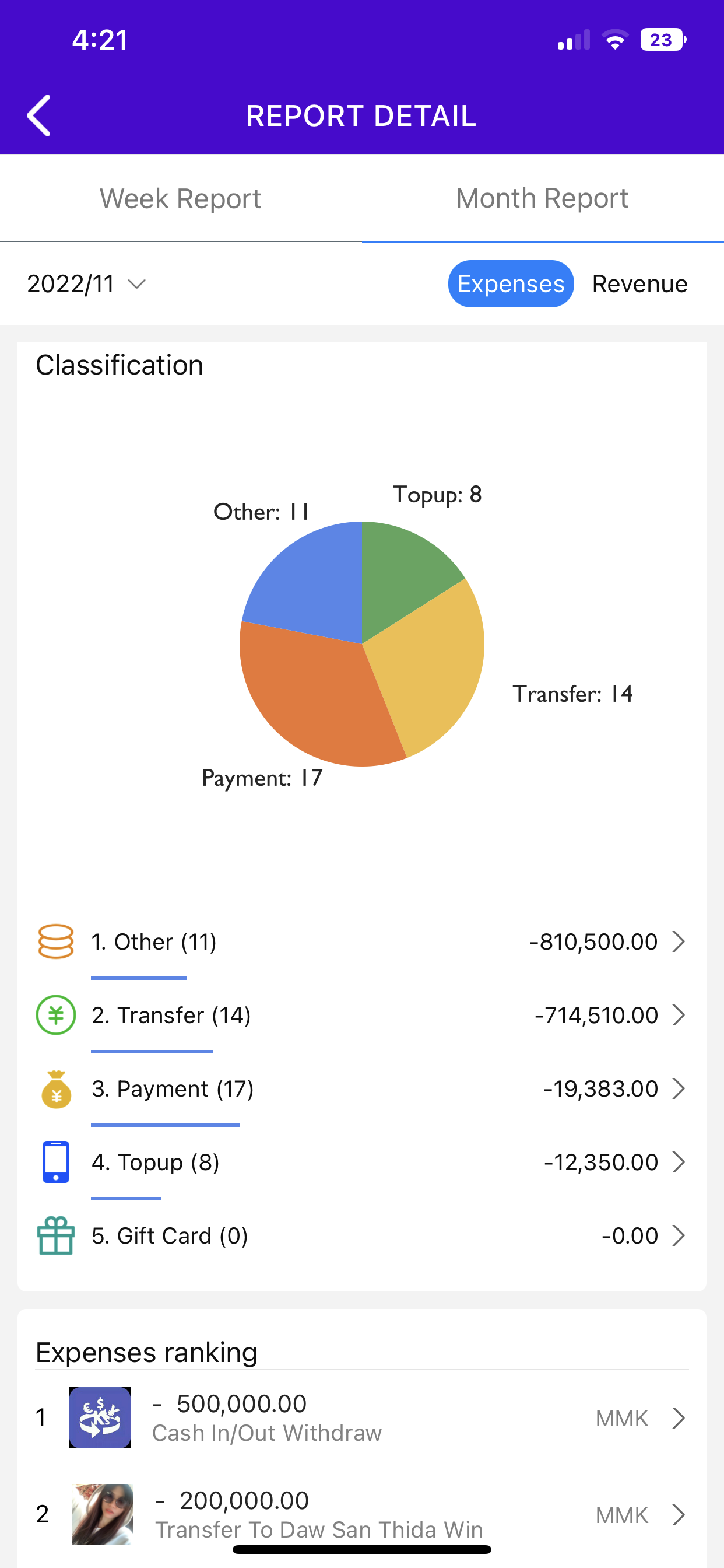 Close


Balance
In Balance, you can always know your balance in detail with income and outgo. Transfer history, payment history, mobile top-up history, gift card history, red packet can be checked for one year in detail. Available the interest rates of your balance have also been calculated and income and outgo can be shown in detail with Week Report, Month Report.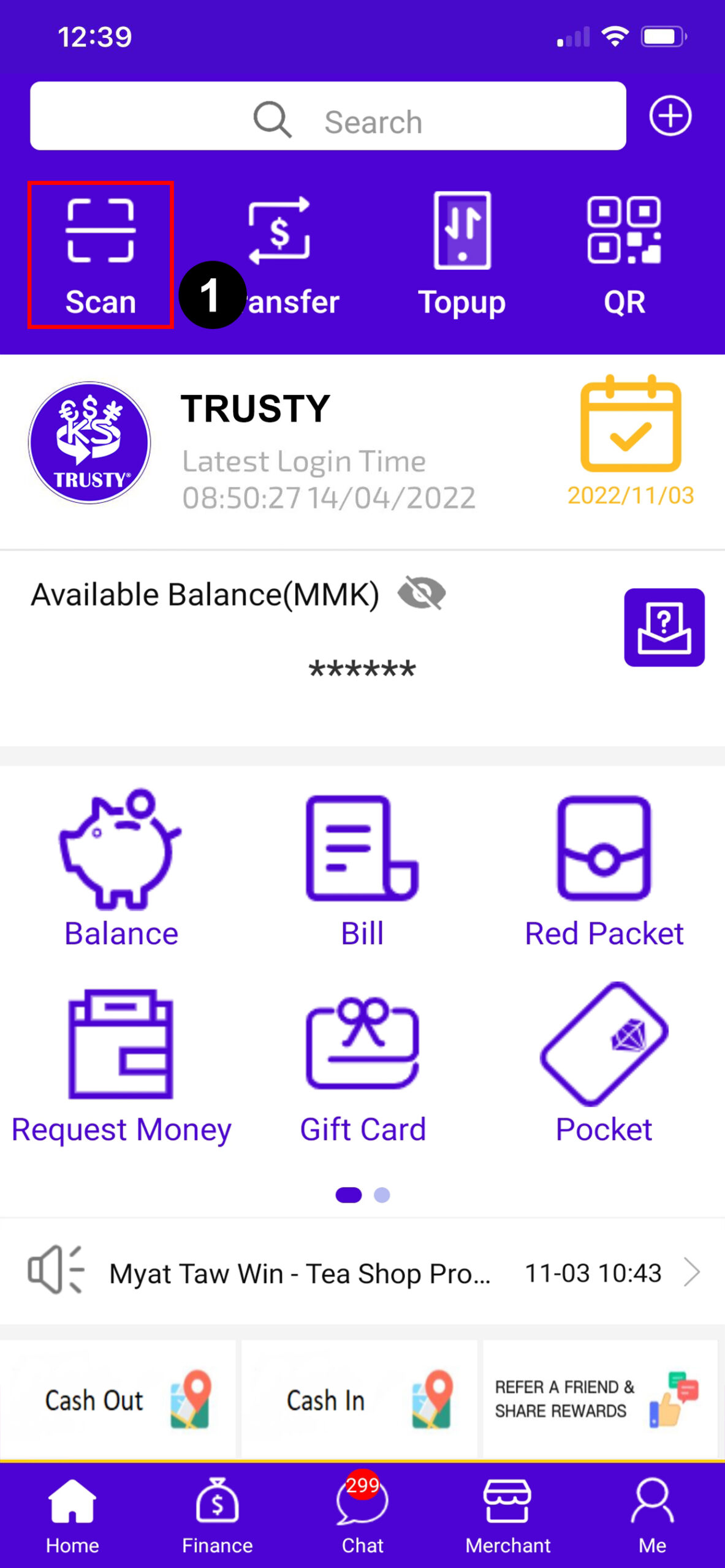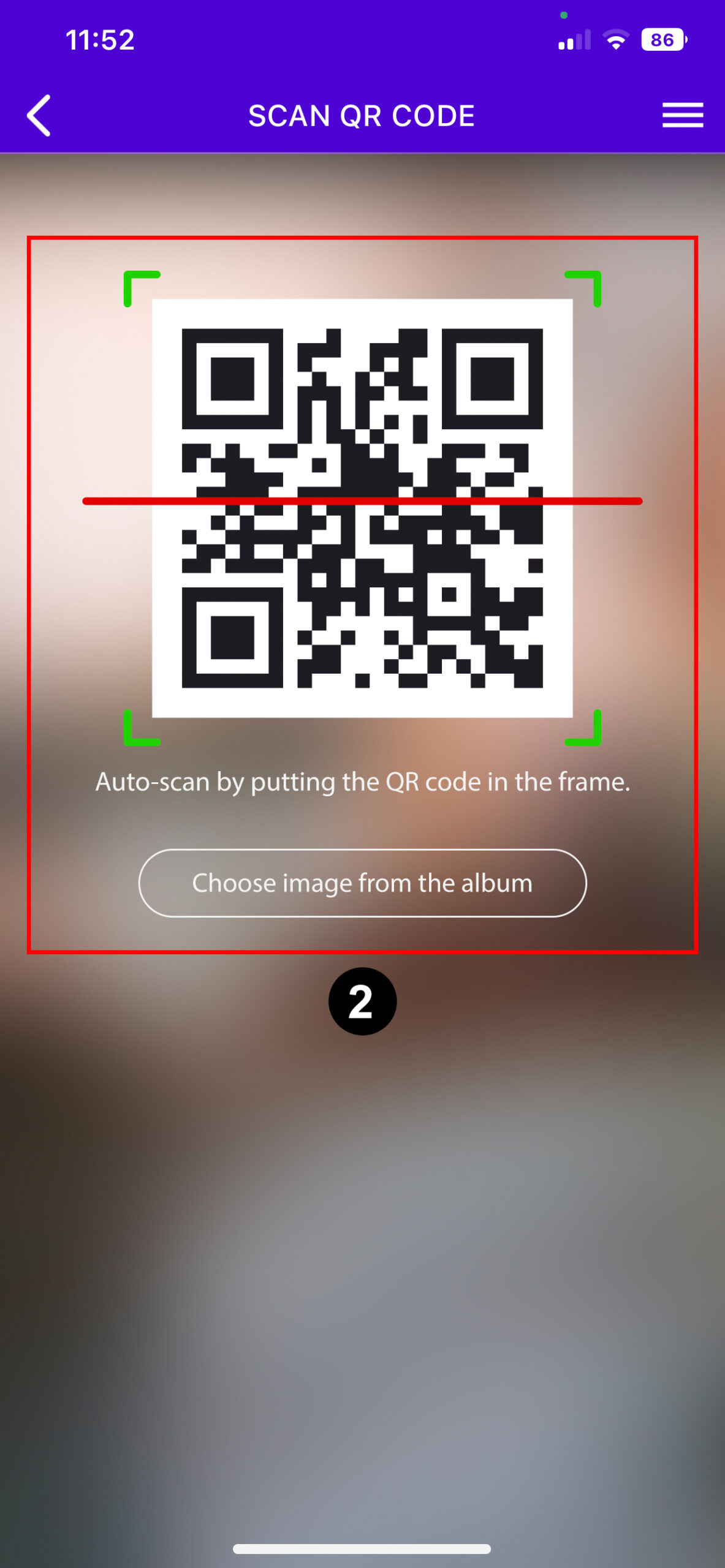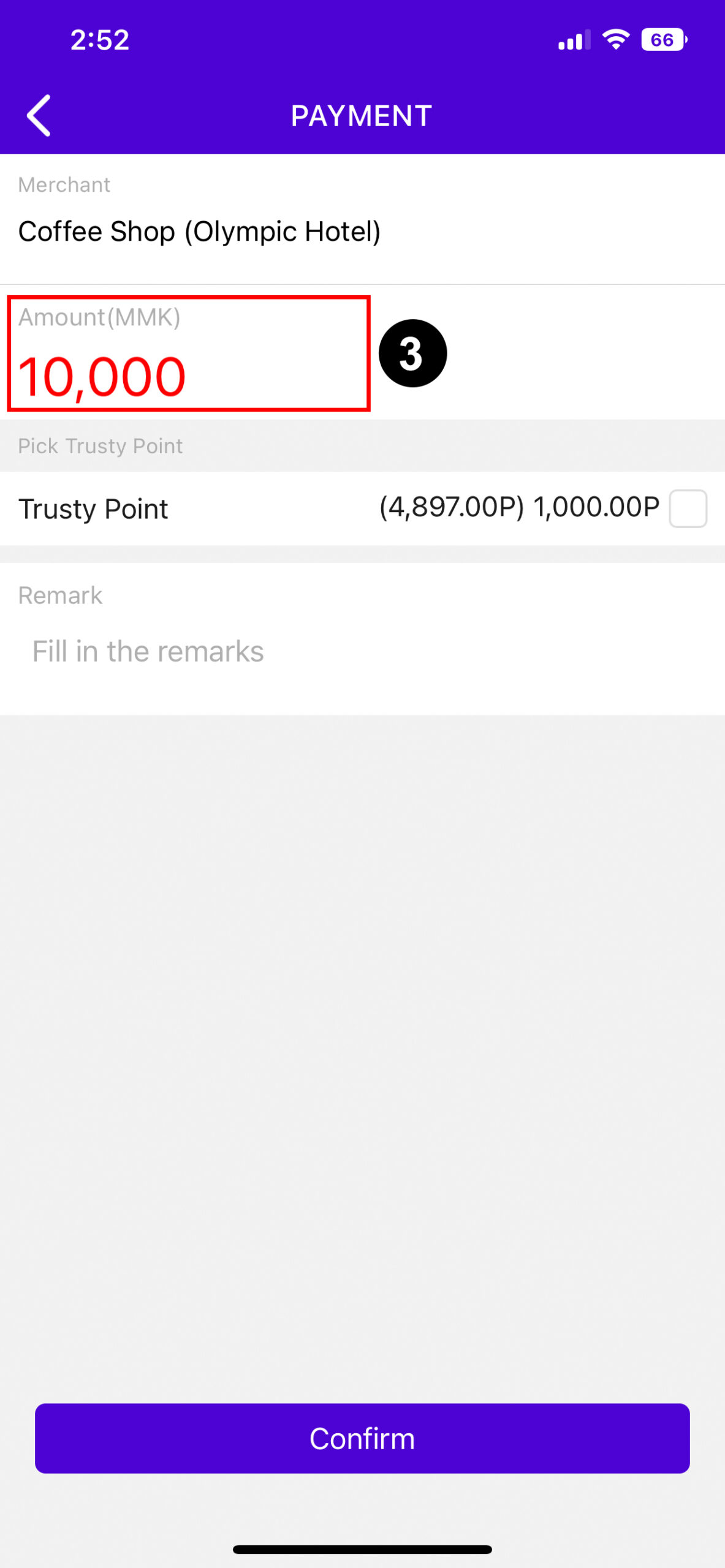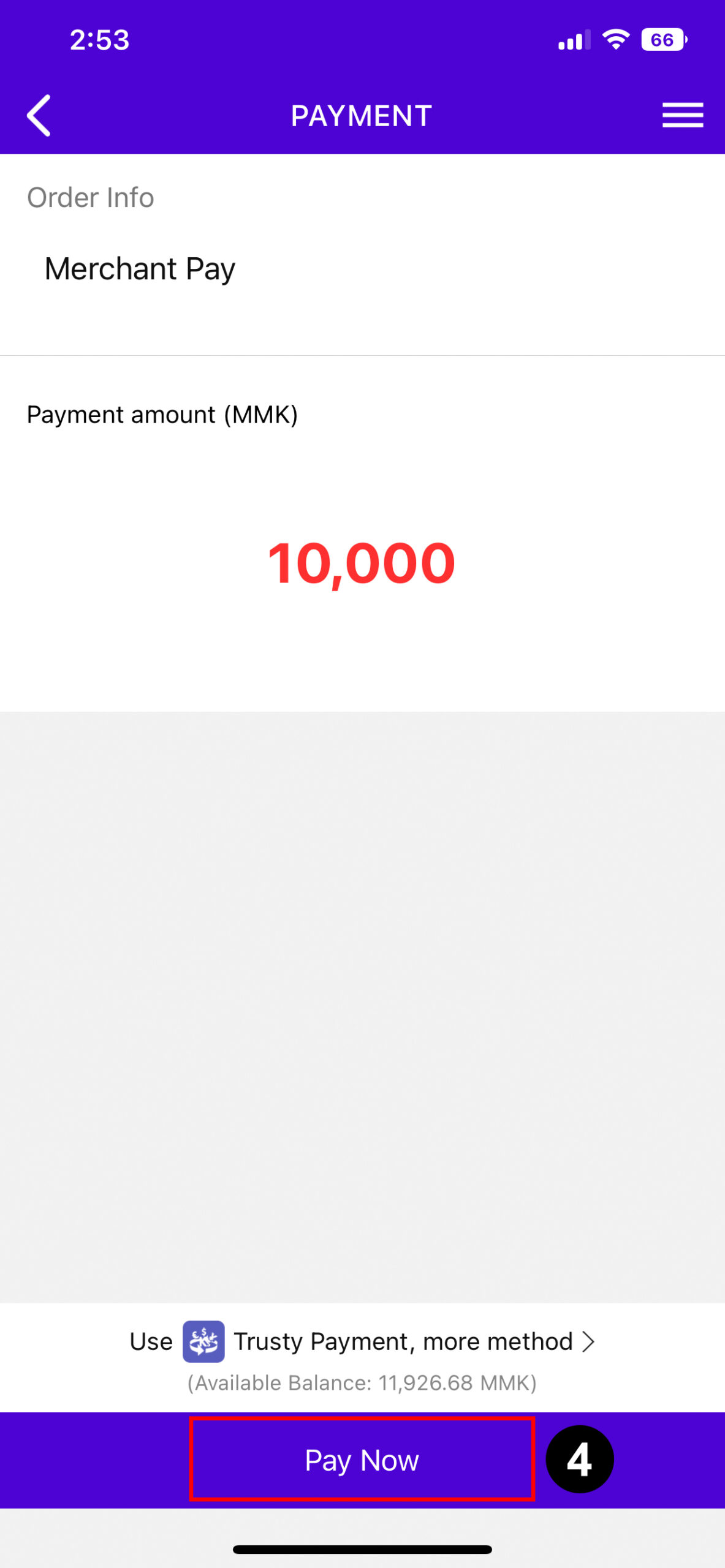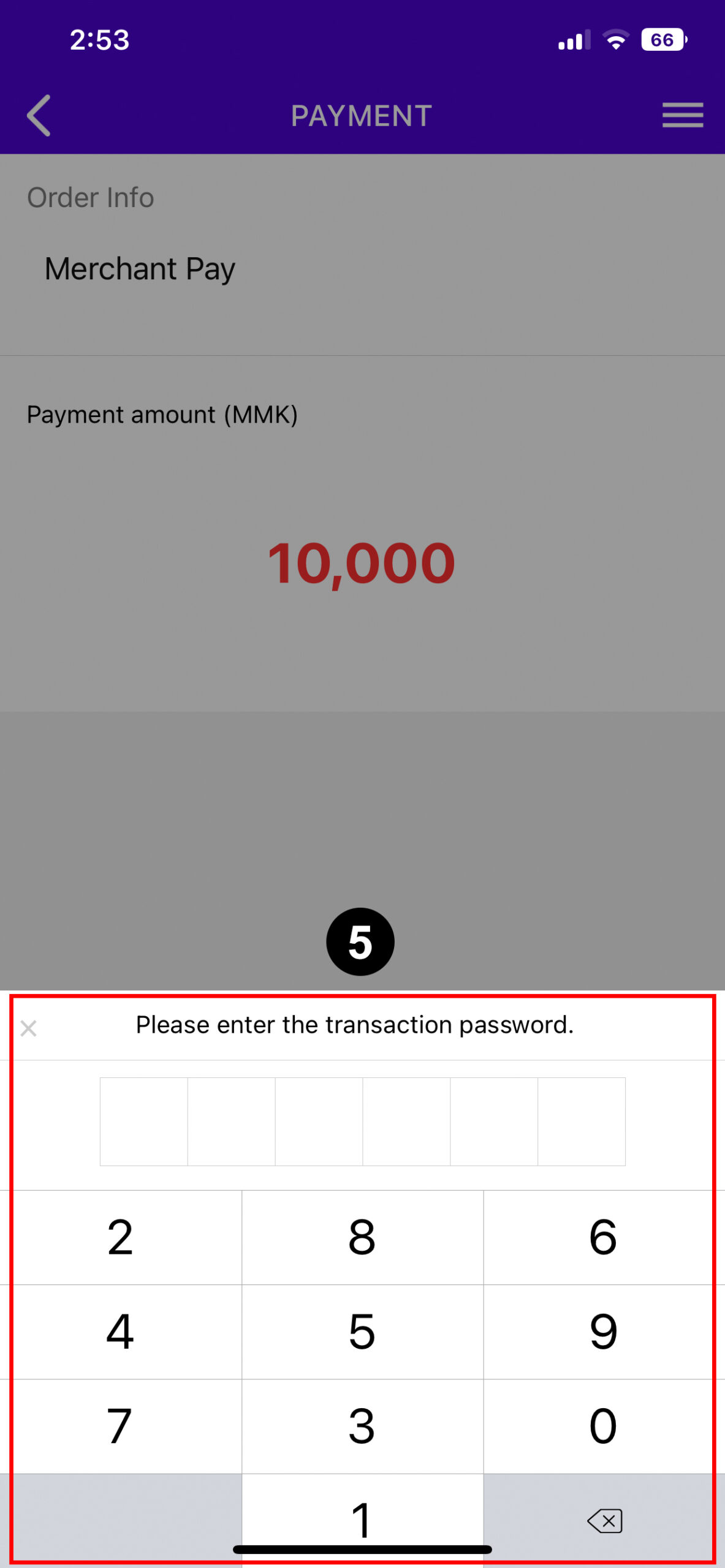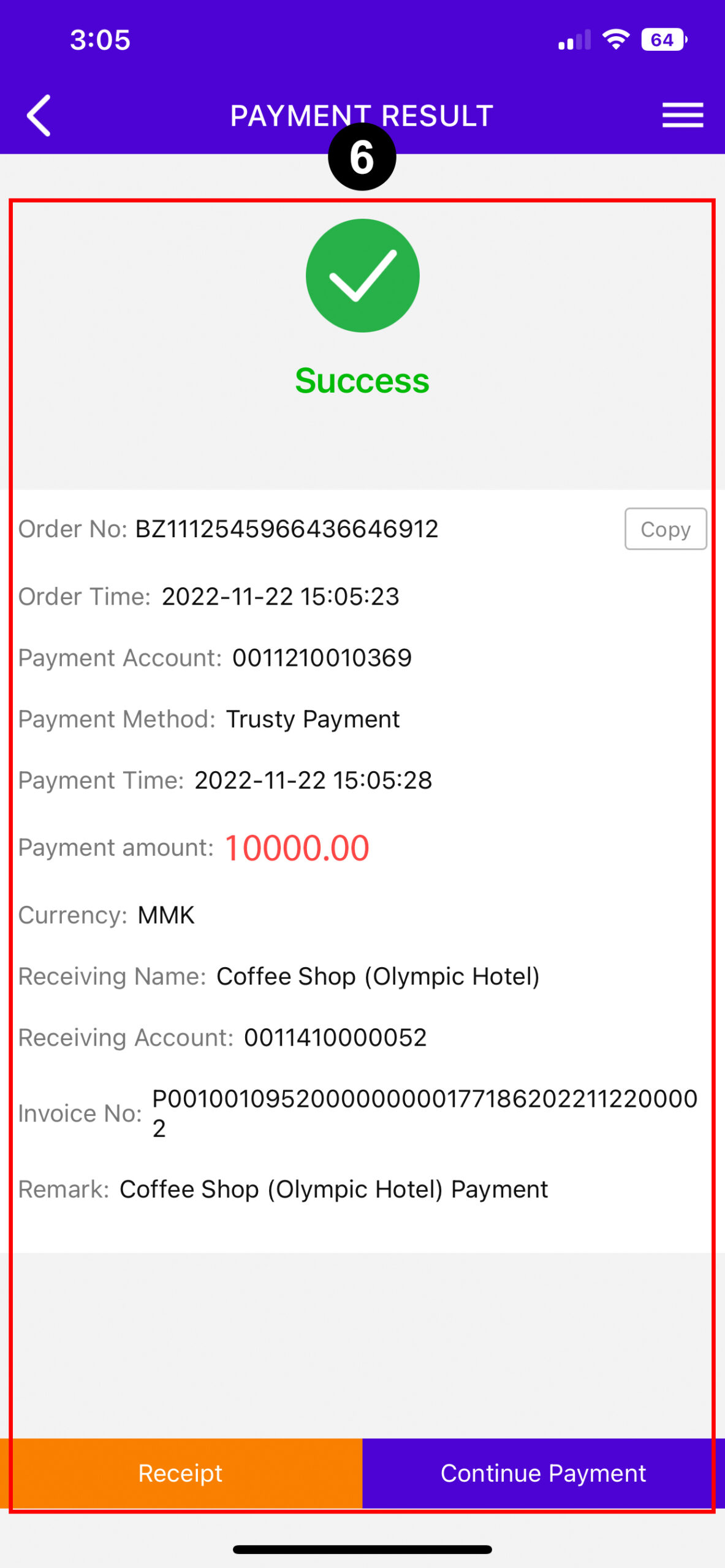 Close


QR Scan
TRUSTY QR Scan is a simple and easy function to make payments and transfer money. Transfer money and payment can be easily used by scanning the QR Code of members, merchants and cash counters.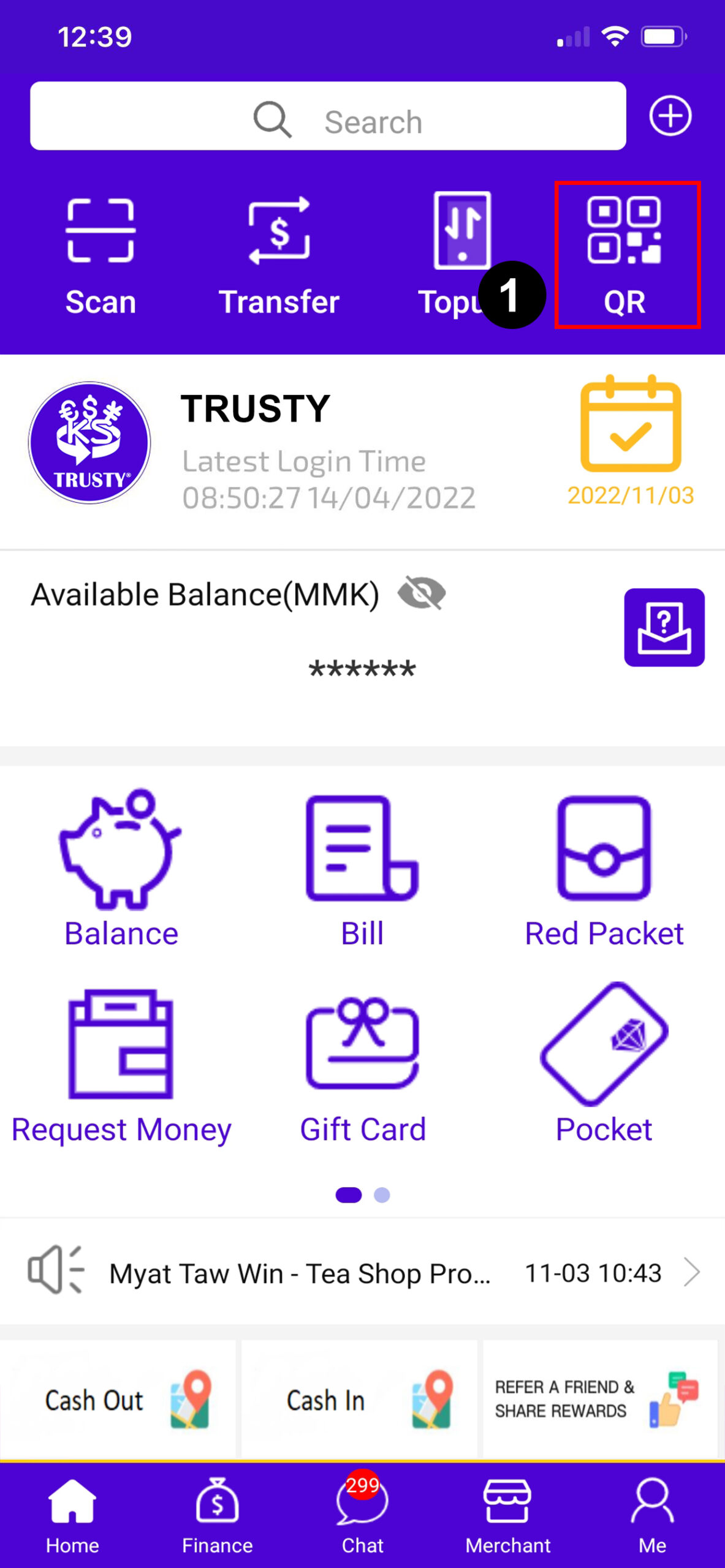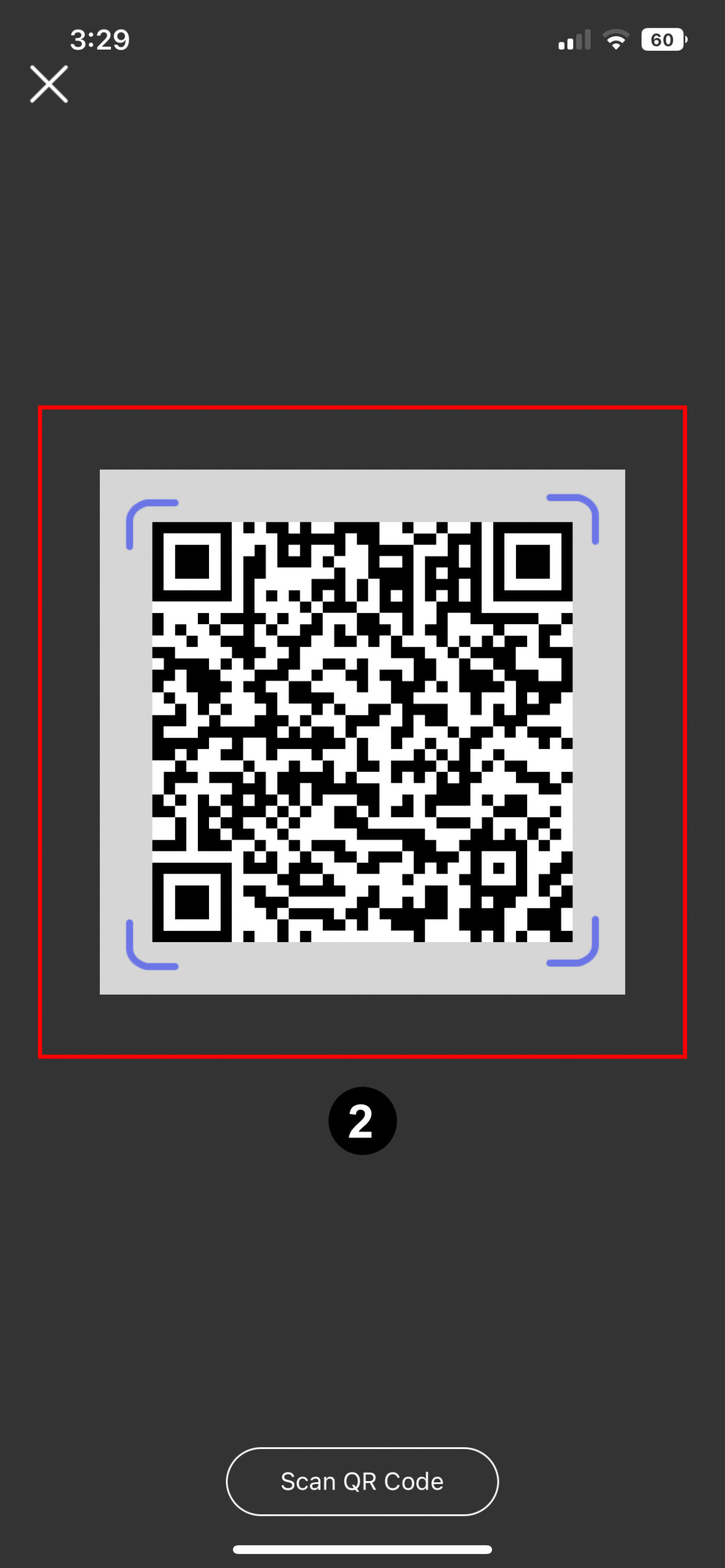 Close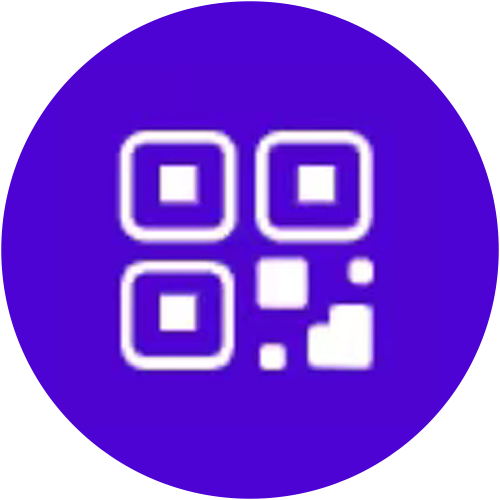 QR Code
Click the QR icon and you can use the QR Code of representing your account. Other members can scan the QR Code and transfer money.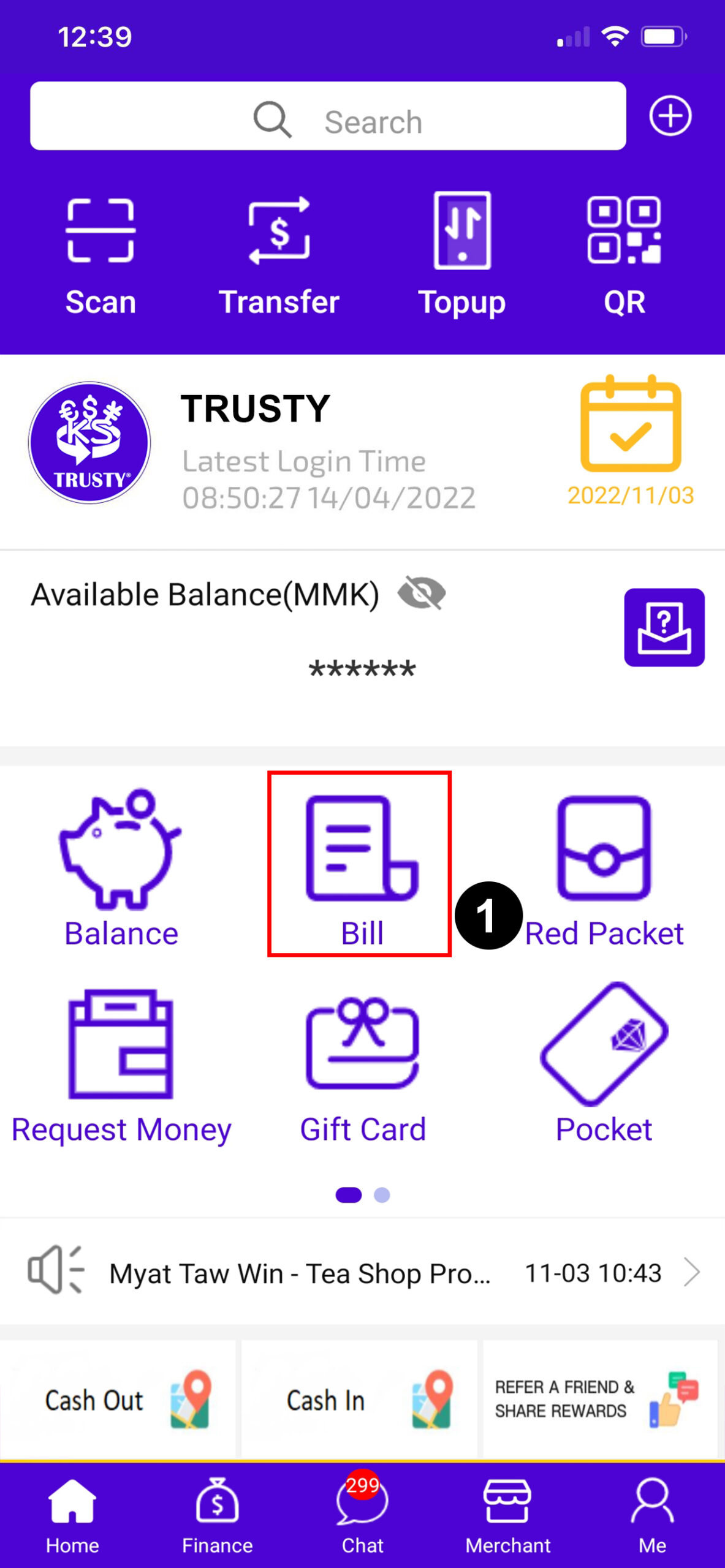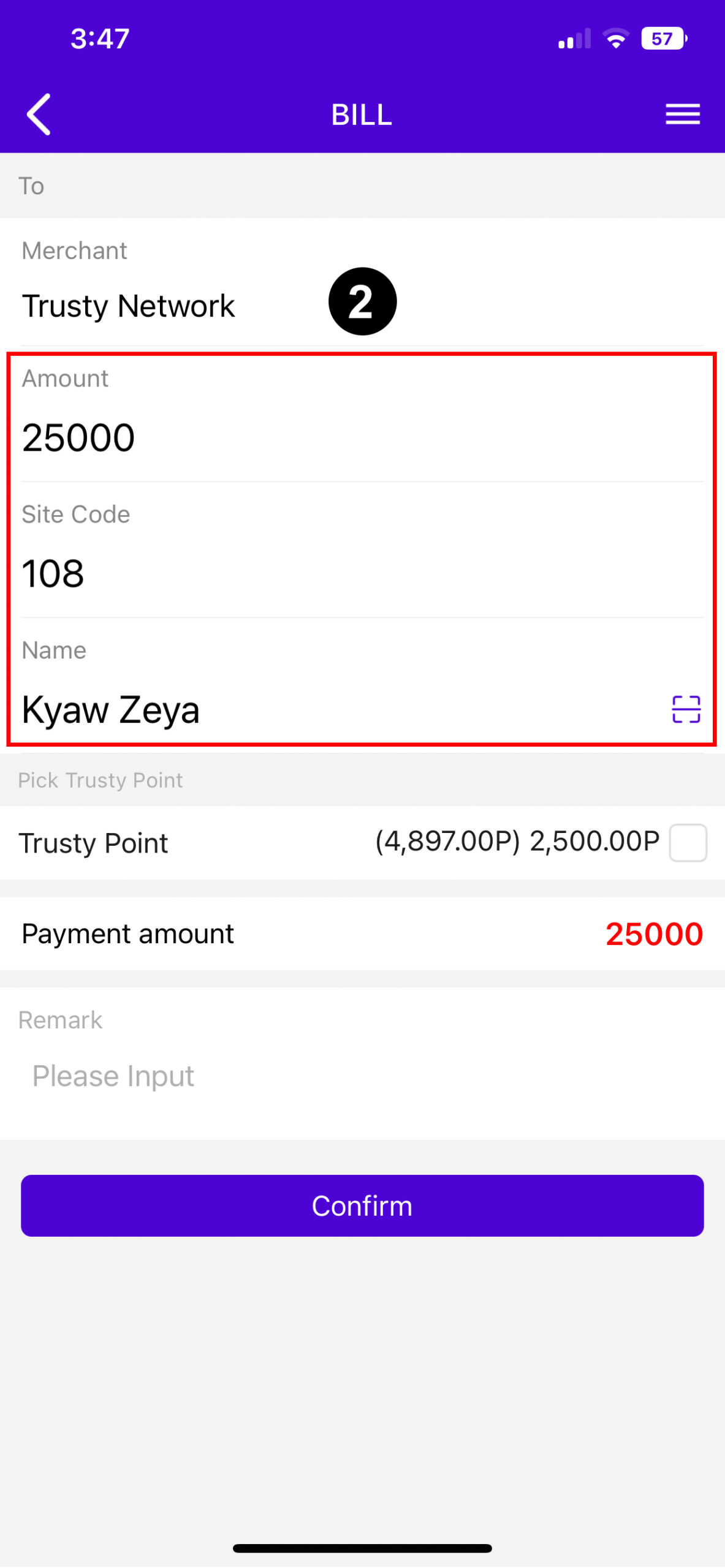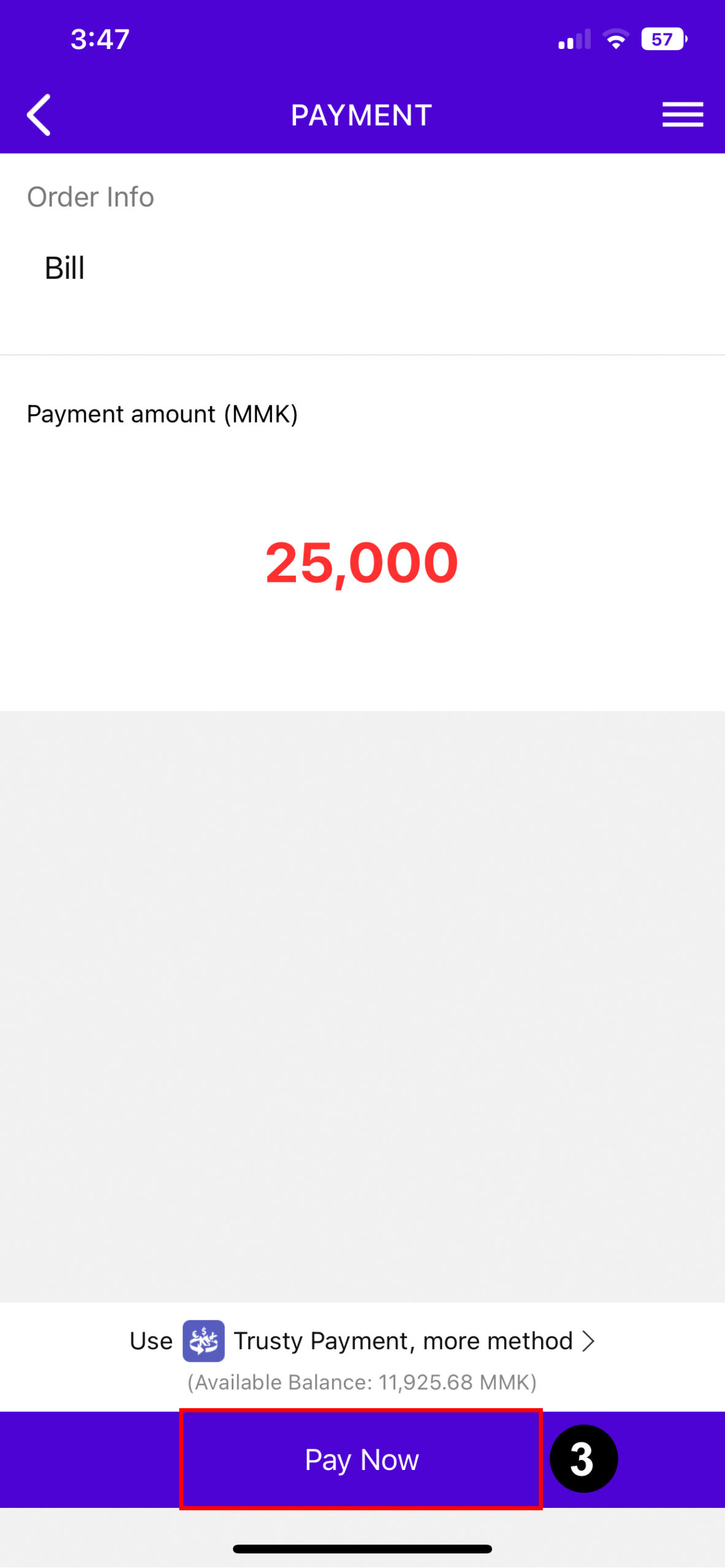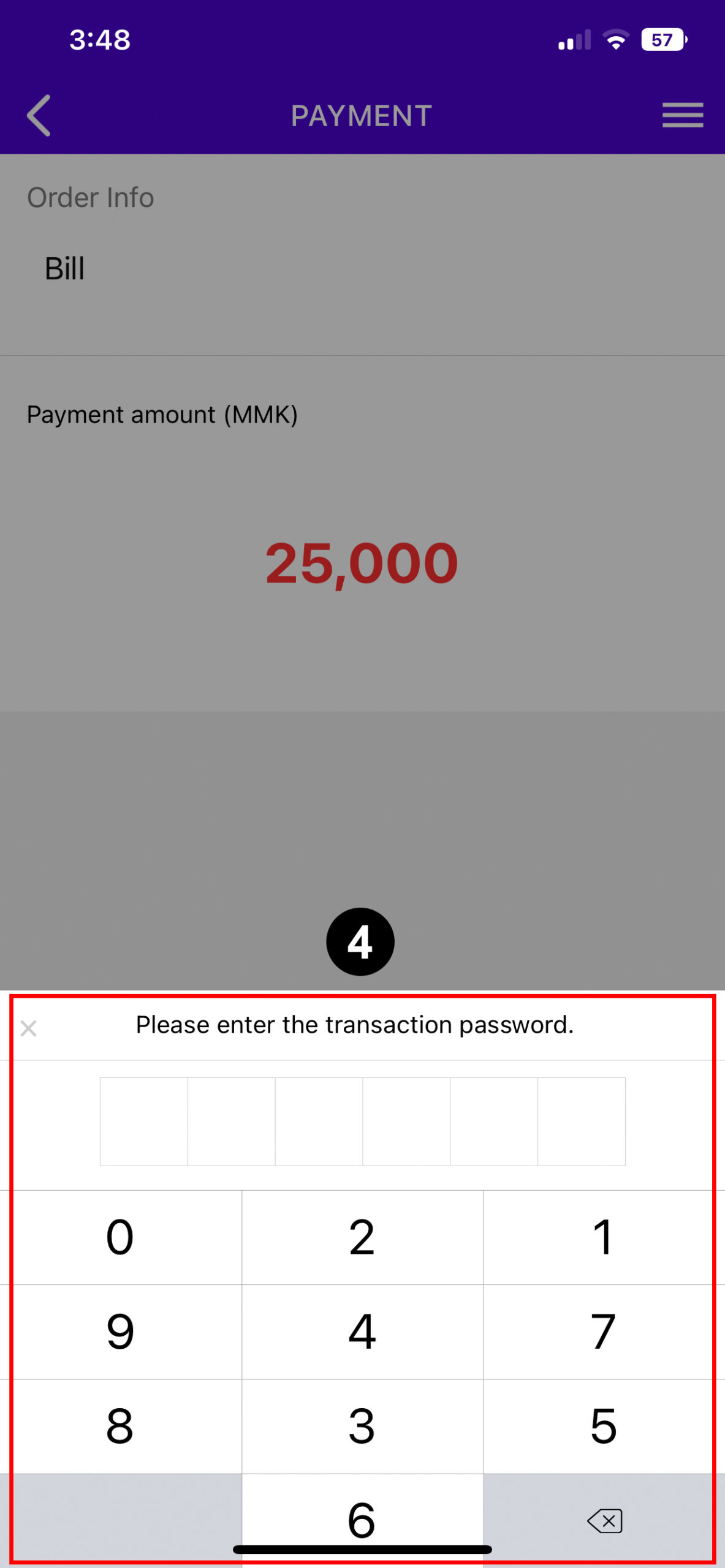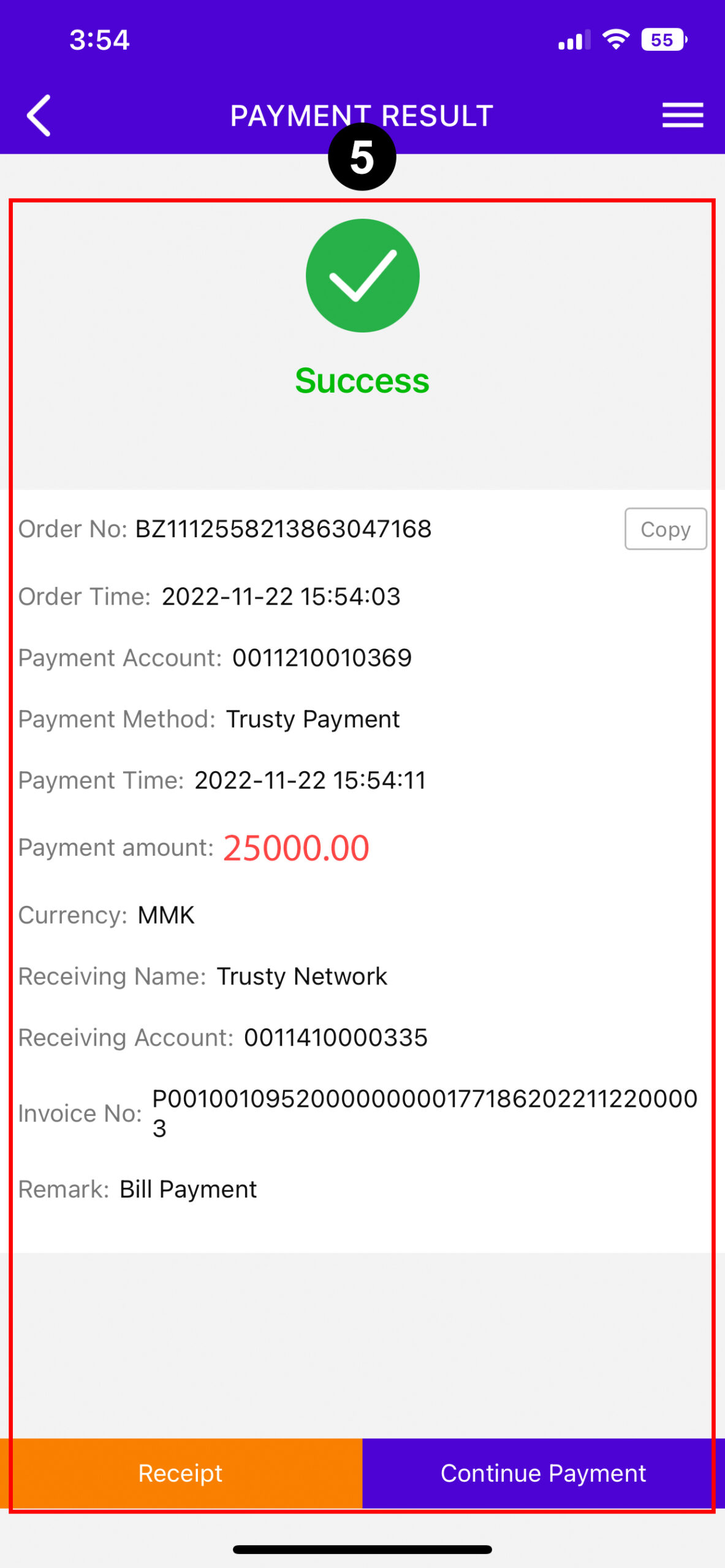 Close


Bill
You can pay TRUSTY Network internet bills monthly by using the bill function.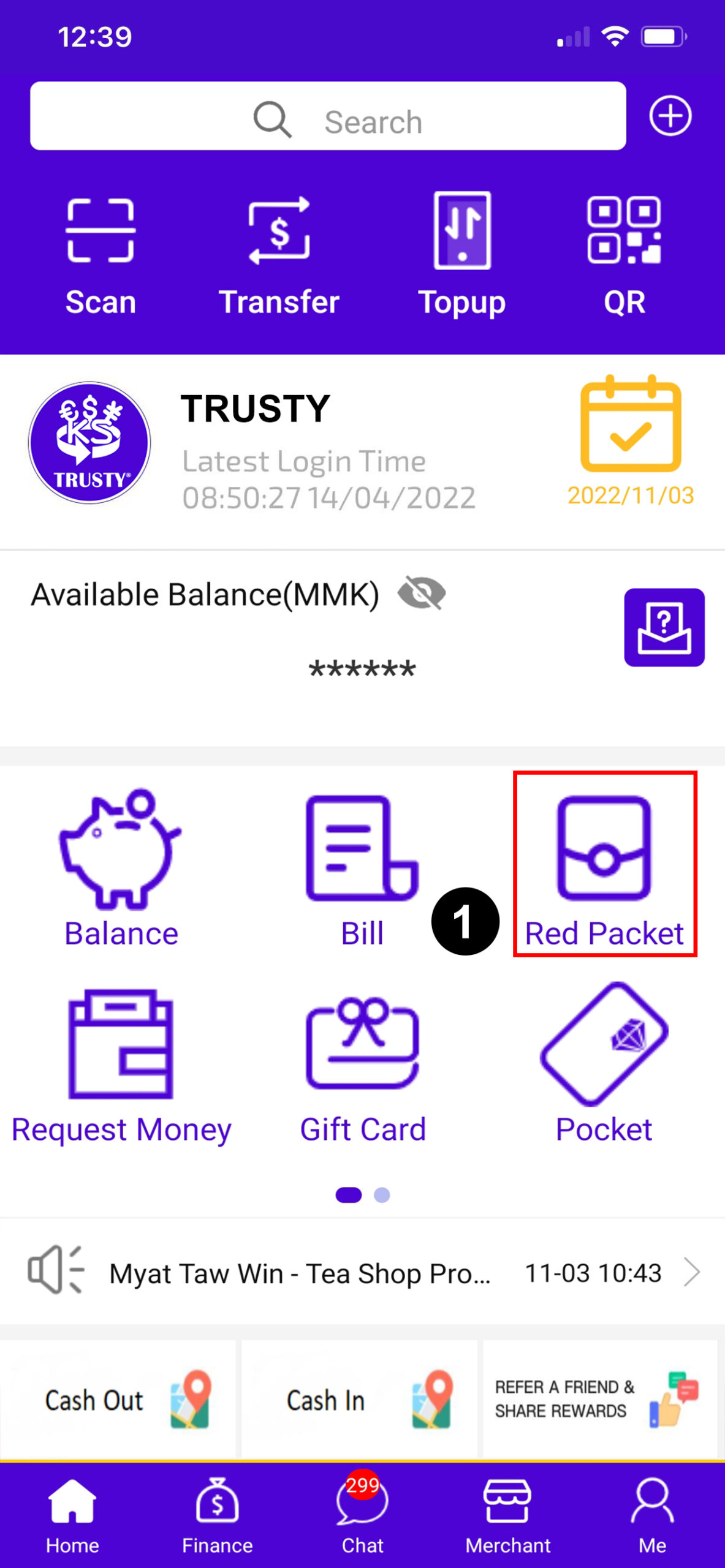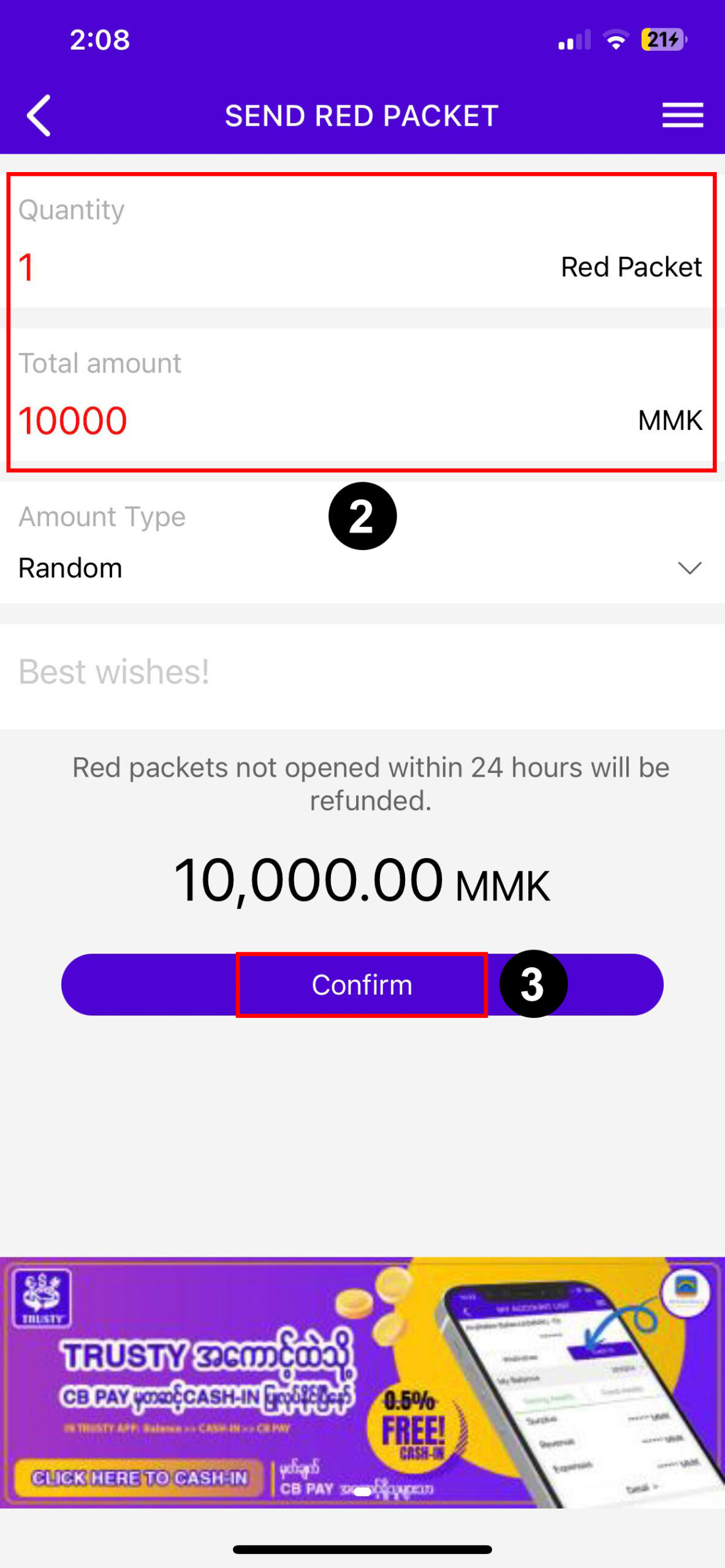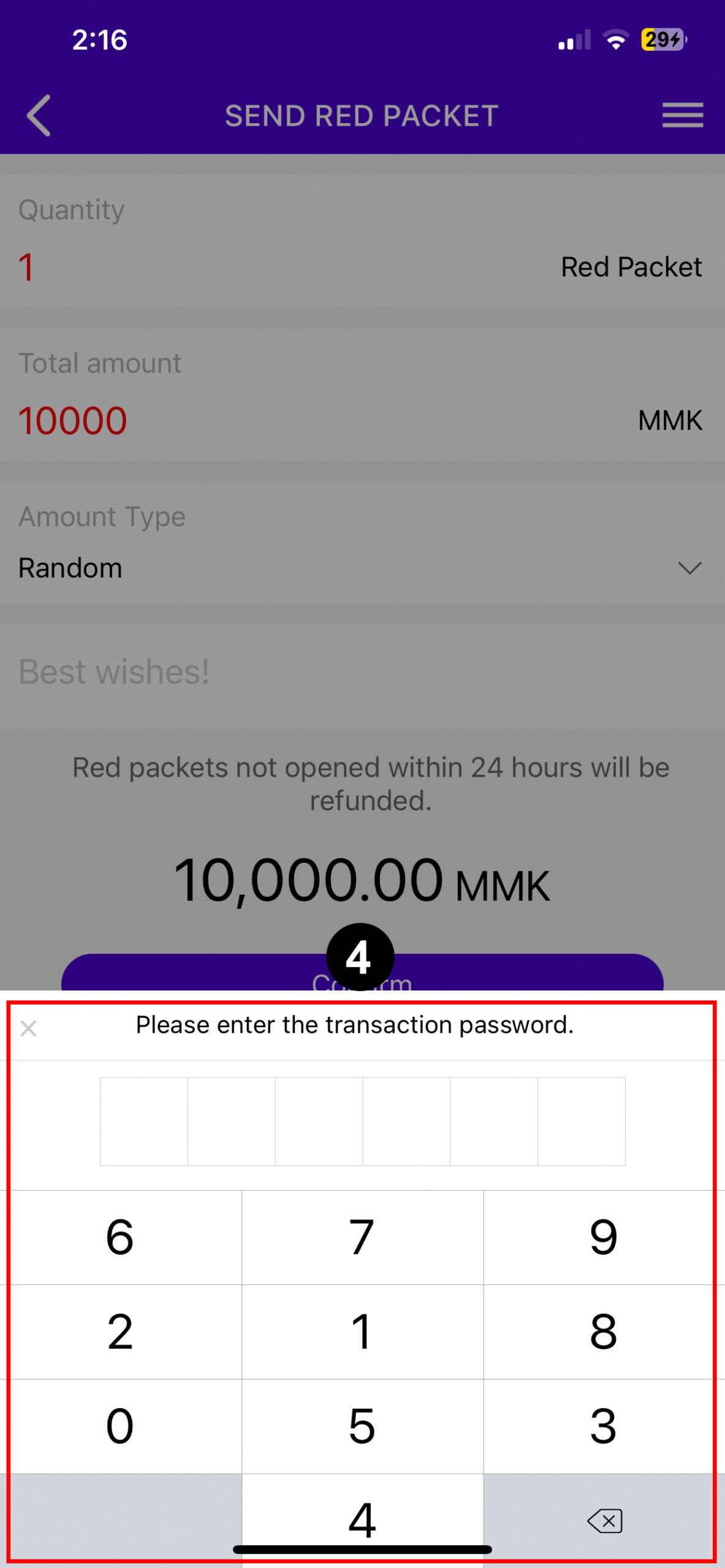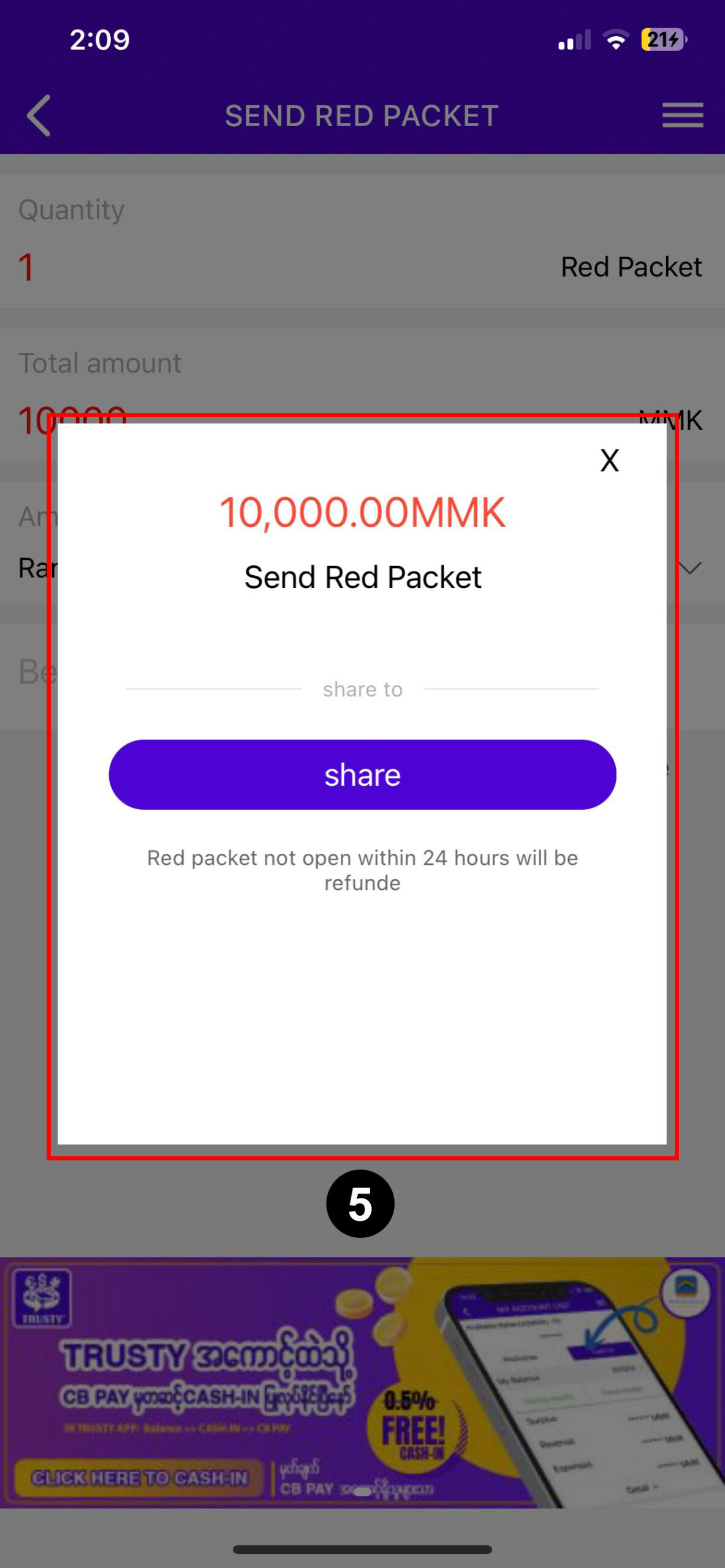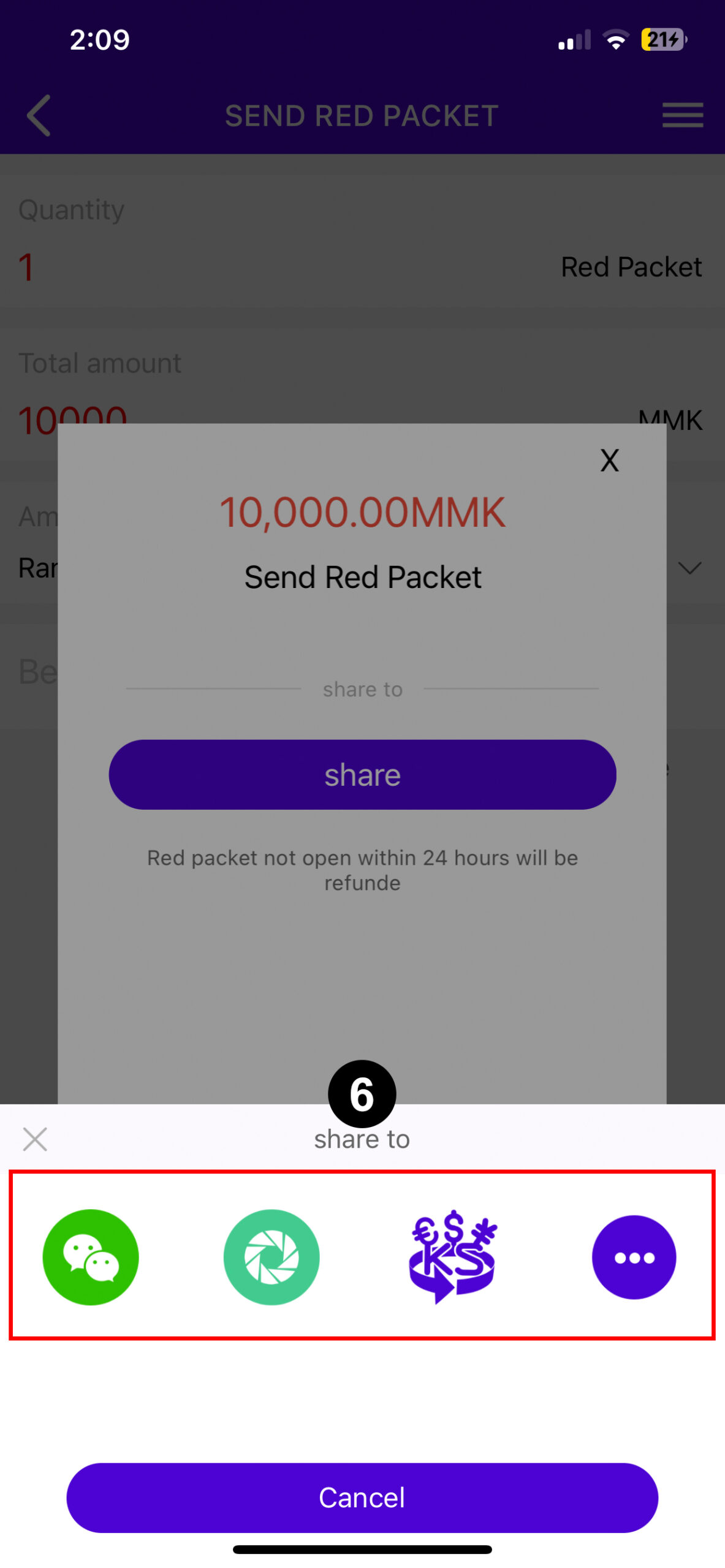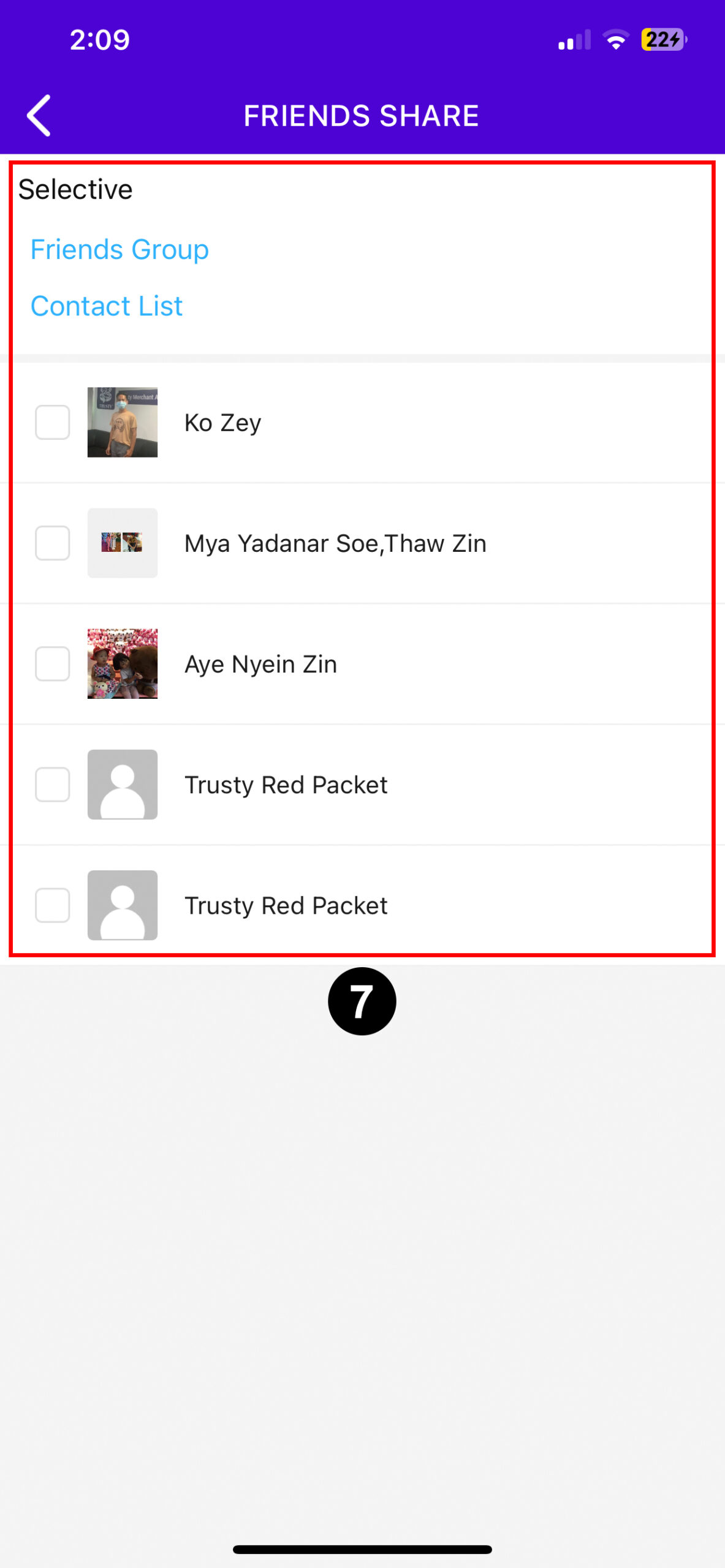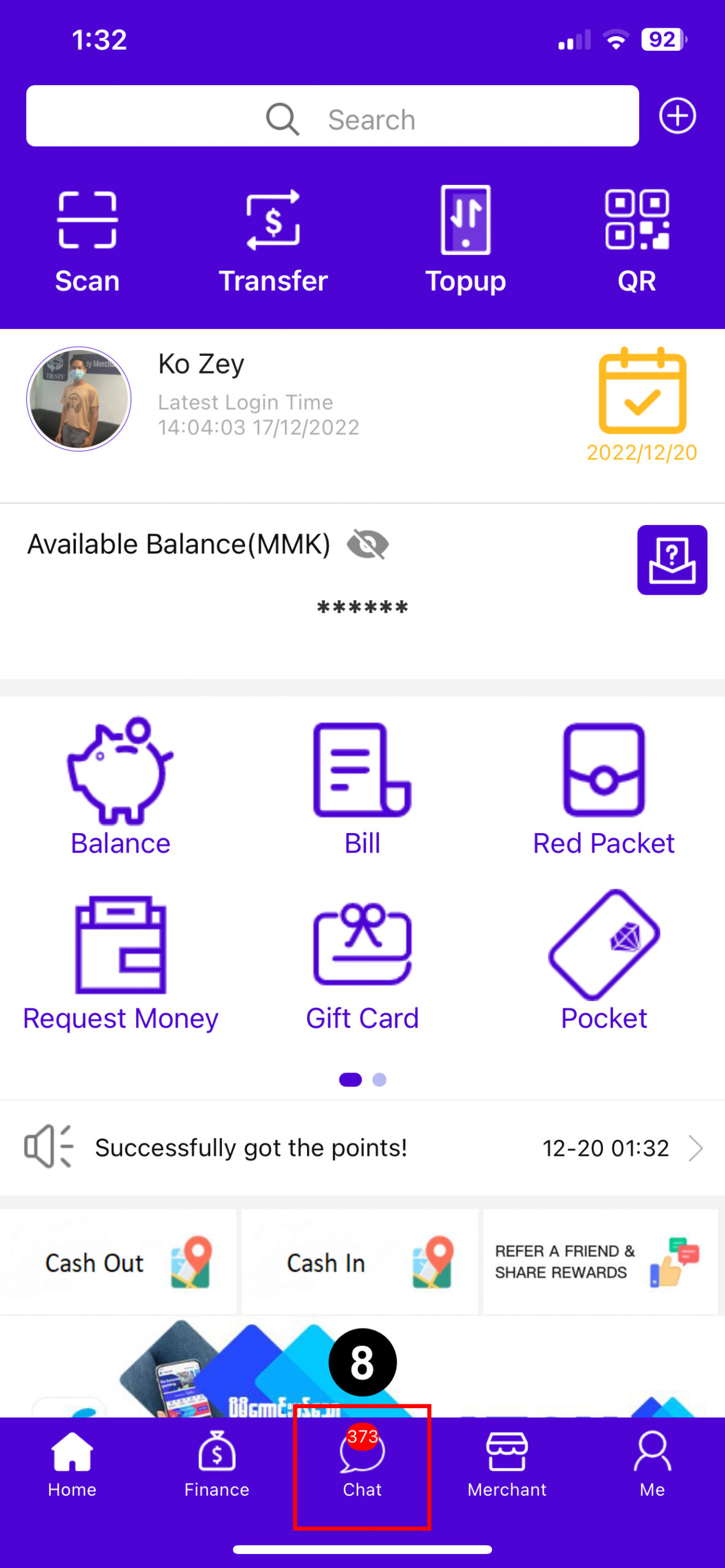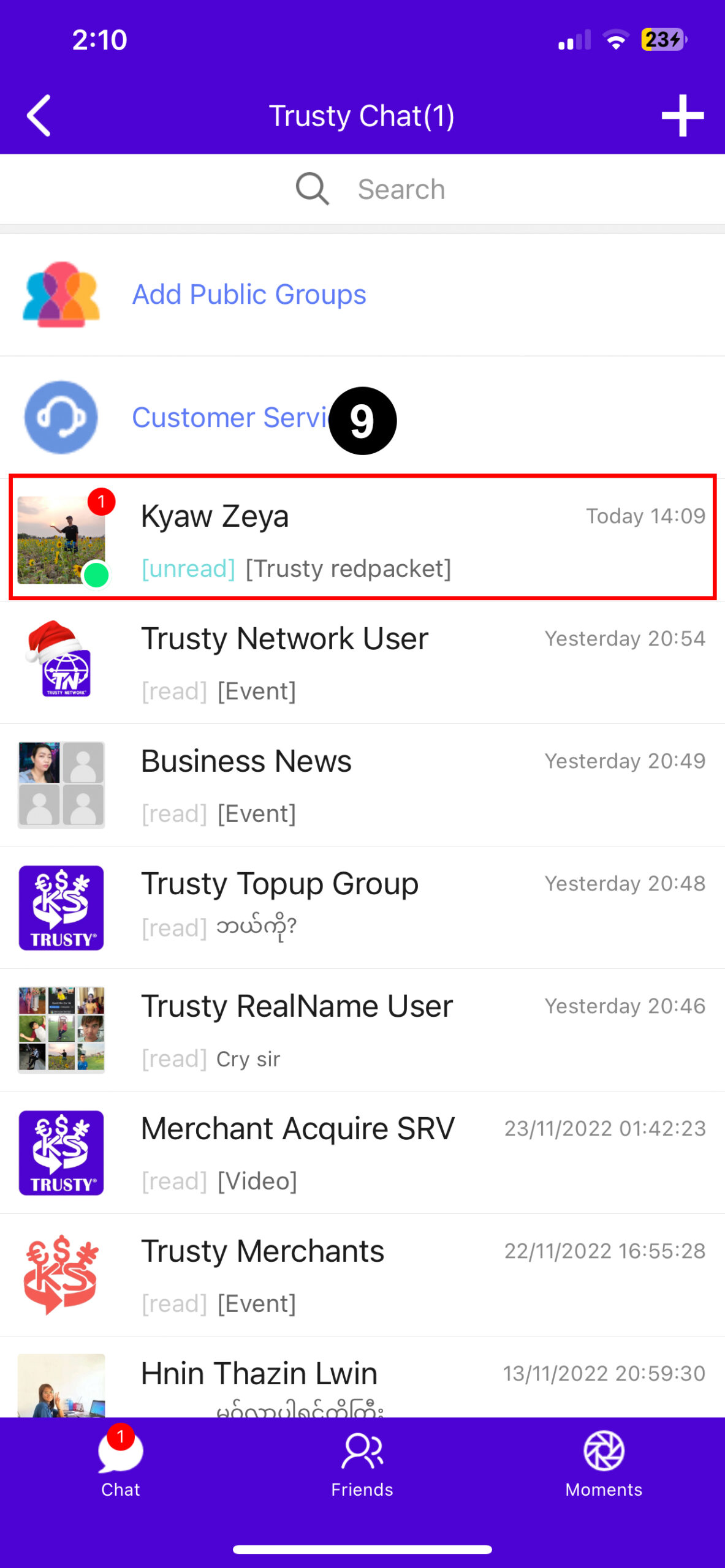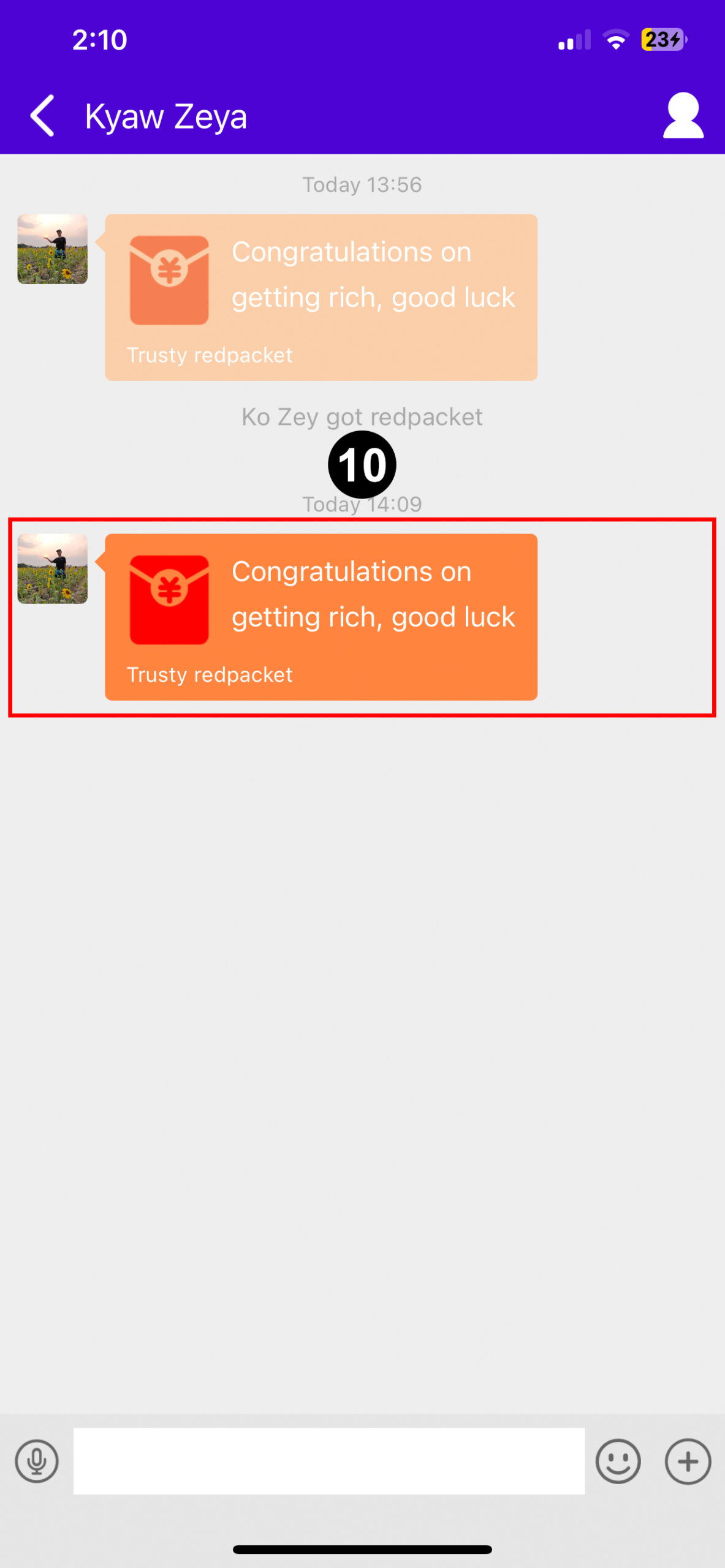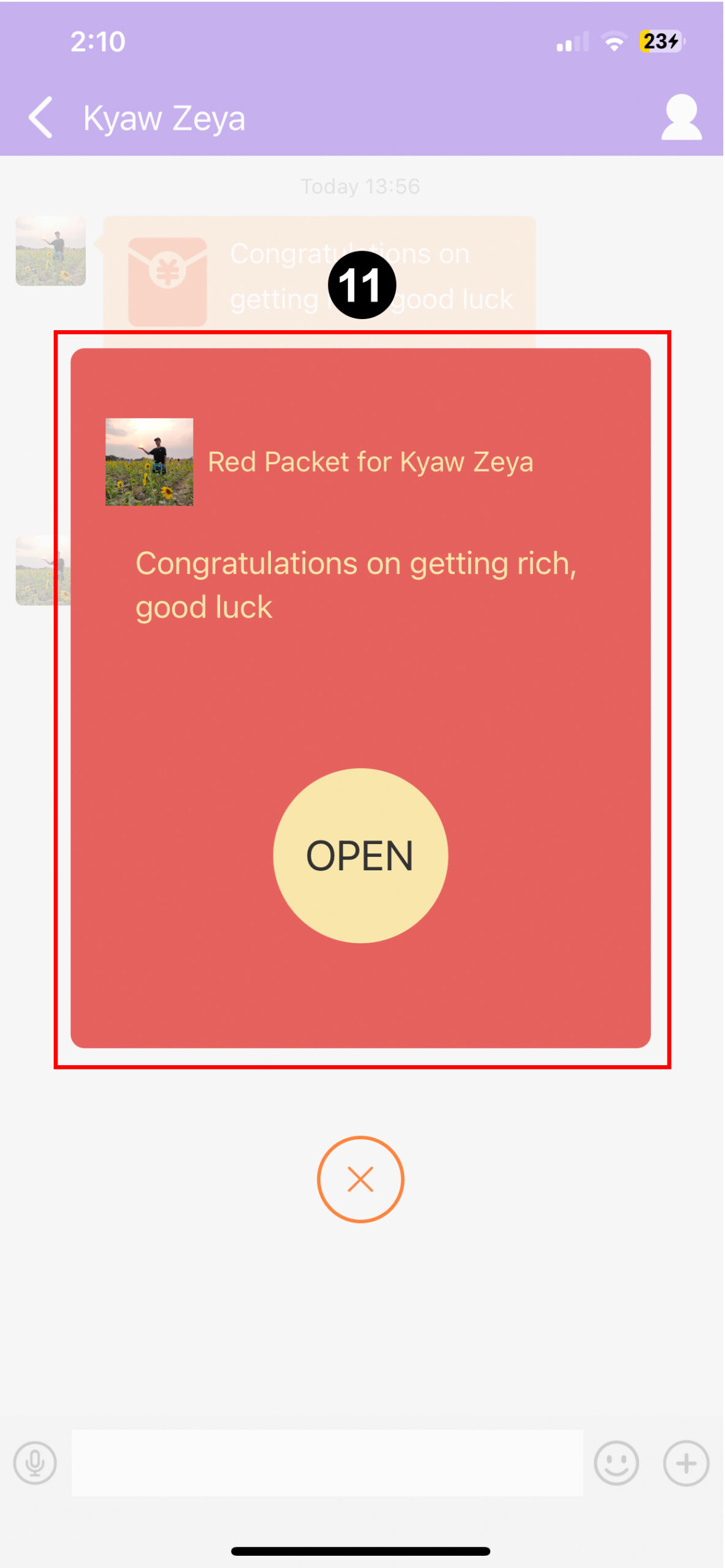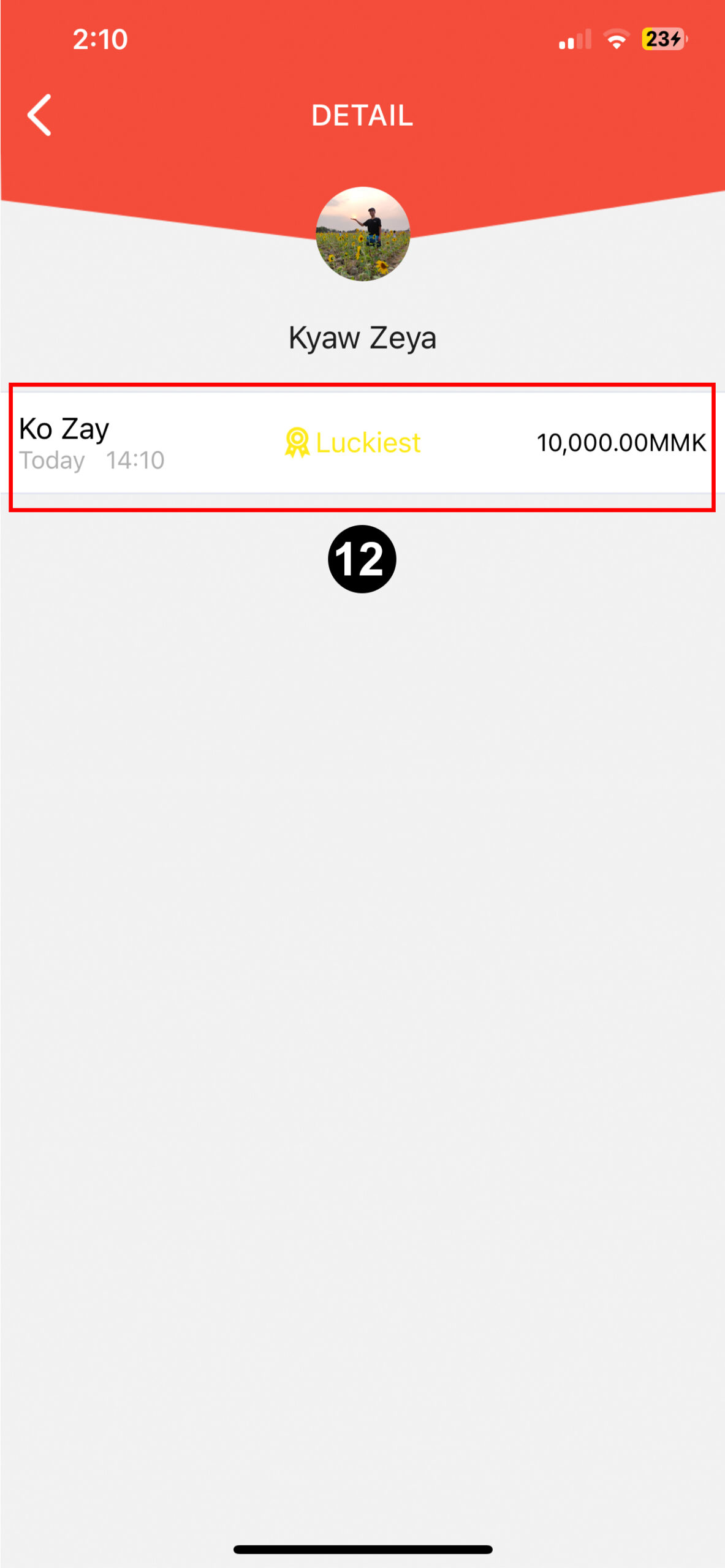 Close


Red Packet
Red Packet is a function that allows TRUSTY Accounts to give and receive pocket money to each other. Using the Red Packet Function, you can give red packets to your friends via TRUSTY Chat, WeChat, Viber, Facebook Messenger.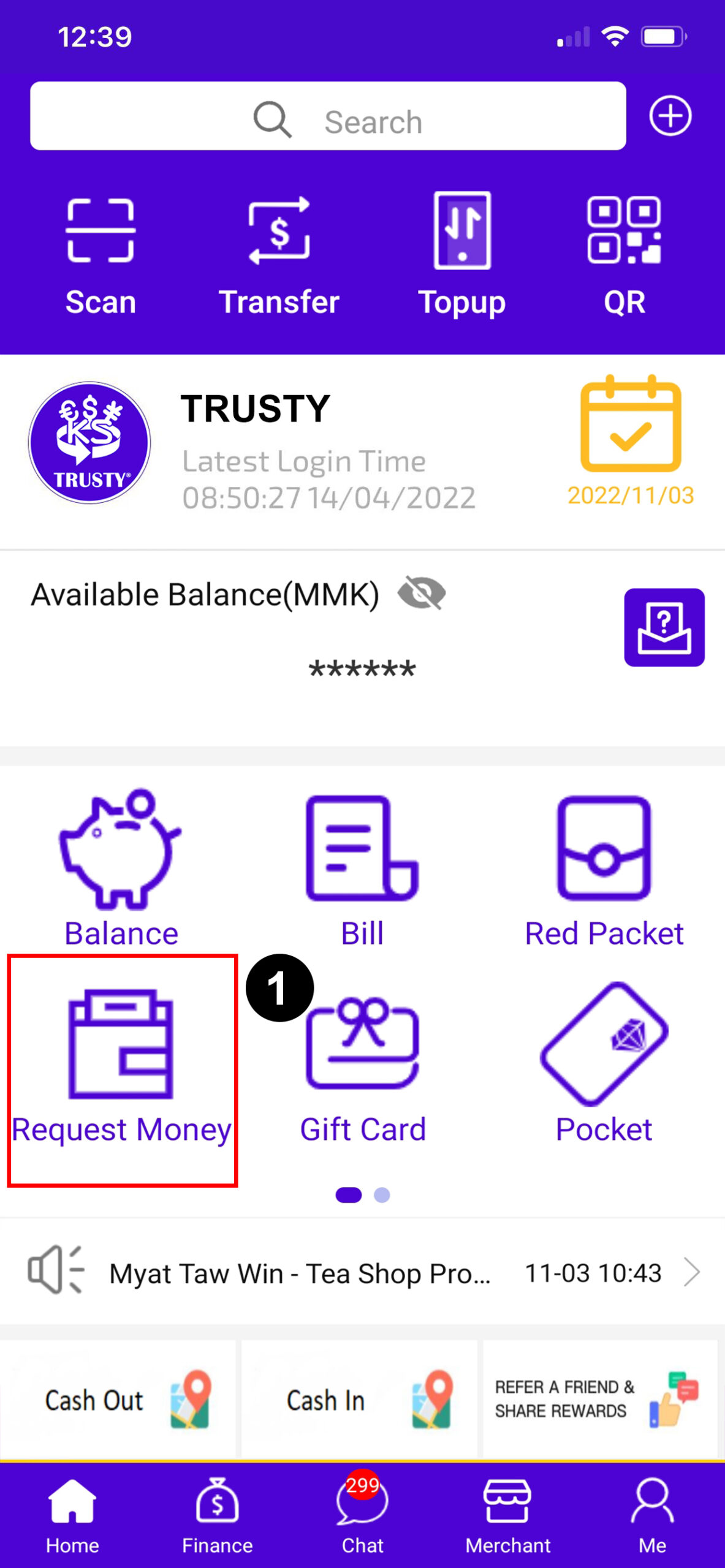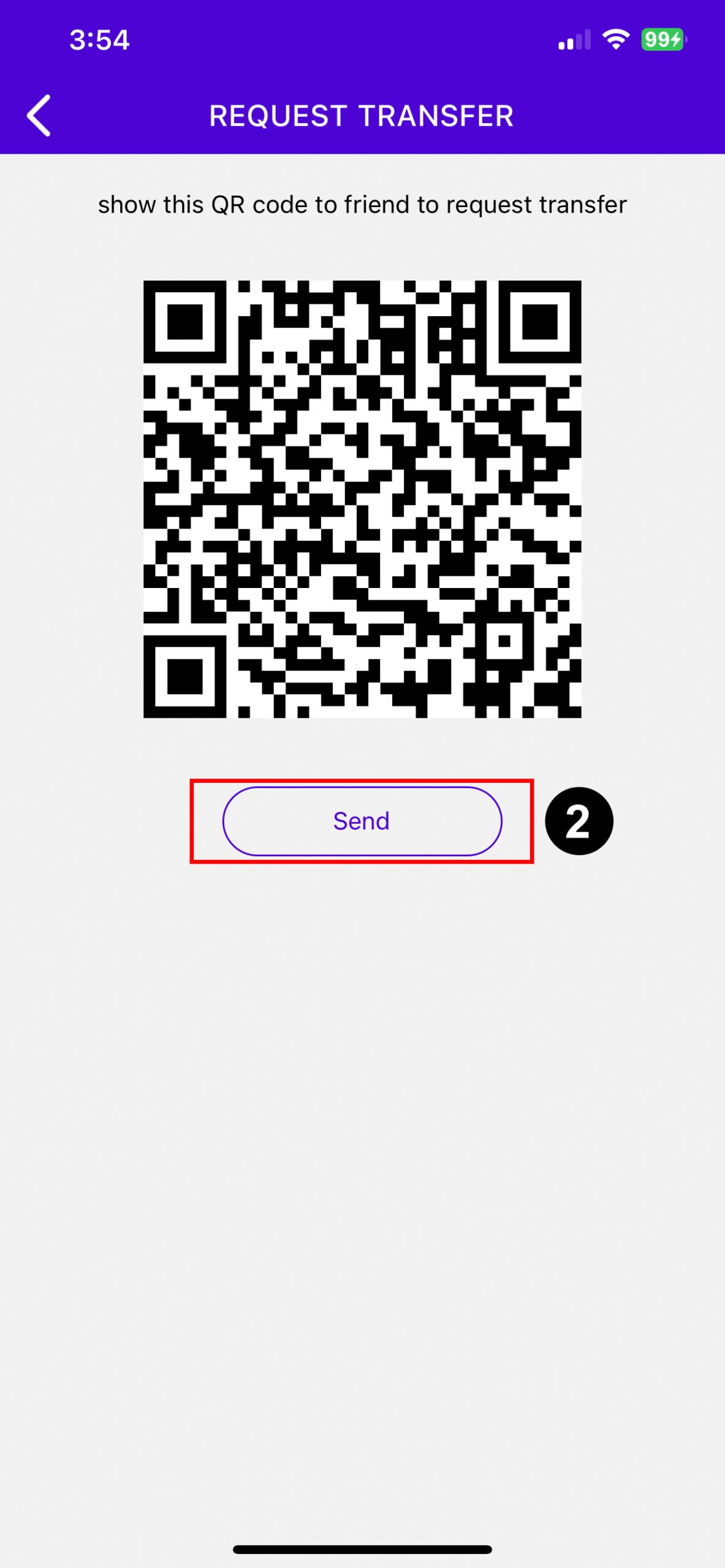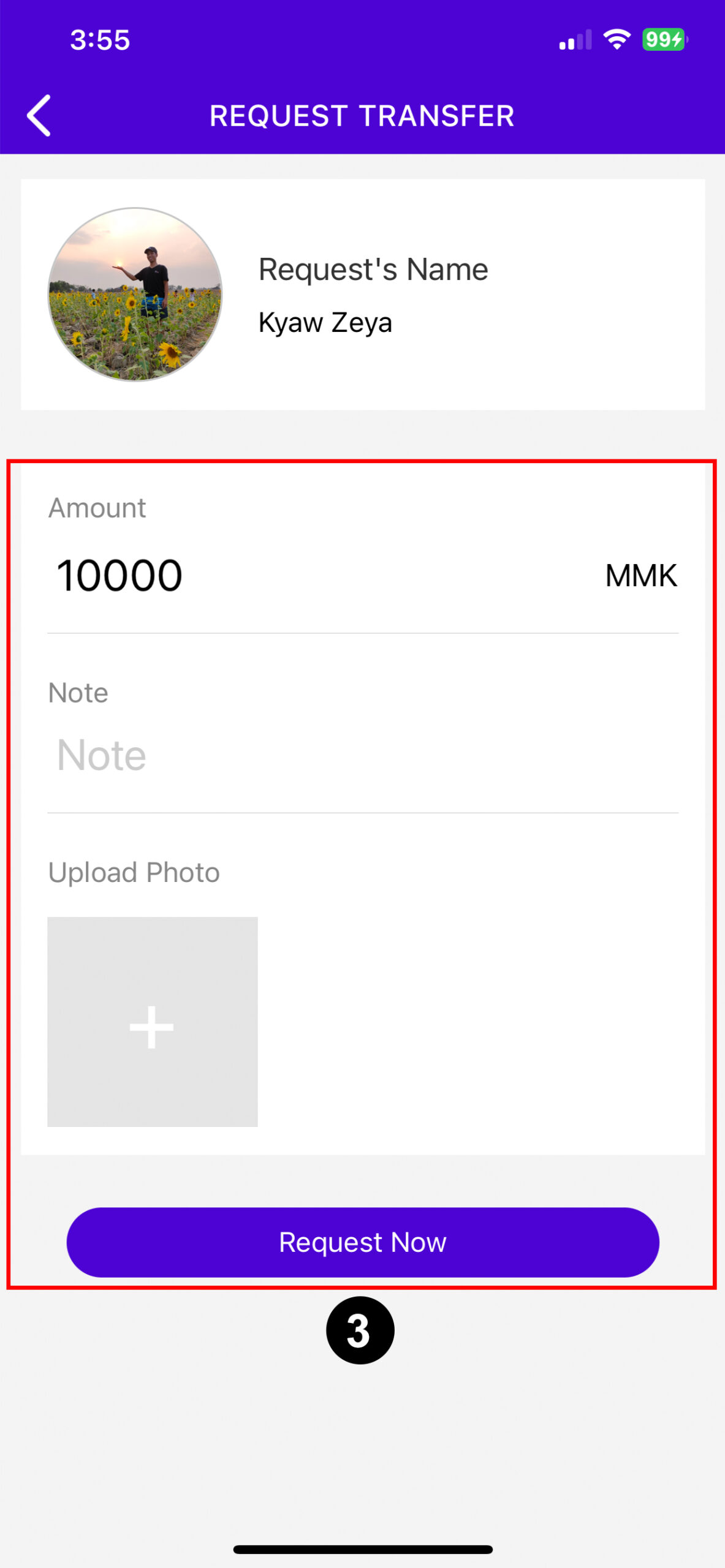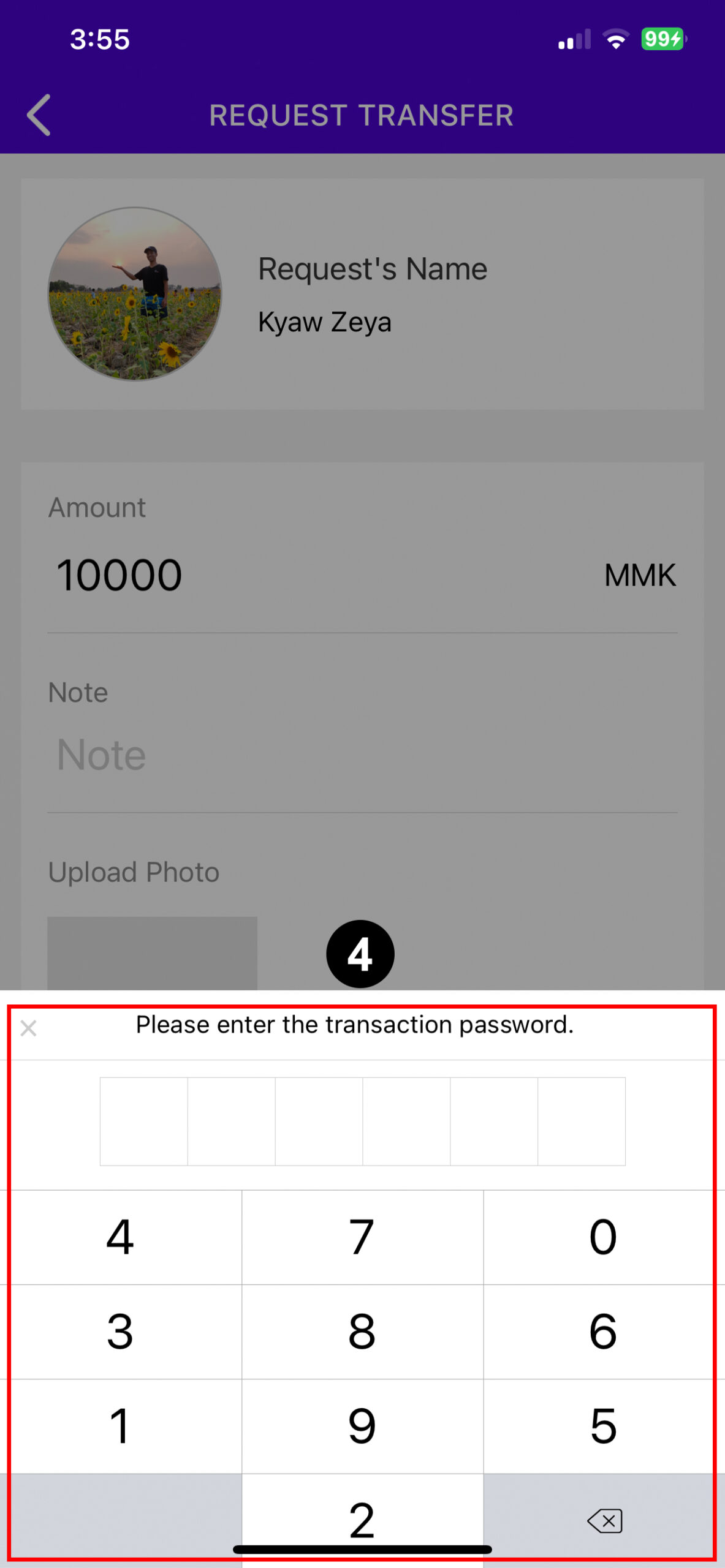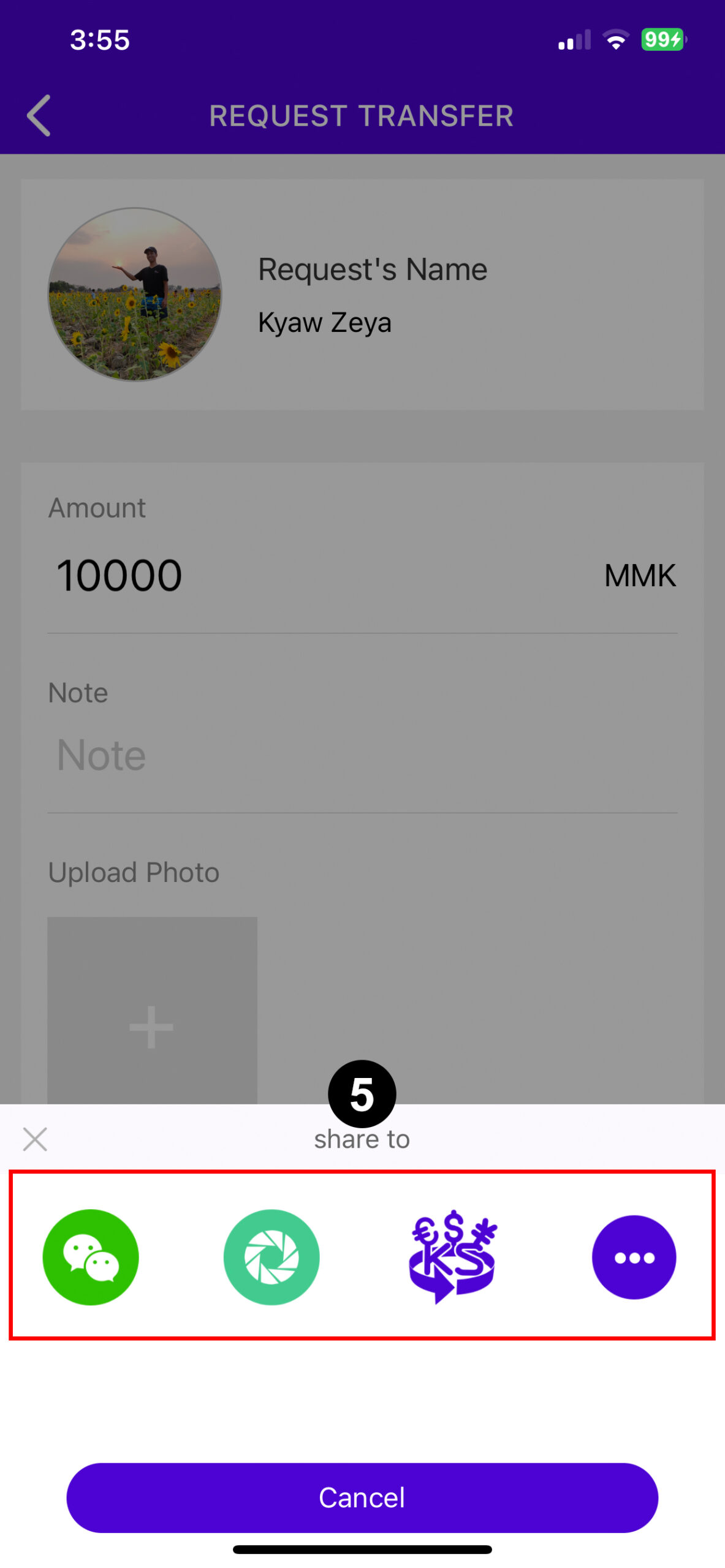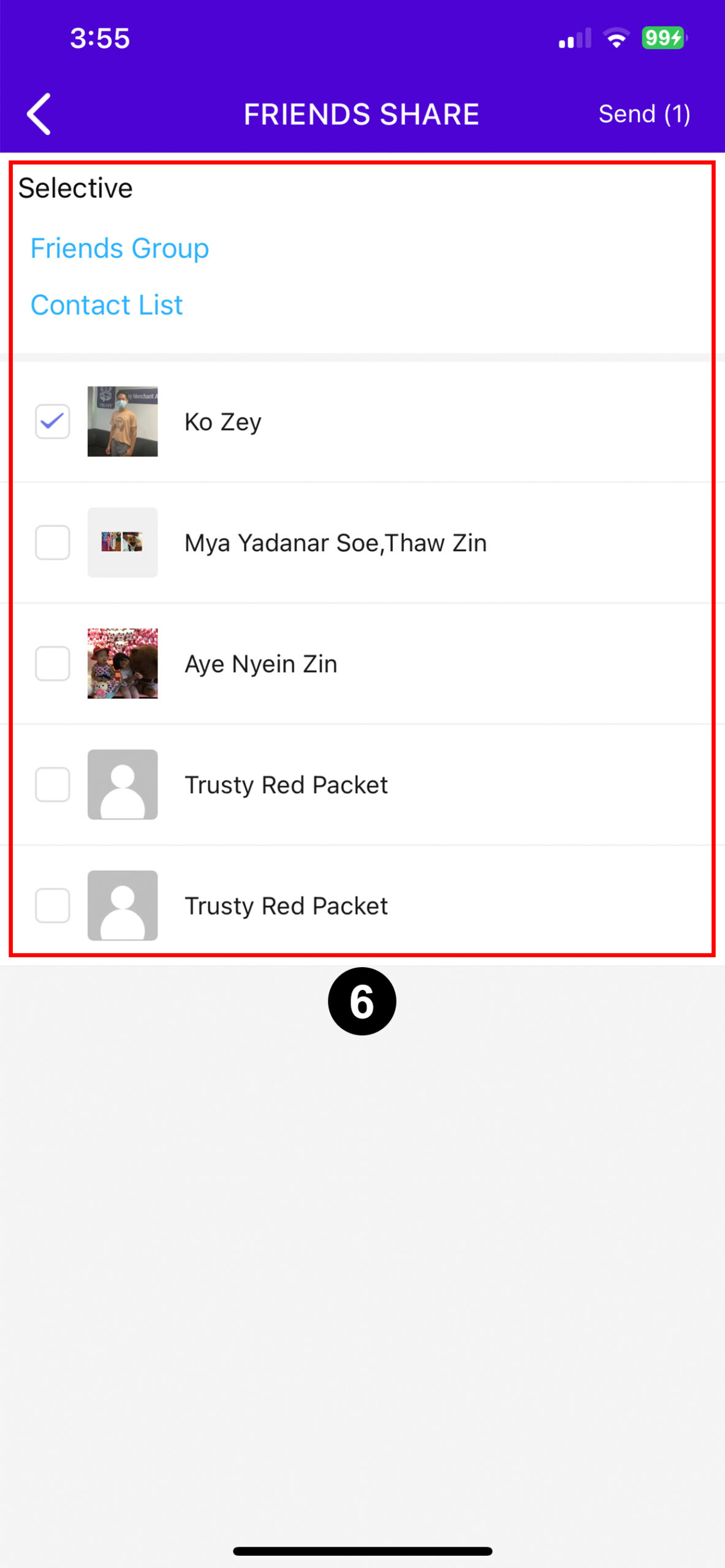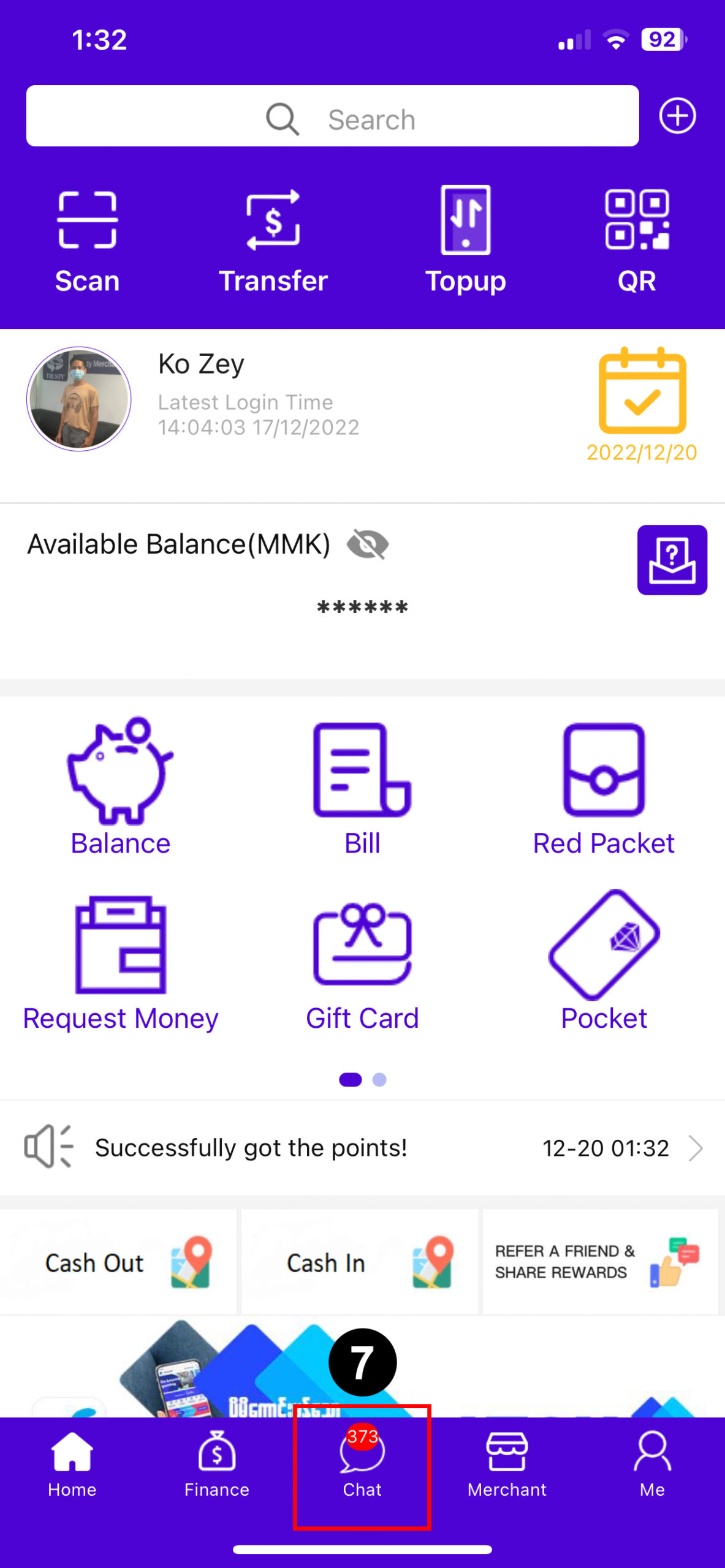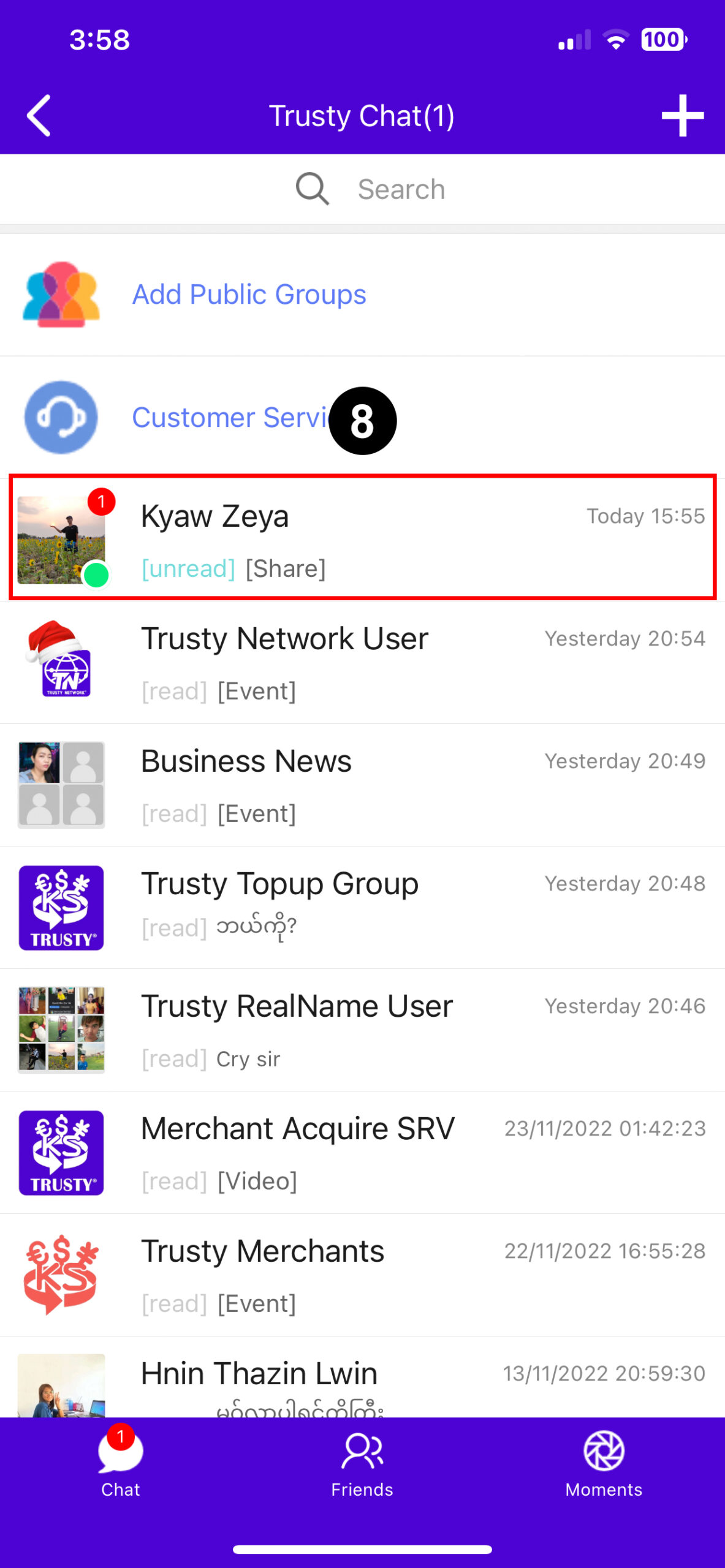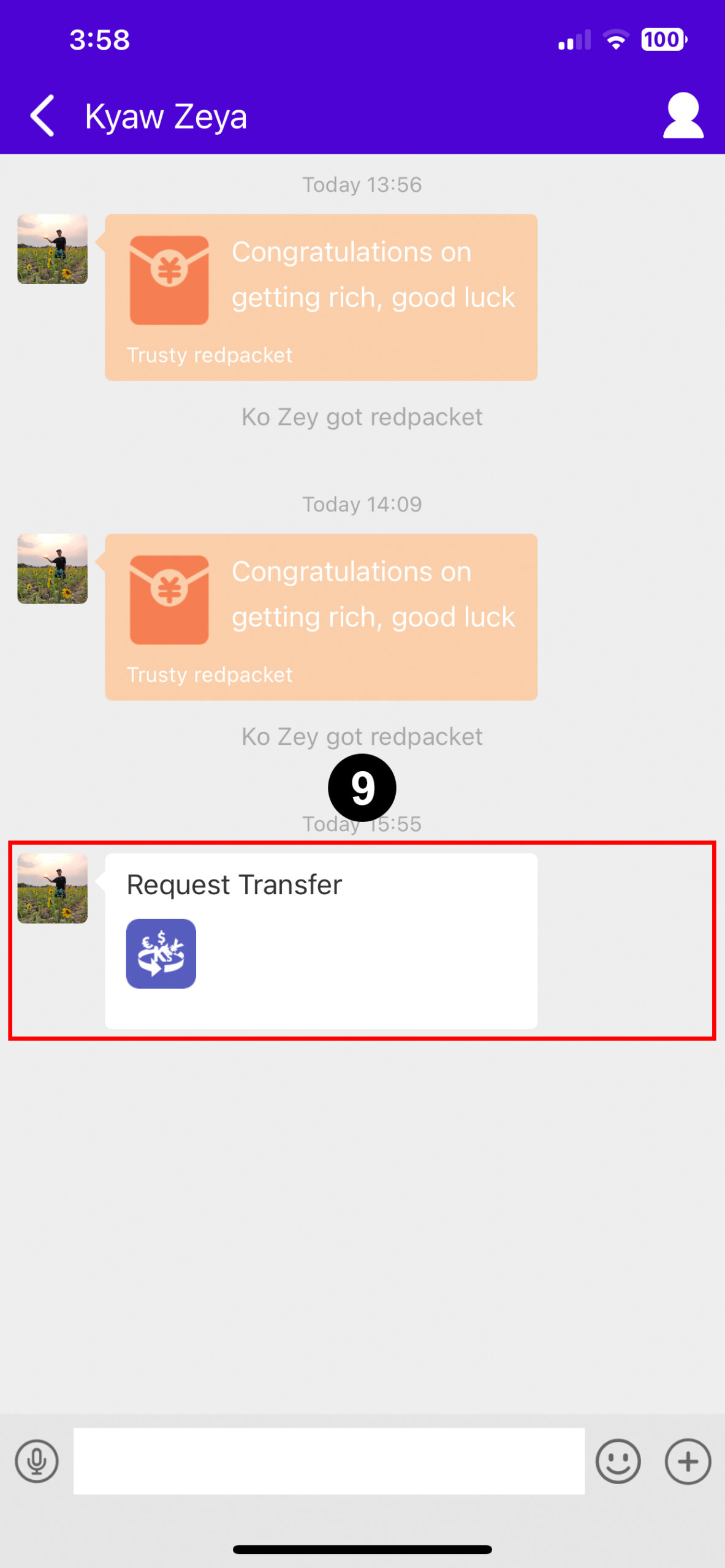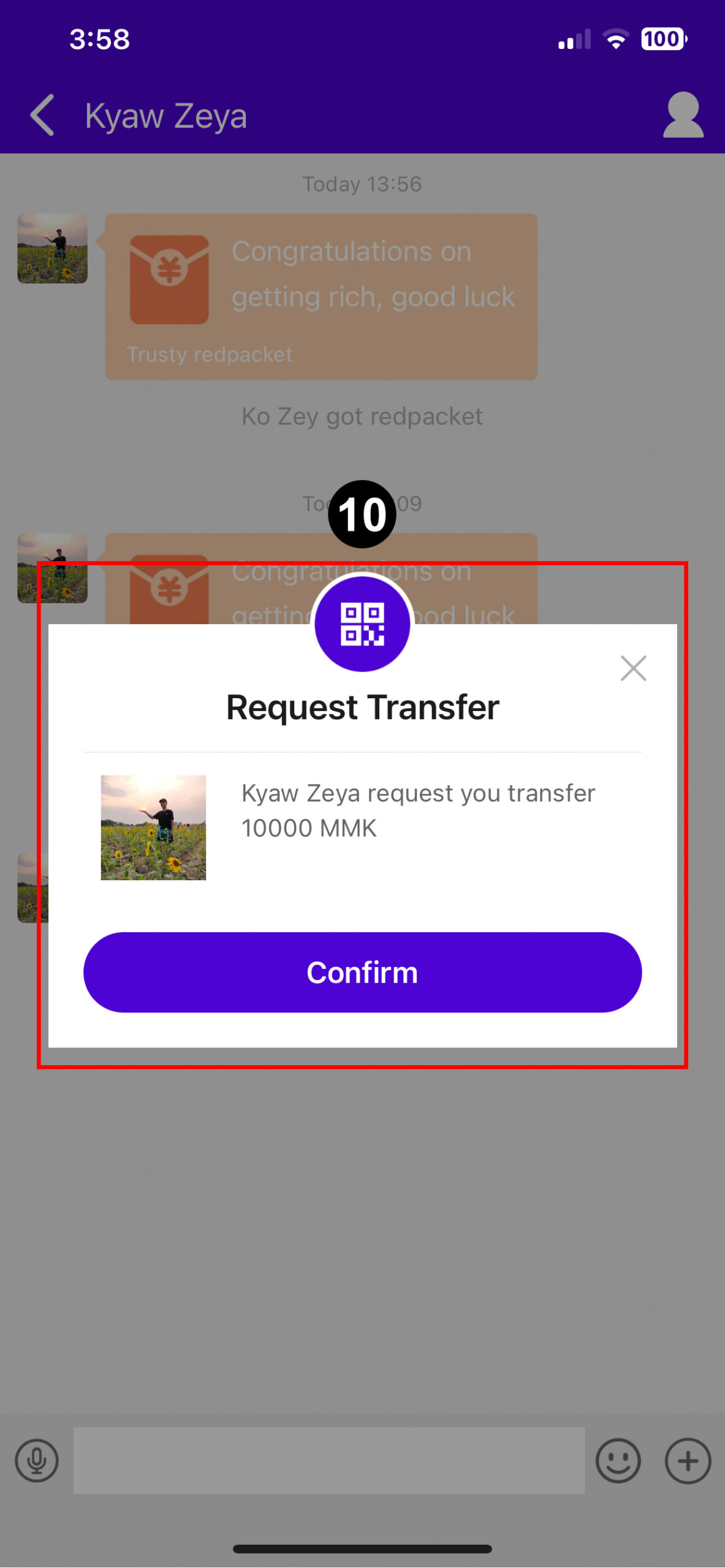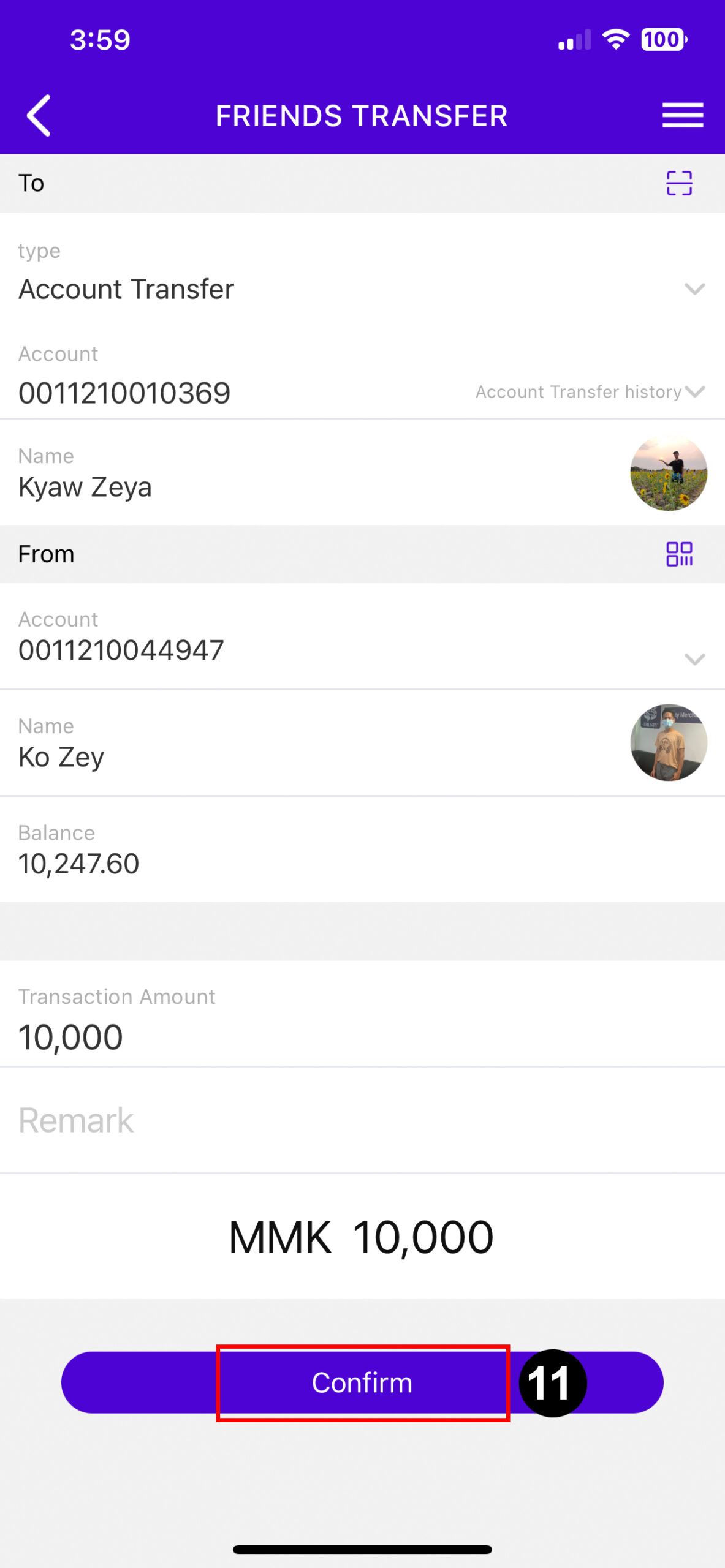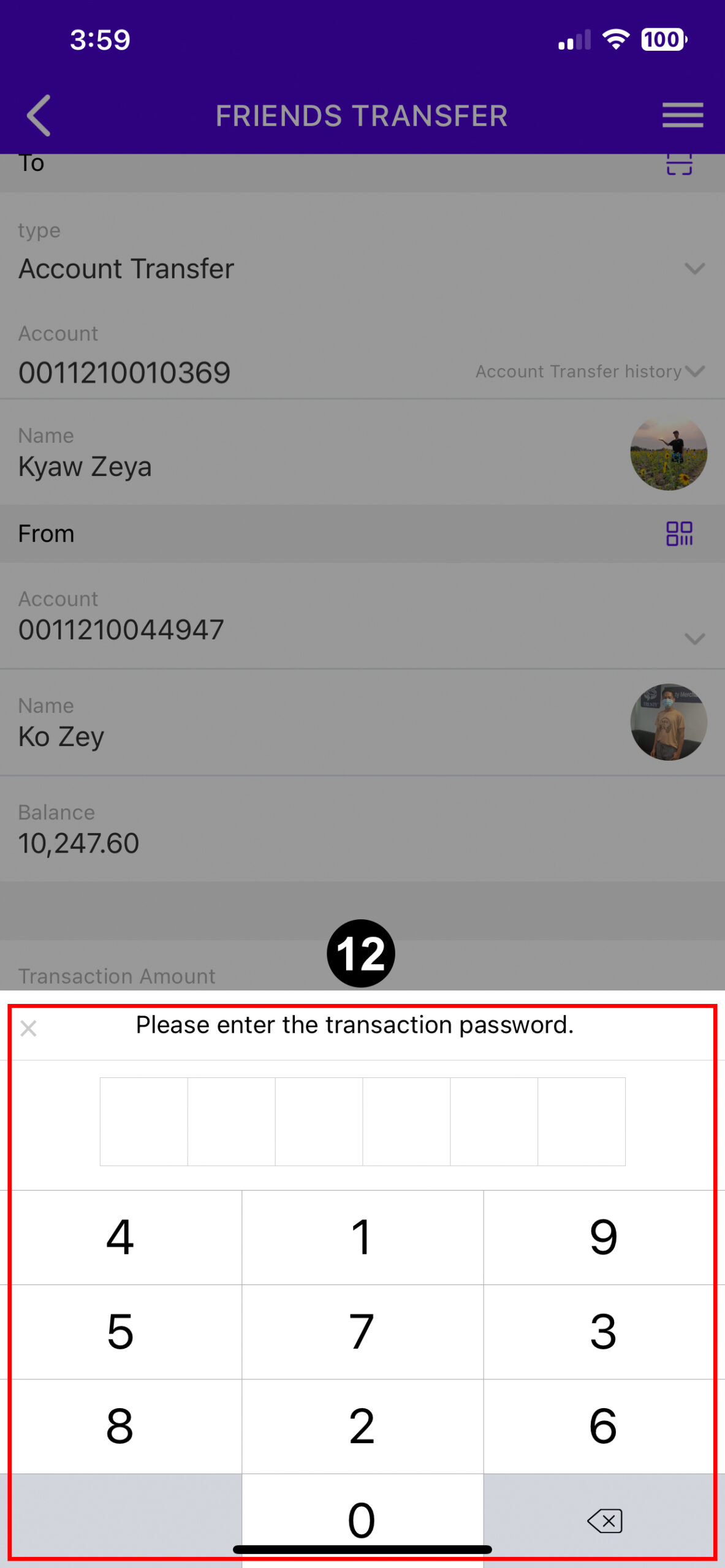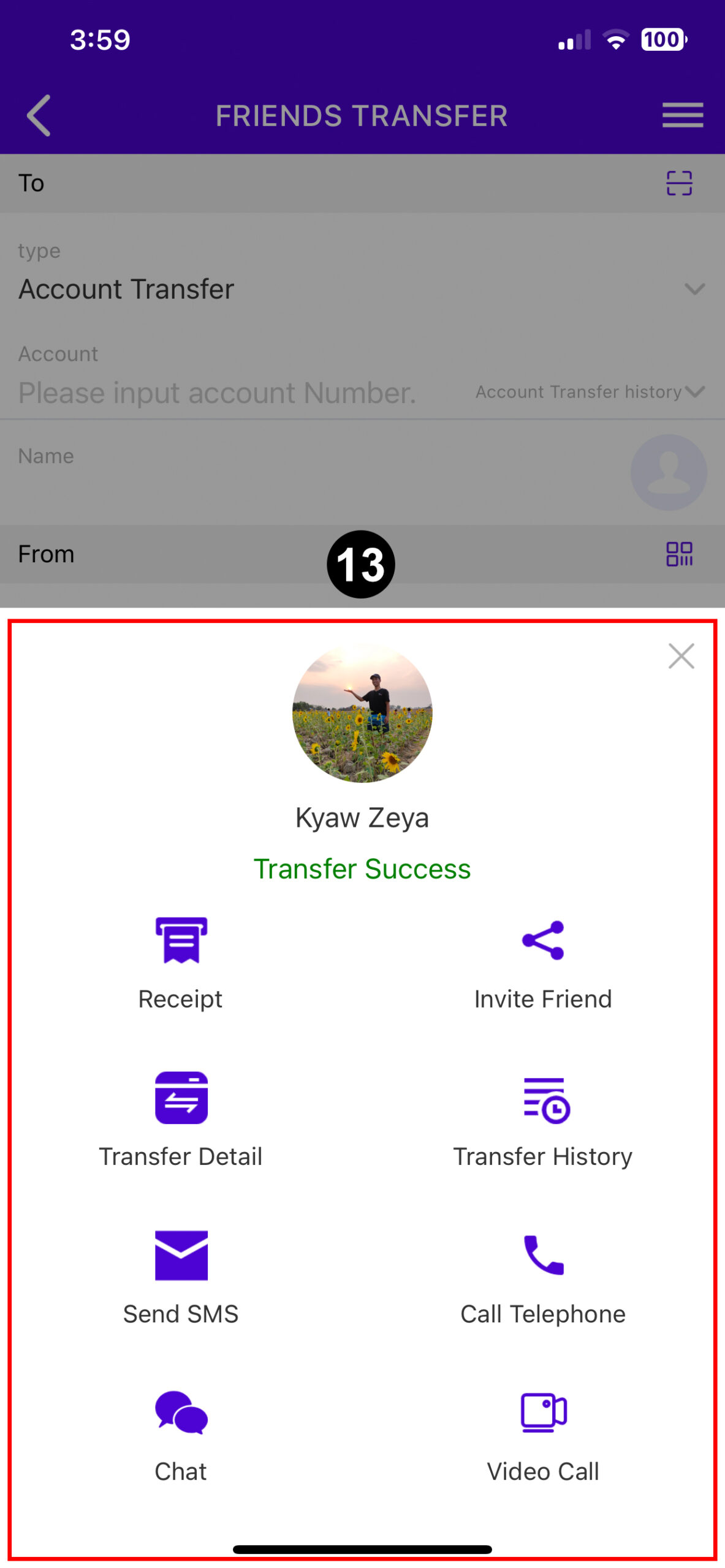 Close


Request Money
Request Money is a function to make a request to transfer money between TRUSTY accounts. Using the Request Money Function, you can smartly request to your friend through social media such as TRUSTY Chat, WeChat, Viber, Facebook Messenger, etc.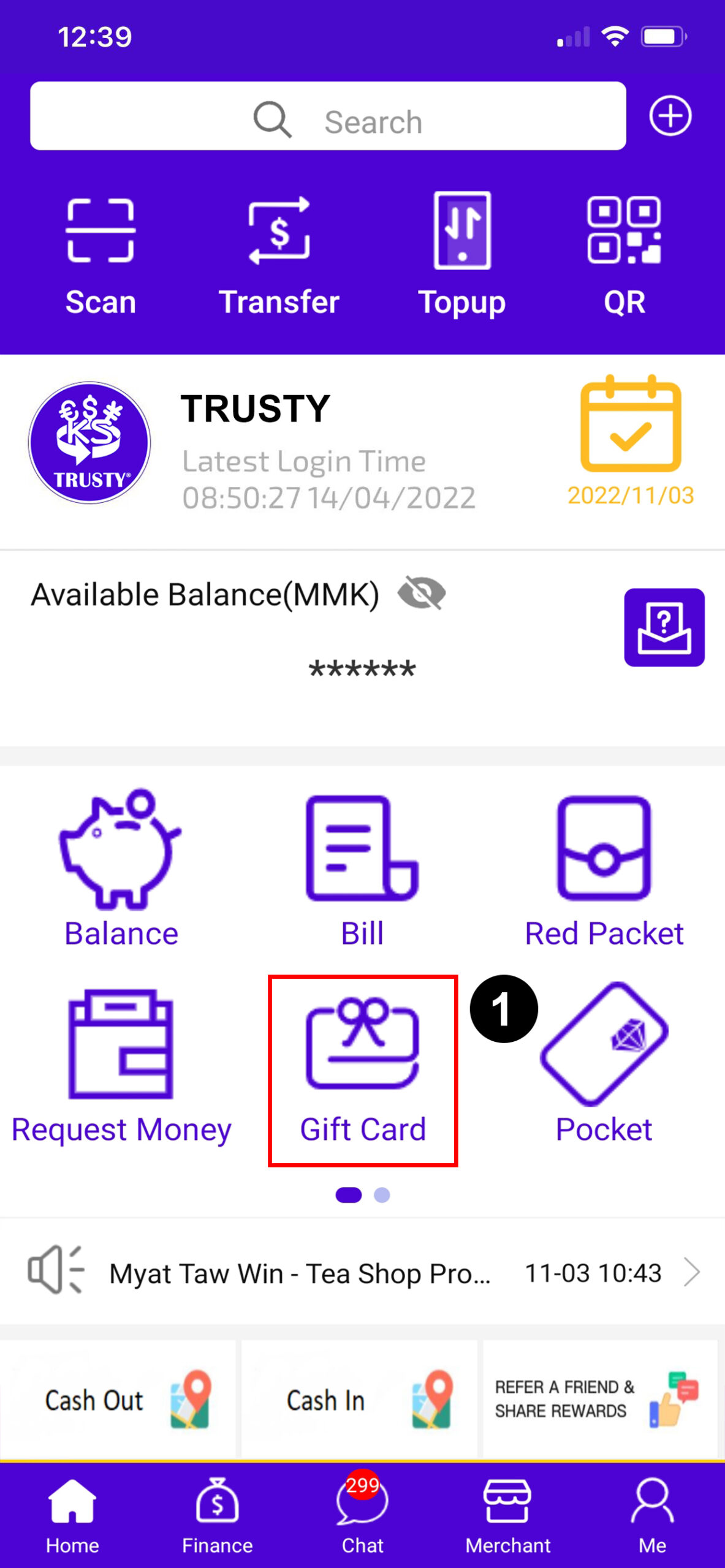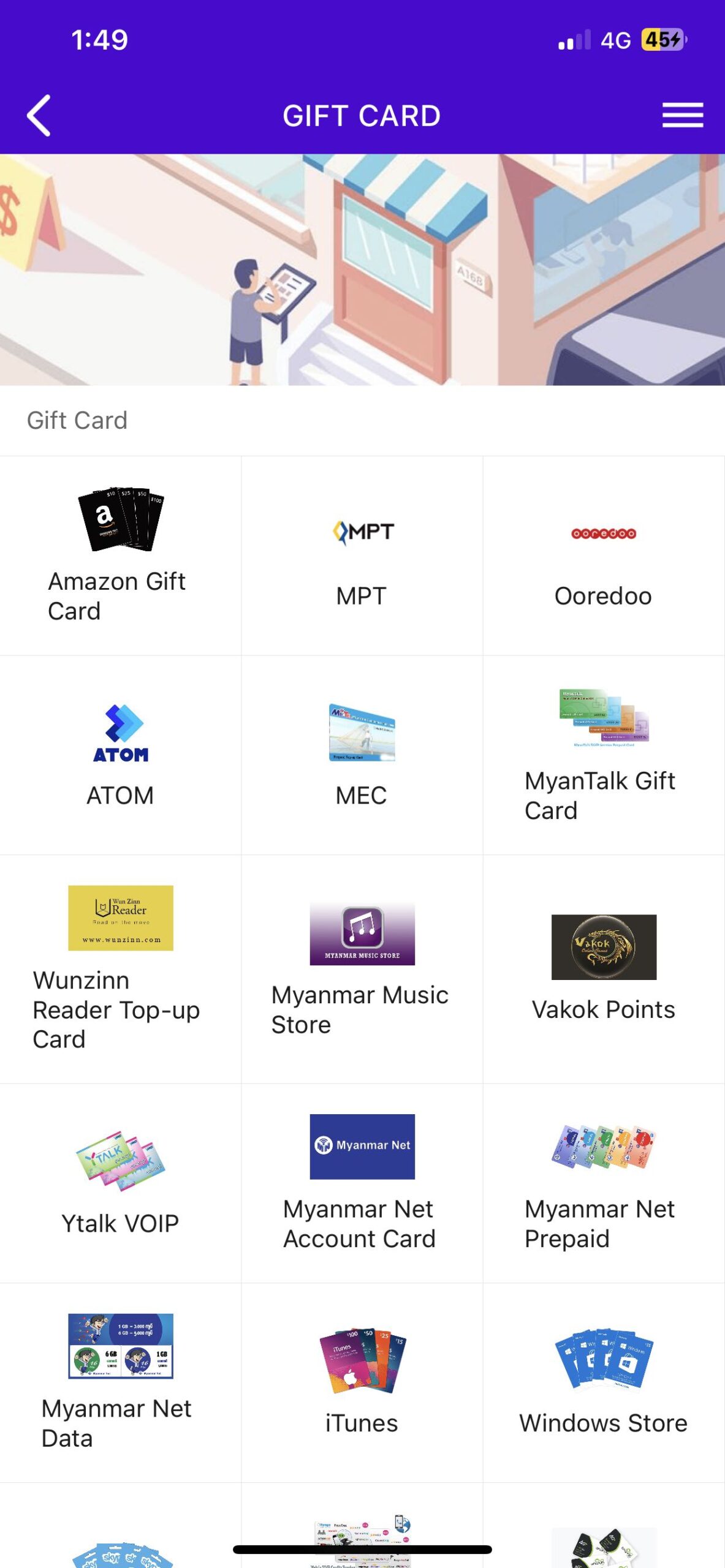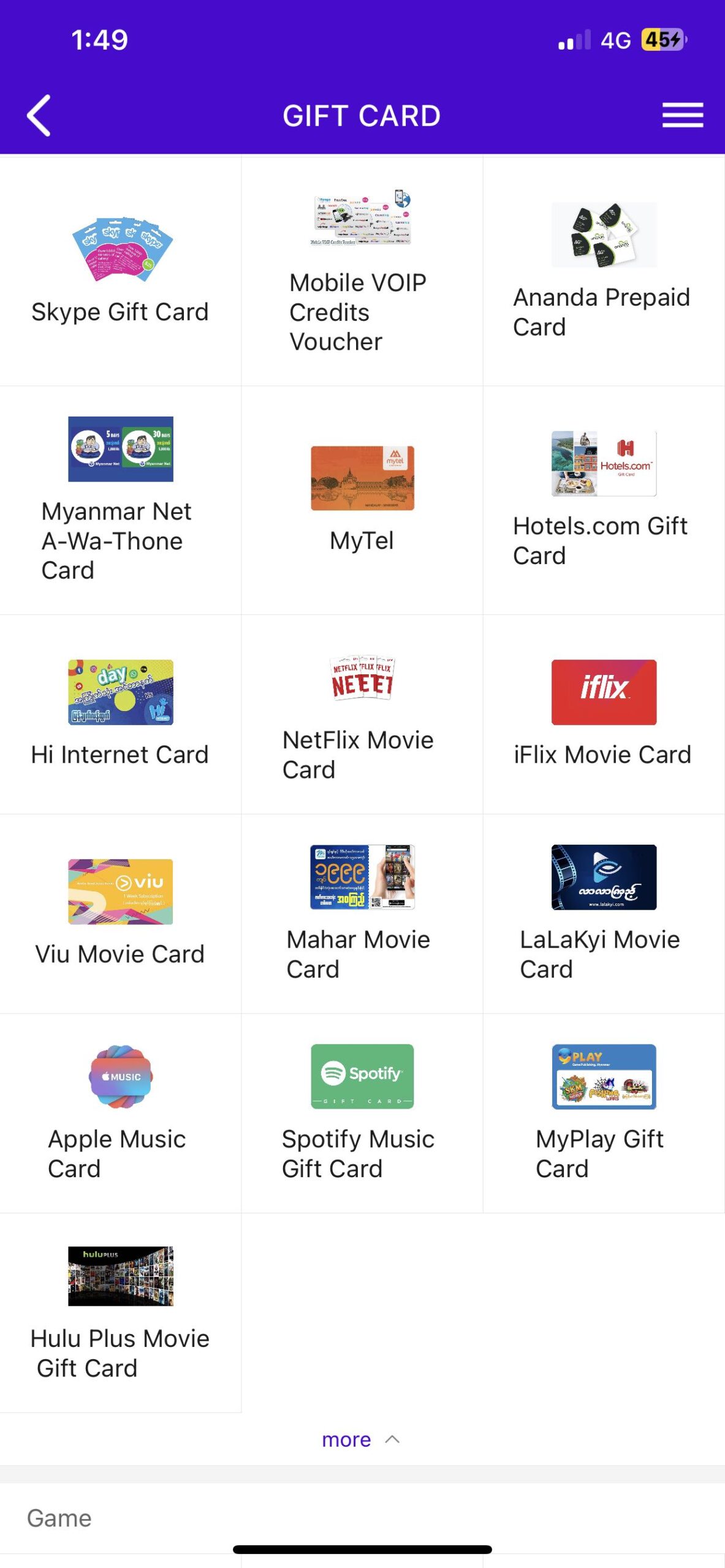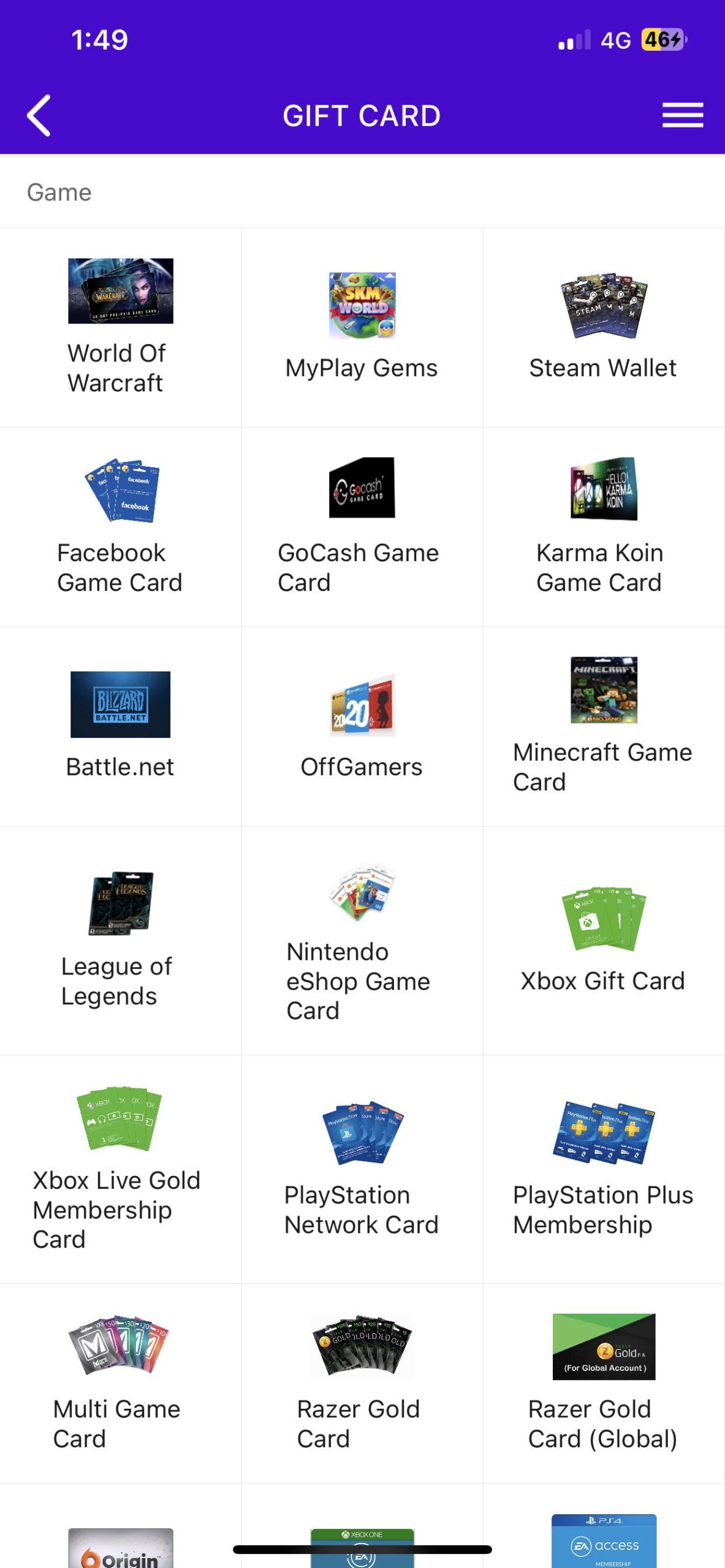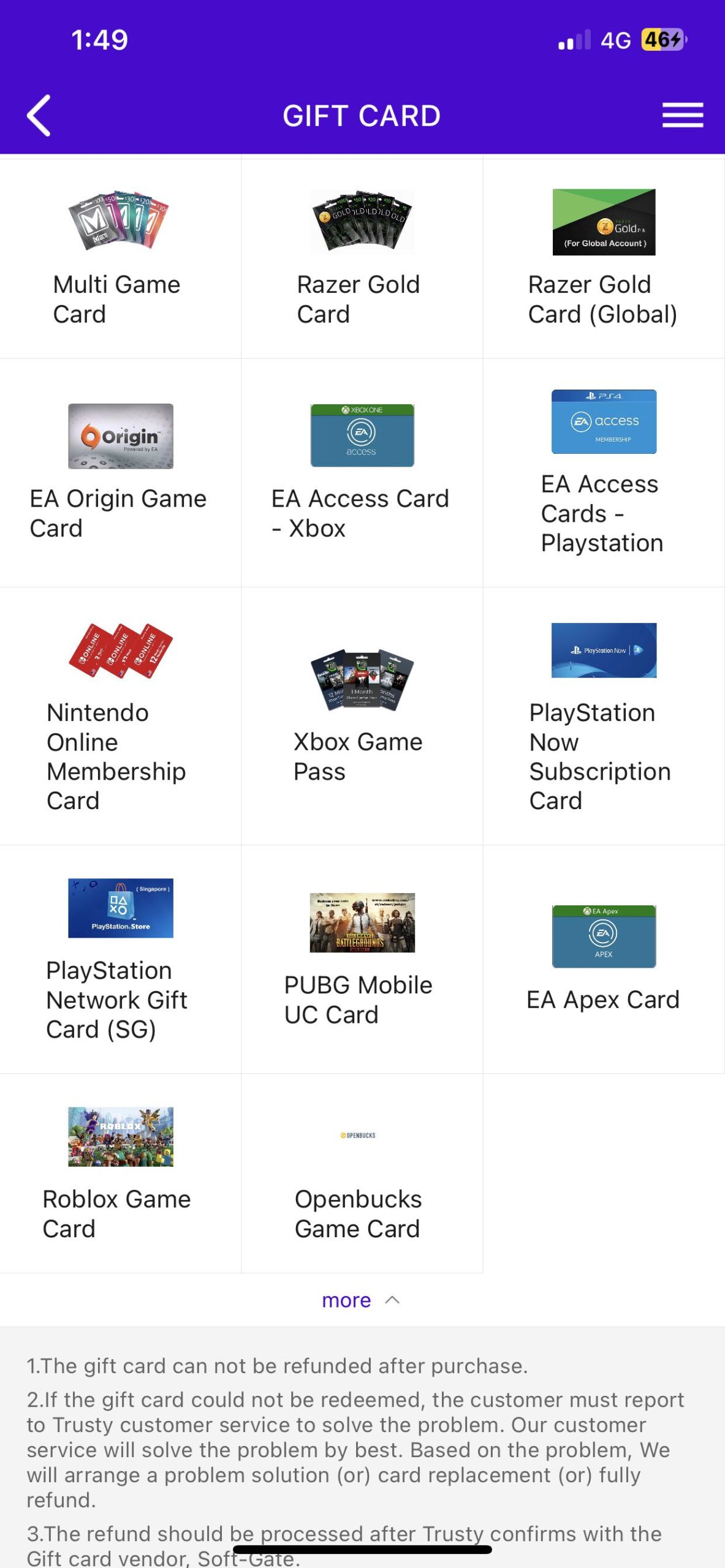 Close


Gift Card
Using the Gift Card Function, Mobile top-up cards, game cards, Internet recharge cards can be purchased easily. The following gift card that can be purchased are:
Gift Cards
Game Cards
Amazon Gift Card
MPT Prepaid Card
Ooredoo Prepaid Card
ATOM Prepaid Card
MEC Prepaid Card
MyTel Prepaid Card
MyanTalk Gift Card
Wunzinn Reader Top-up Card
Myanmar Music Store
Vakok Points
Ytalk VOIP
Myanmar Net Account Card
Myanmar Net Prepaid
Myanmar Net Data
Myanmar Net A-Wa-Thone Card
iTunes Gift Card
Windows Store
Skype Gift Card
Mobile VOIP Credits Voucher
Ananda Prepaid Card
Hotels.com Gift Card
Hi Internet Card
NetFlix Movie Card
iFlix Movie Card
Viu Movie Card
Mahar Movie Card
LaLaKyi Movie Card
Apple Music Card
Spotify Music Gift Card
MyPlay Gift Card
Hulu Plus Movie Gift Card
World Of Warcraft
MyPlay Gems
Steam Wallet
Facebook Game Card
GoCash Game Card
Karma Koin Game Card
Battle.net
OffGamers
Minecraft Game Card
League of Legends
Nintendo eShop Game Card
Xbox Gift Card
Xbox Live Gold Membership Card
PlayStation Network Card
PlayStation Plus Membership
Multi Game Card
Razer Gold Card
Razer Gold Card (Global)
EA Origin Game Card
EA Access Card – Xbox
EA Access Cards – Playstation
Nintendo Online Membership Card
Xbox Game Pass
PlayStation Now Subscription
PlayStation Network Gift Card (SG)
PUBG Mobile UC Card
EA Apex Card
Roblox Game Card
Openbucks Game Card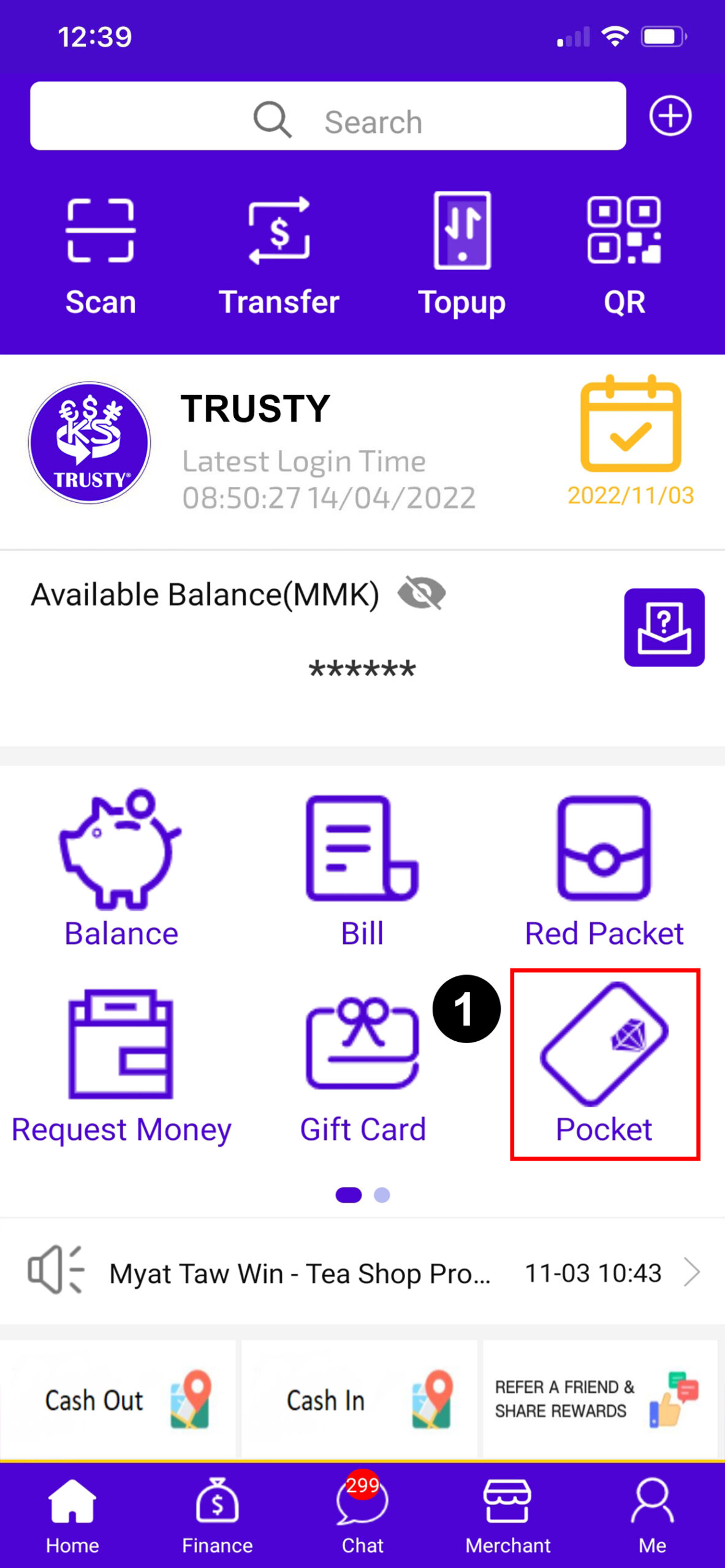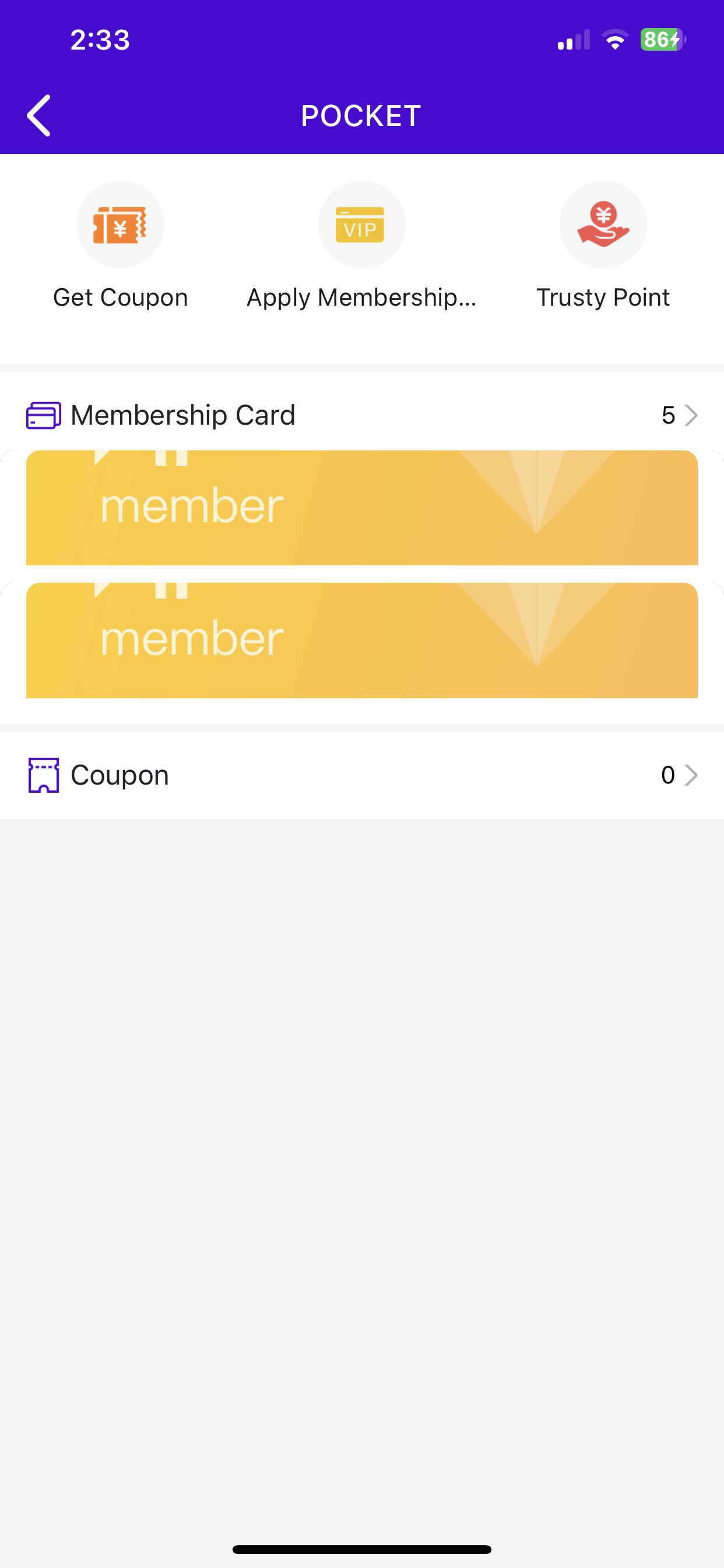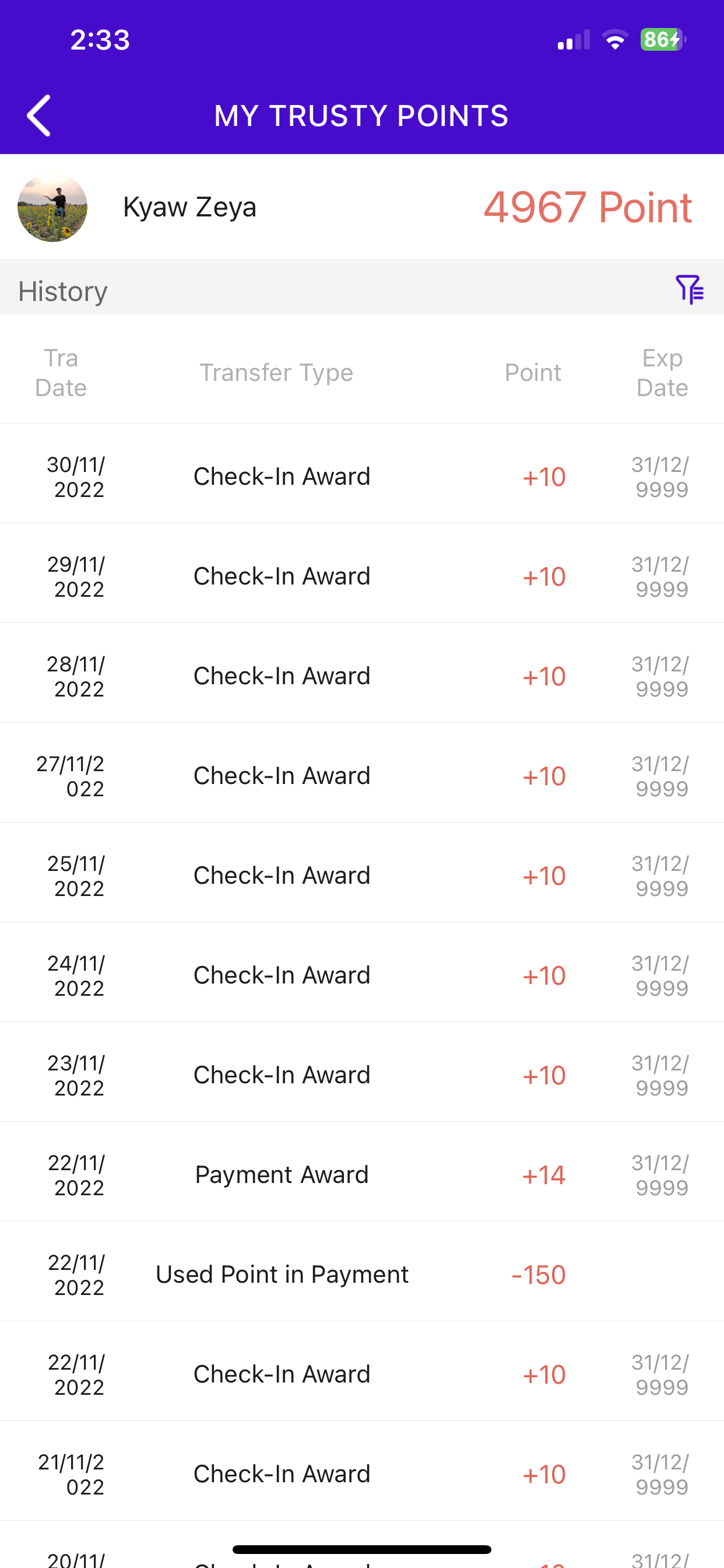 Close


Pocket
Pocket function is to get coupons, Being able to apply for membership at merchants and you can view detailed lists of points history.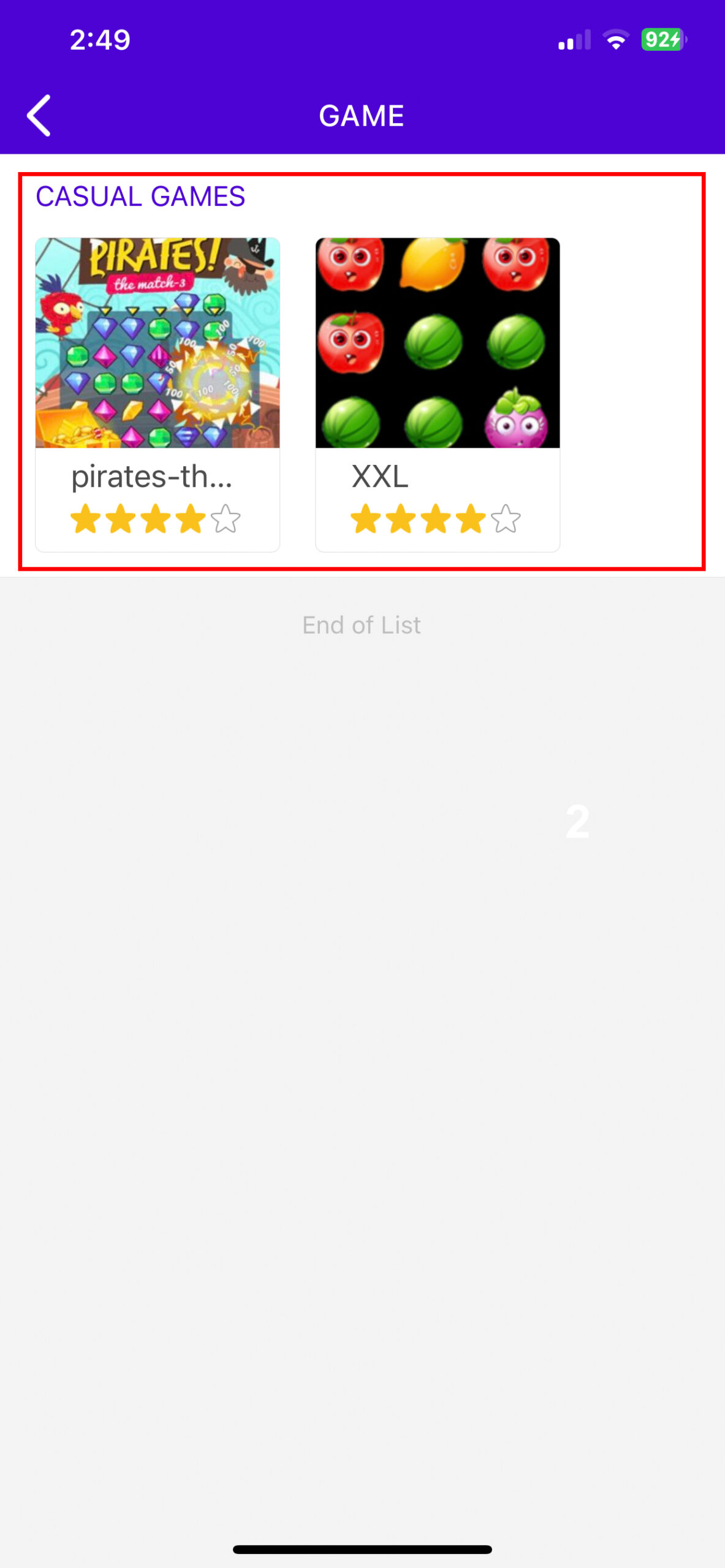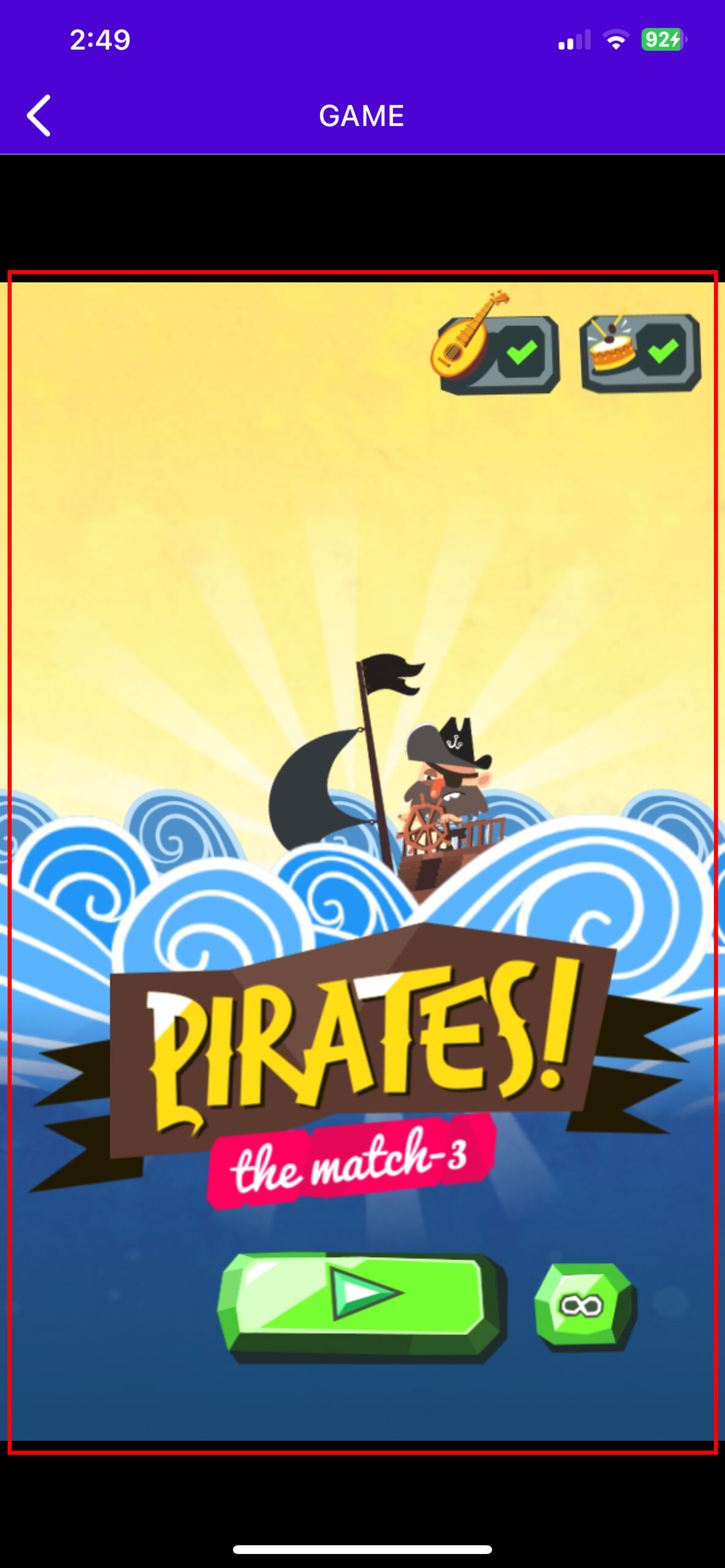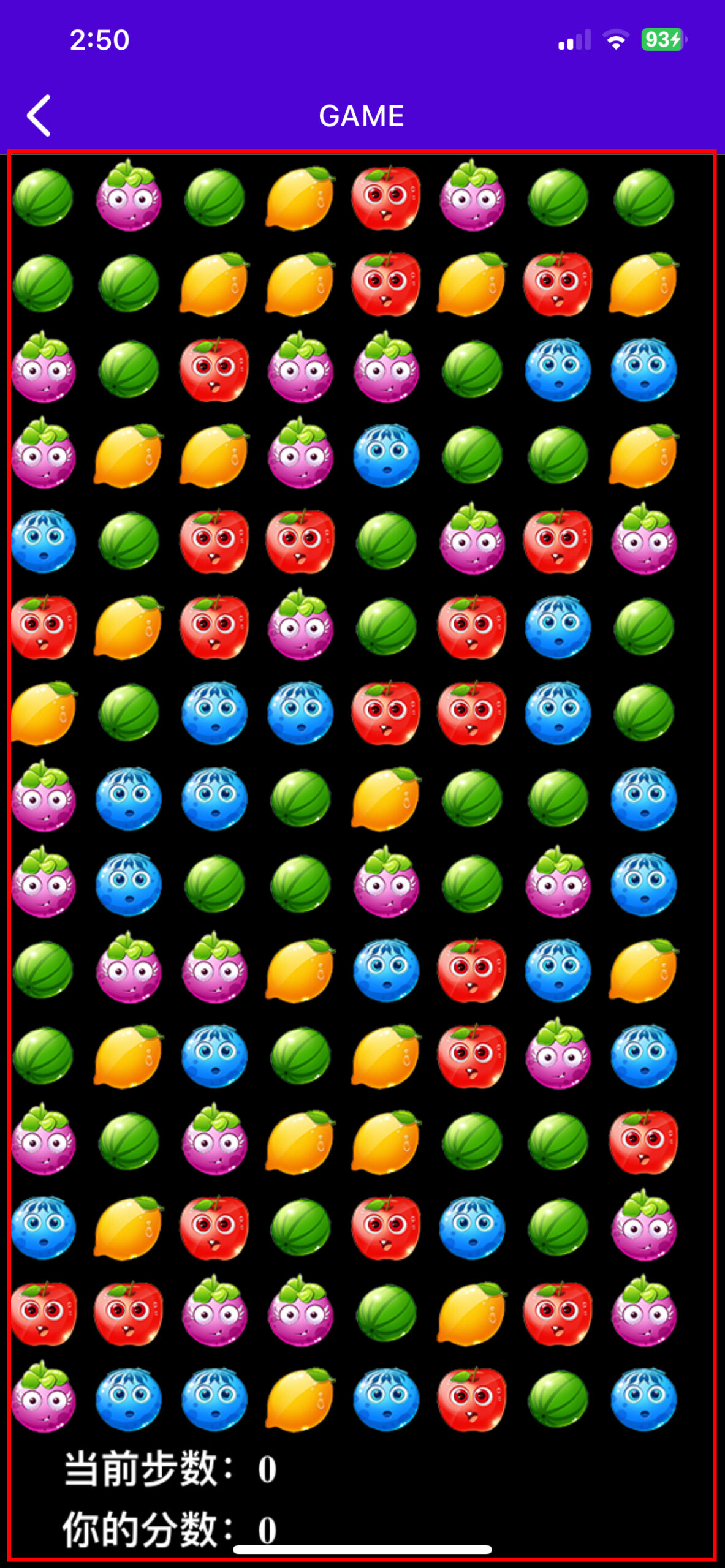 Close


Game
You can play Casual Games by clicking the Game icon.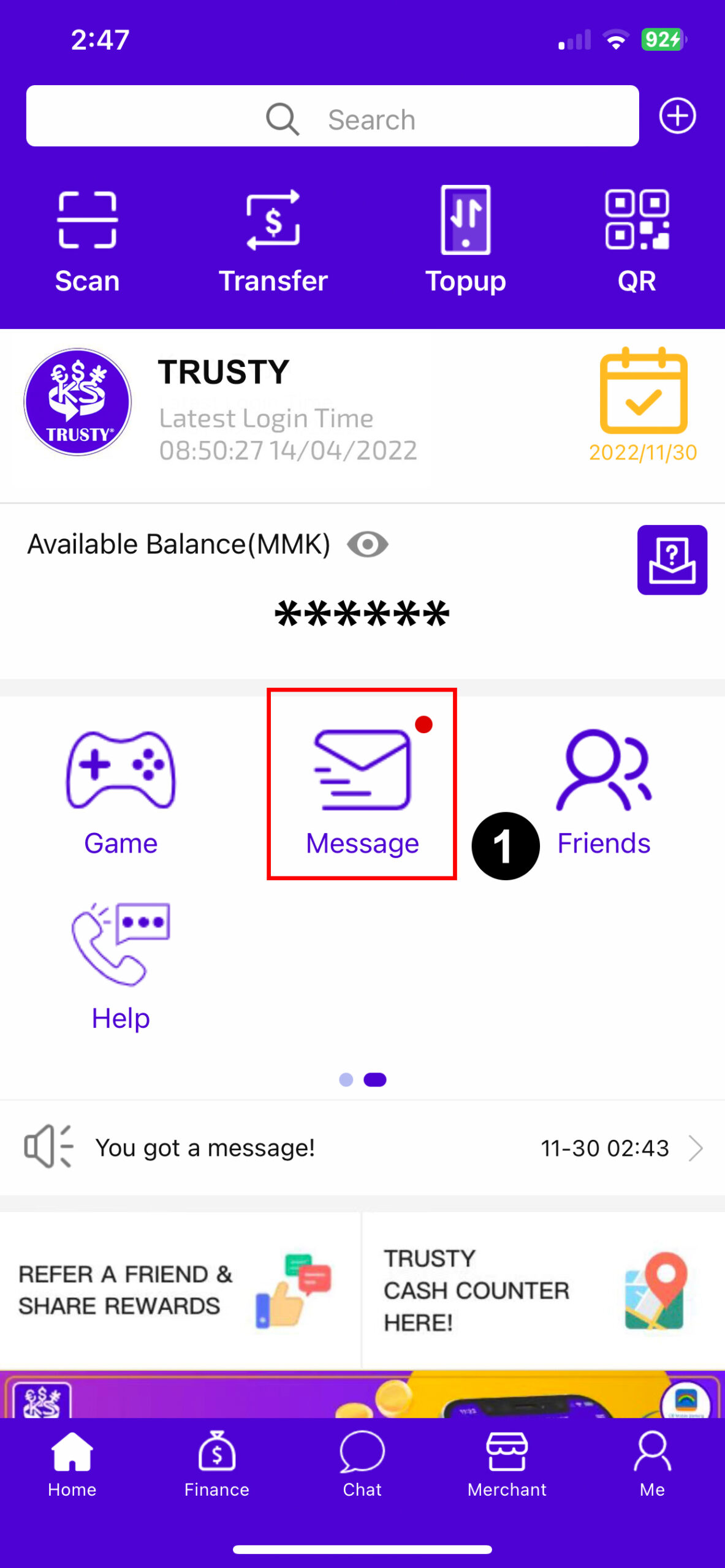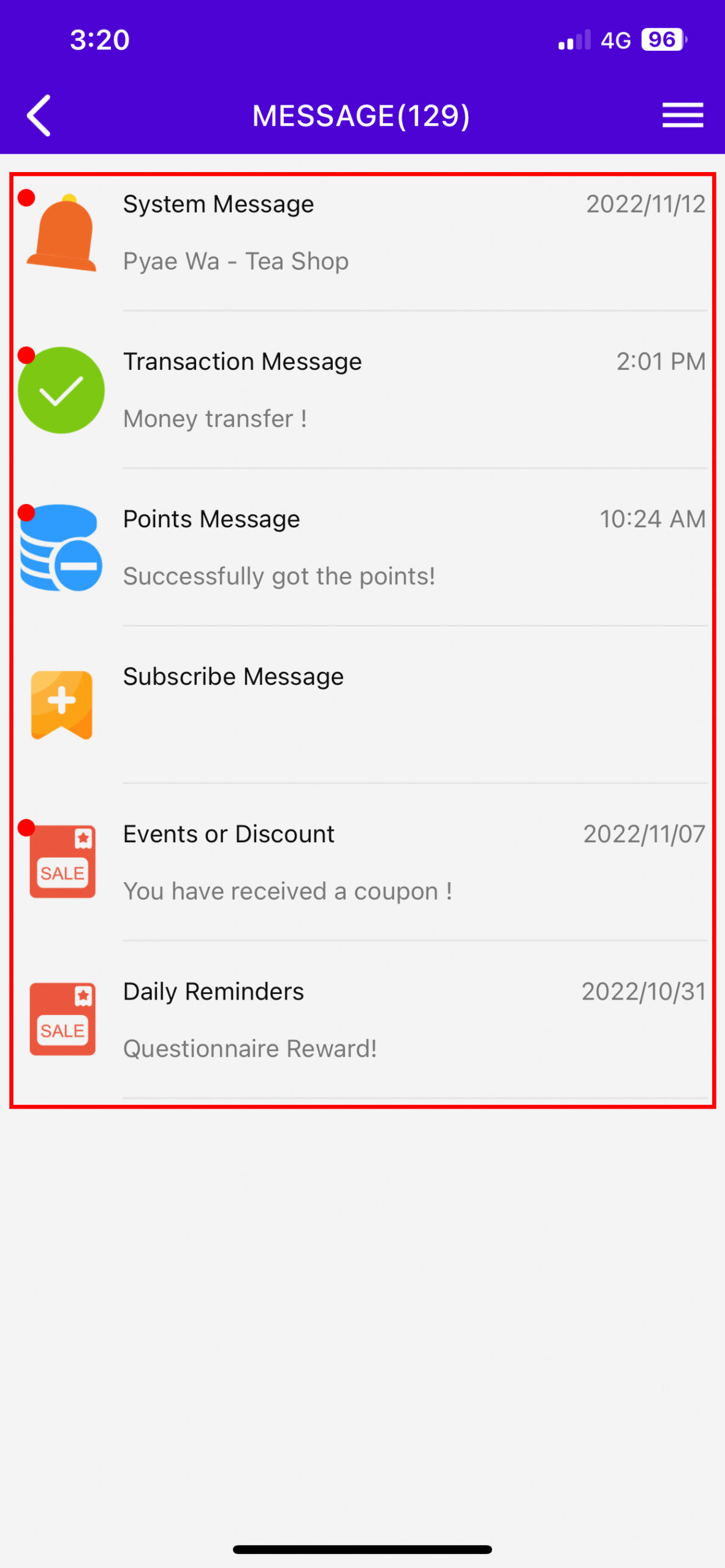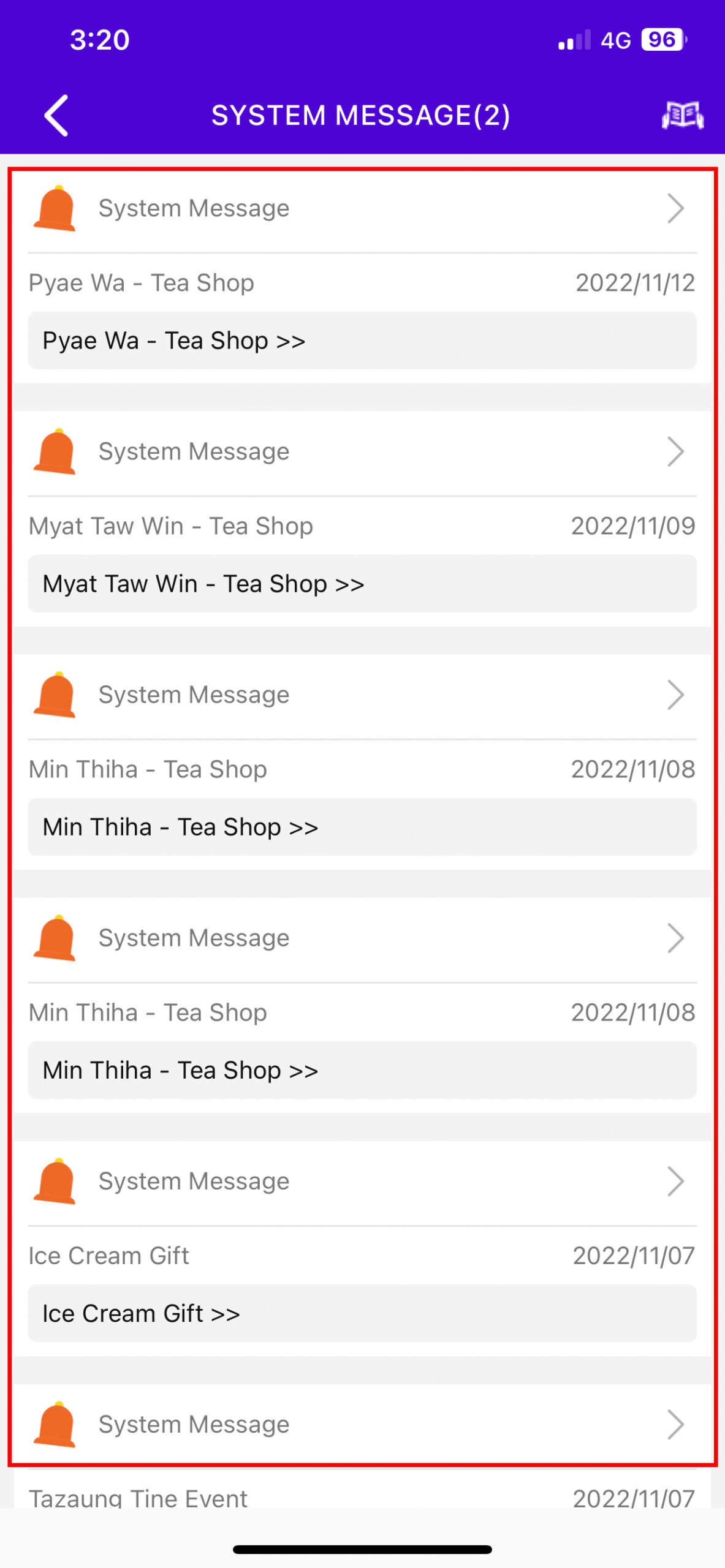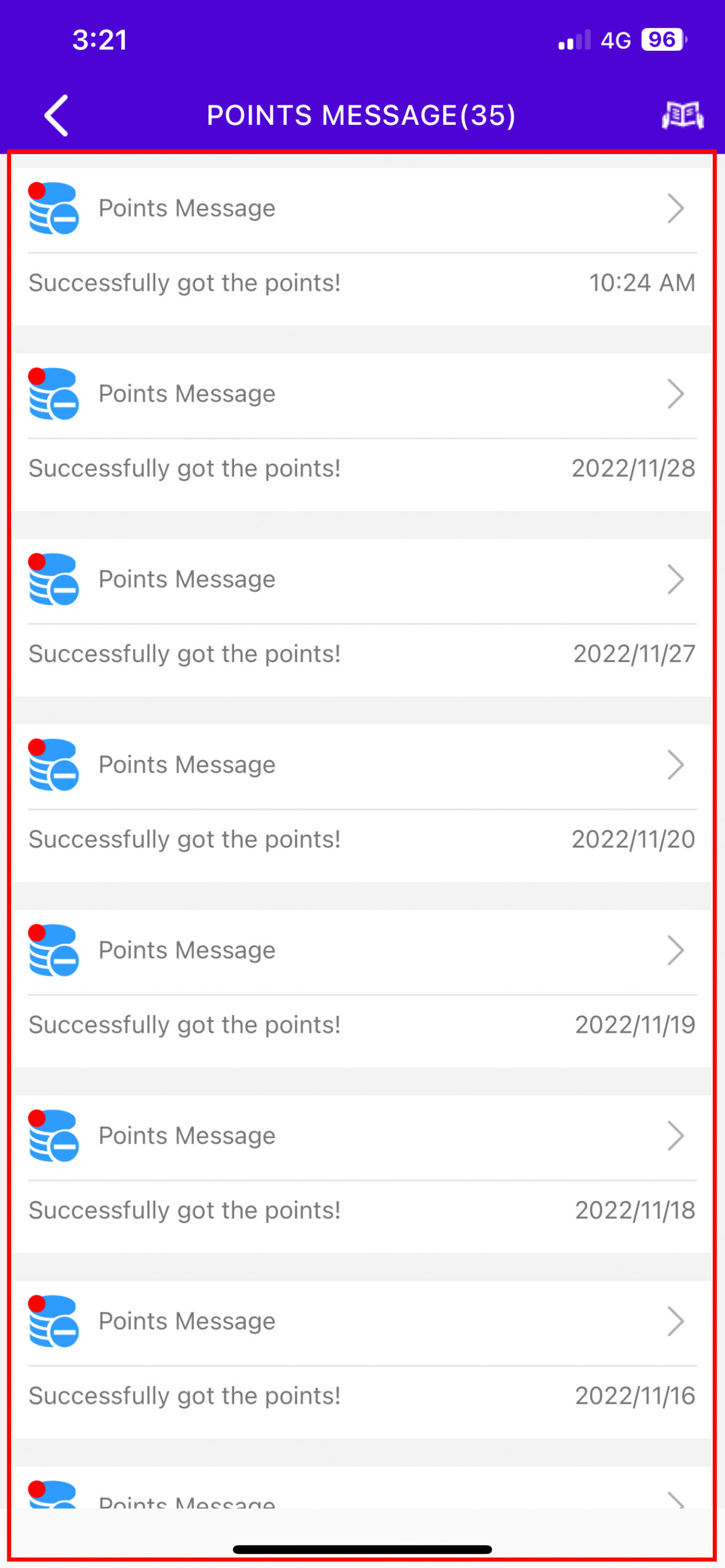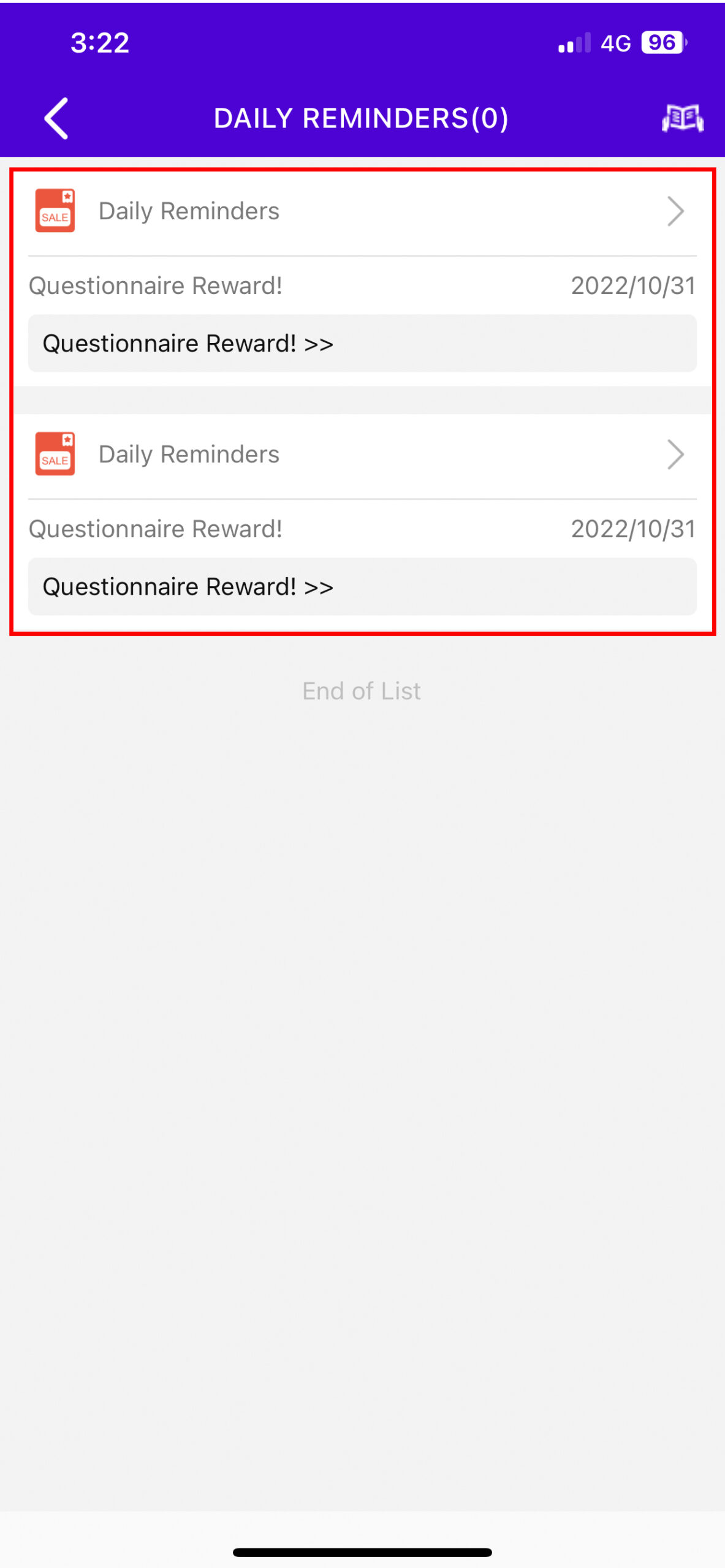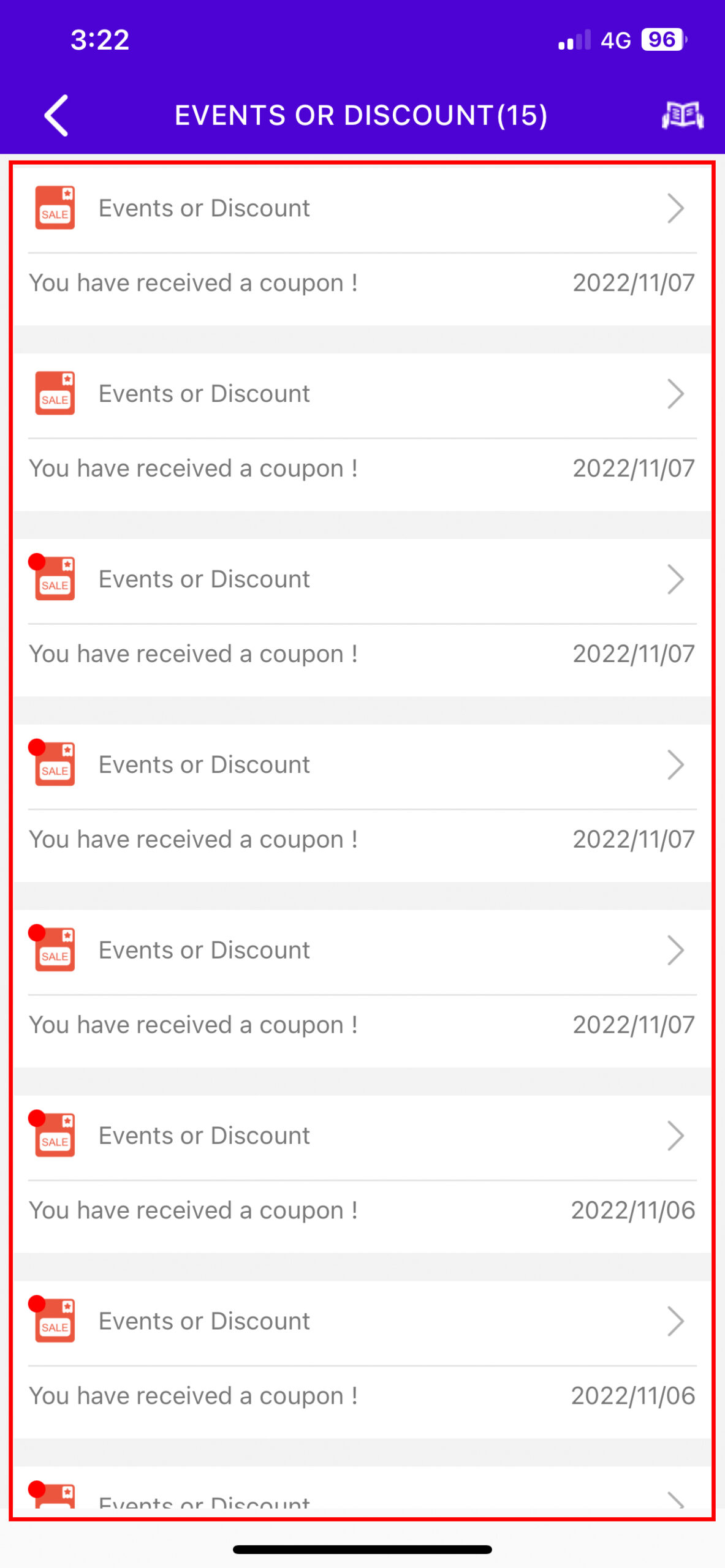 Close


Message
Message is a function to view system message, transaction Messages, Point Messages, events or discount messages that receive Coupons and daily Reminders messages.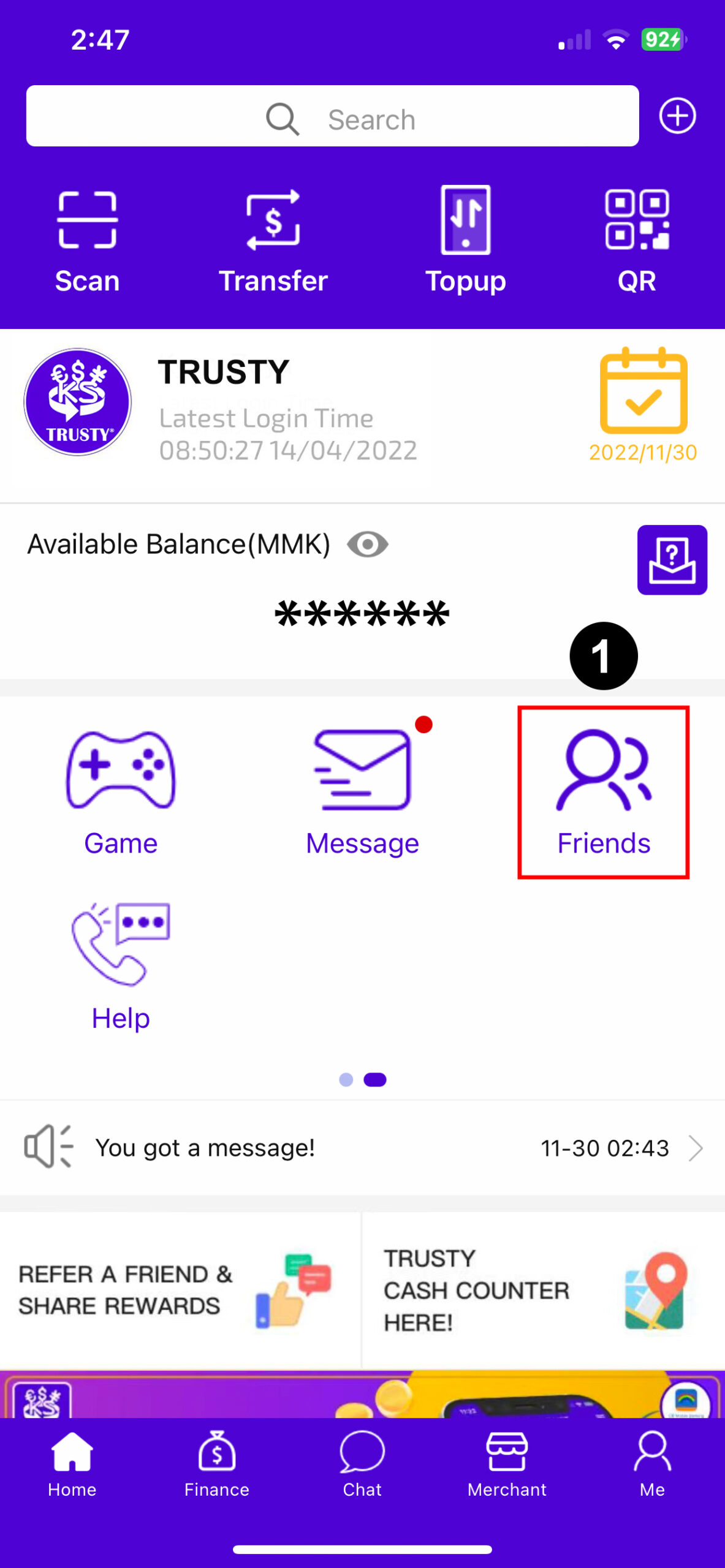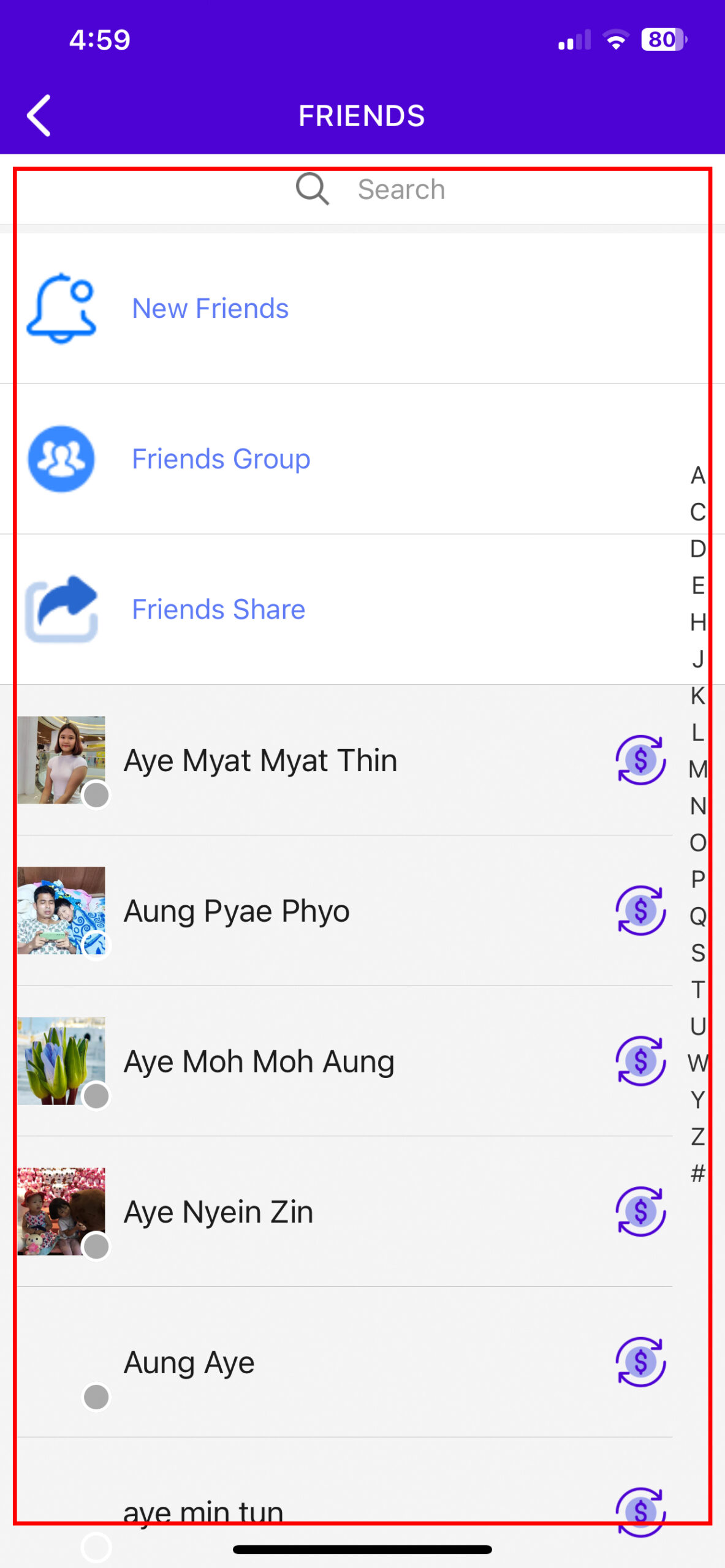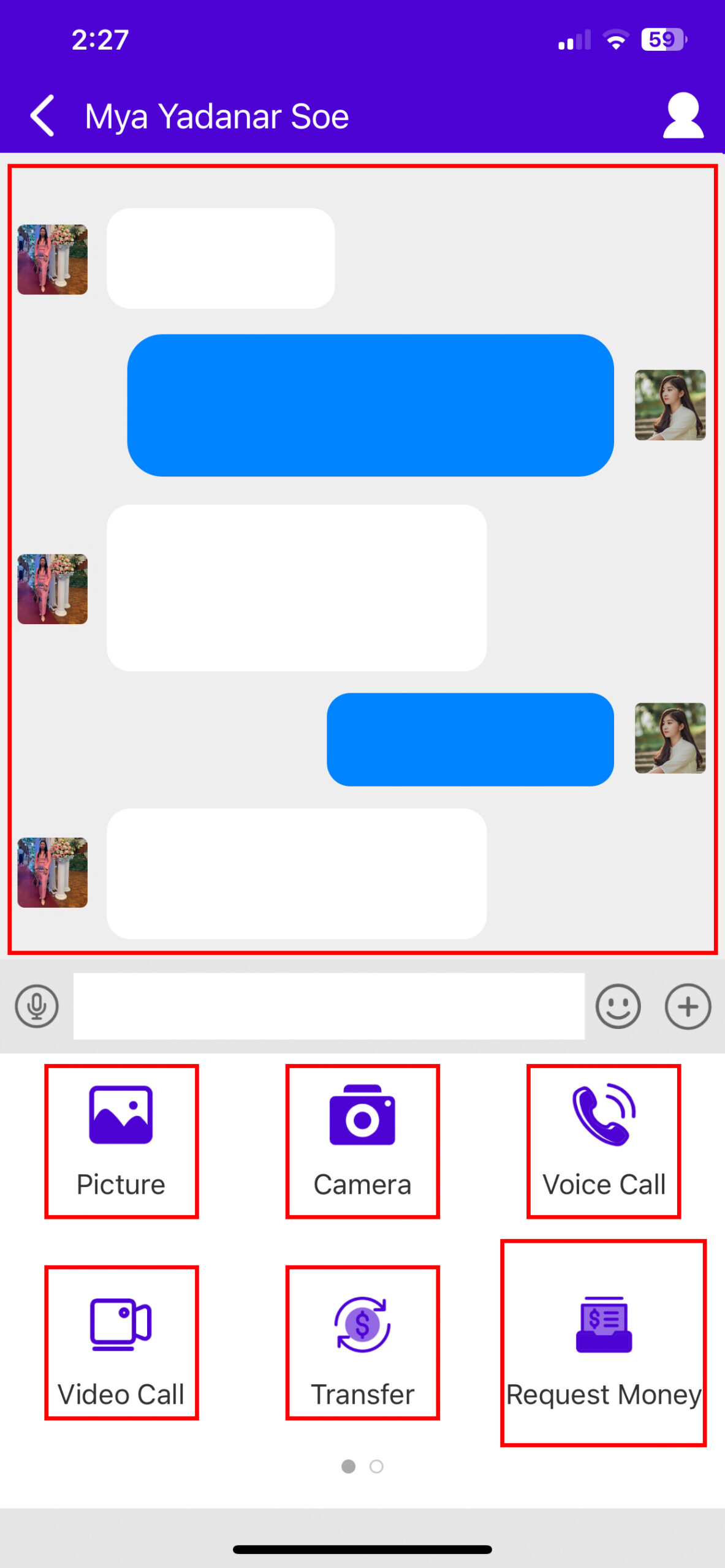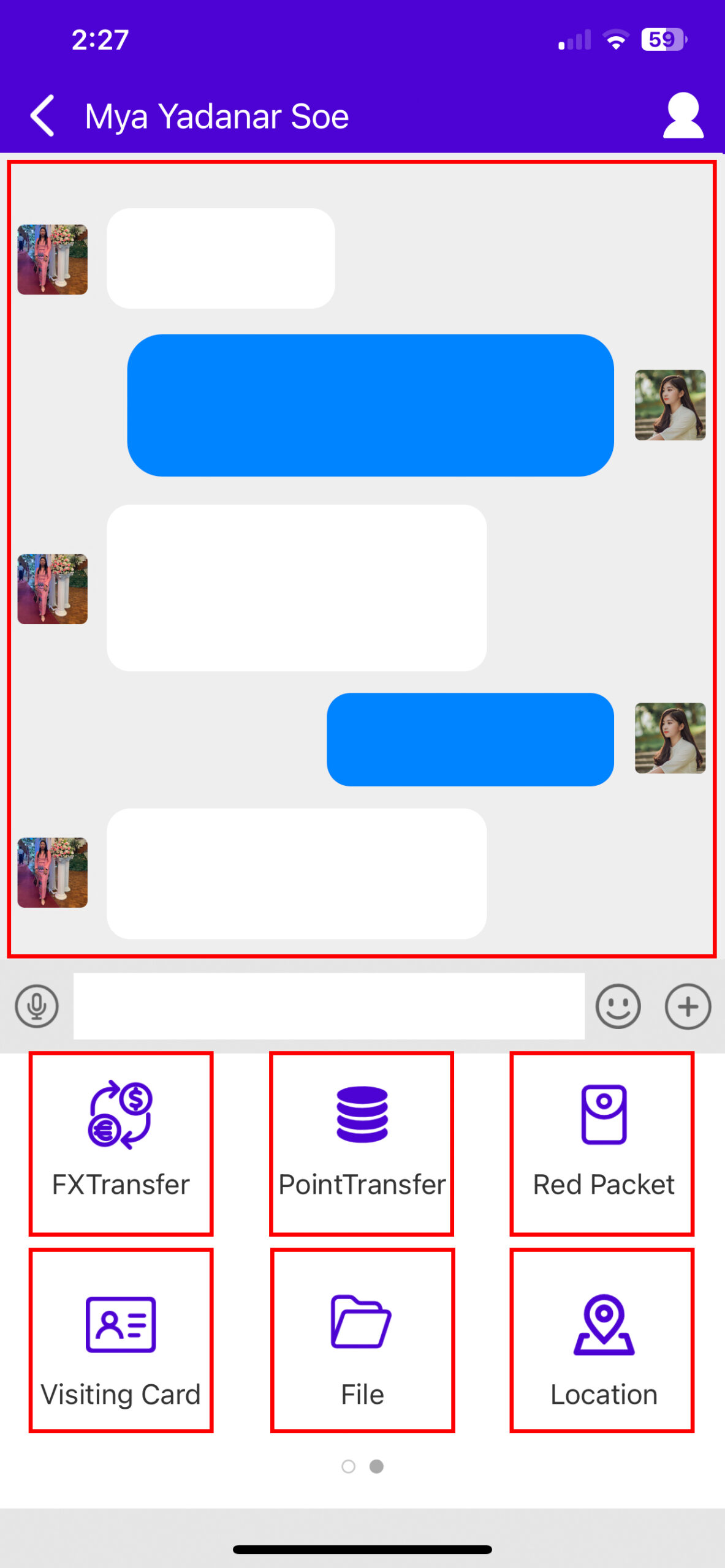 Close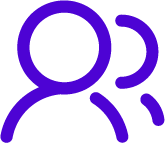 Friends
Click the Friends icon and TRUSTY user can chat to each other, being able to make voice calls, video calls, accepting new friends, and you can share it to your friends.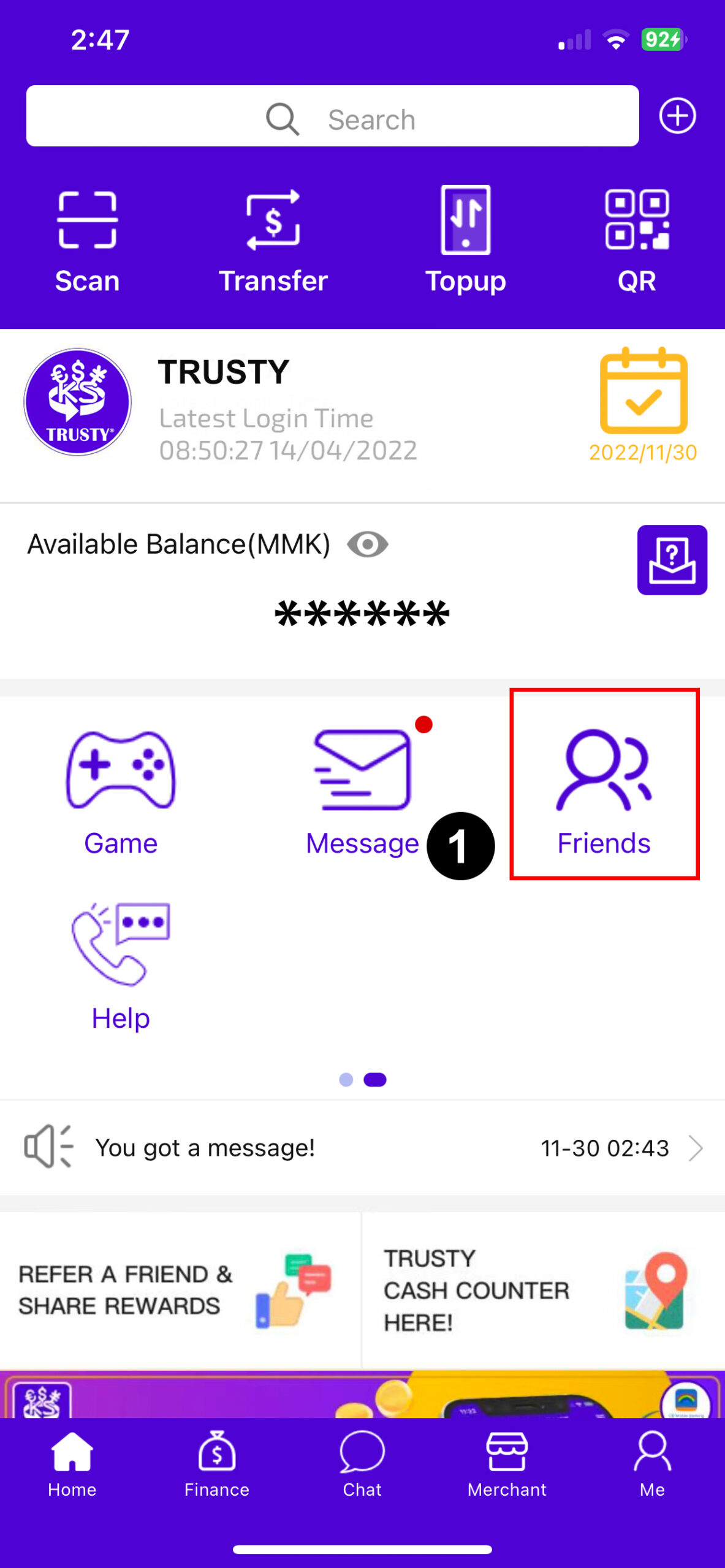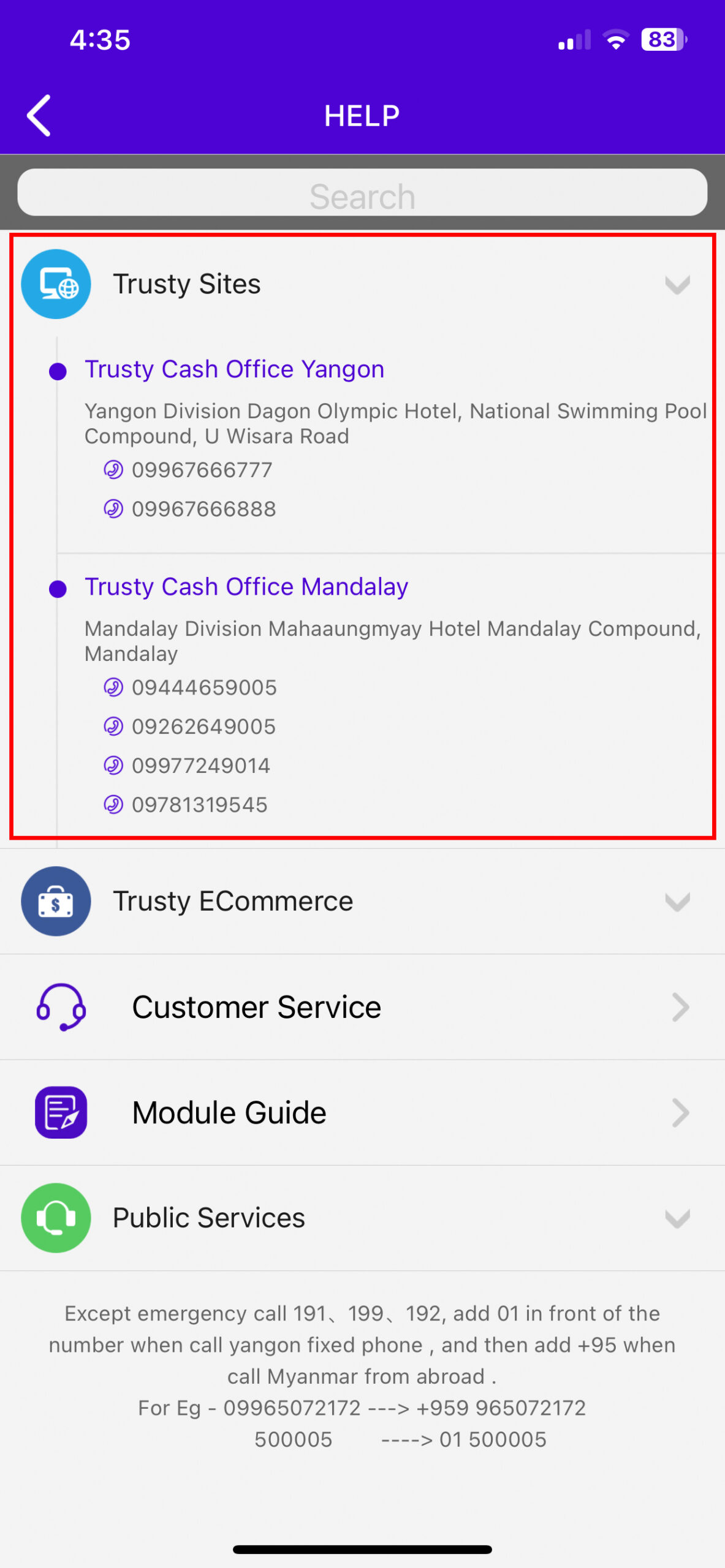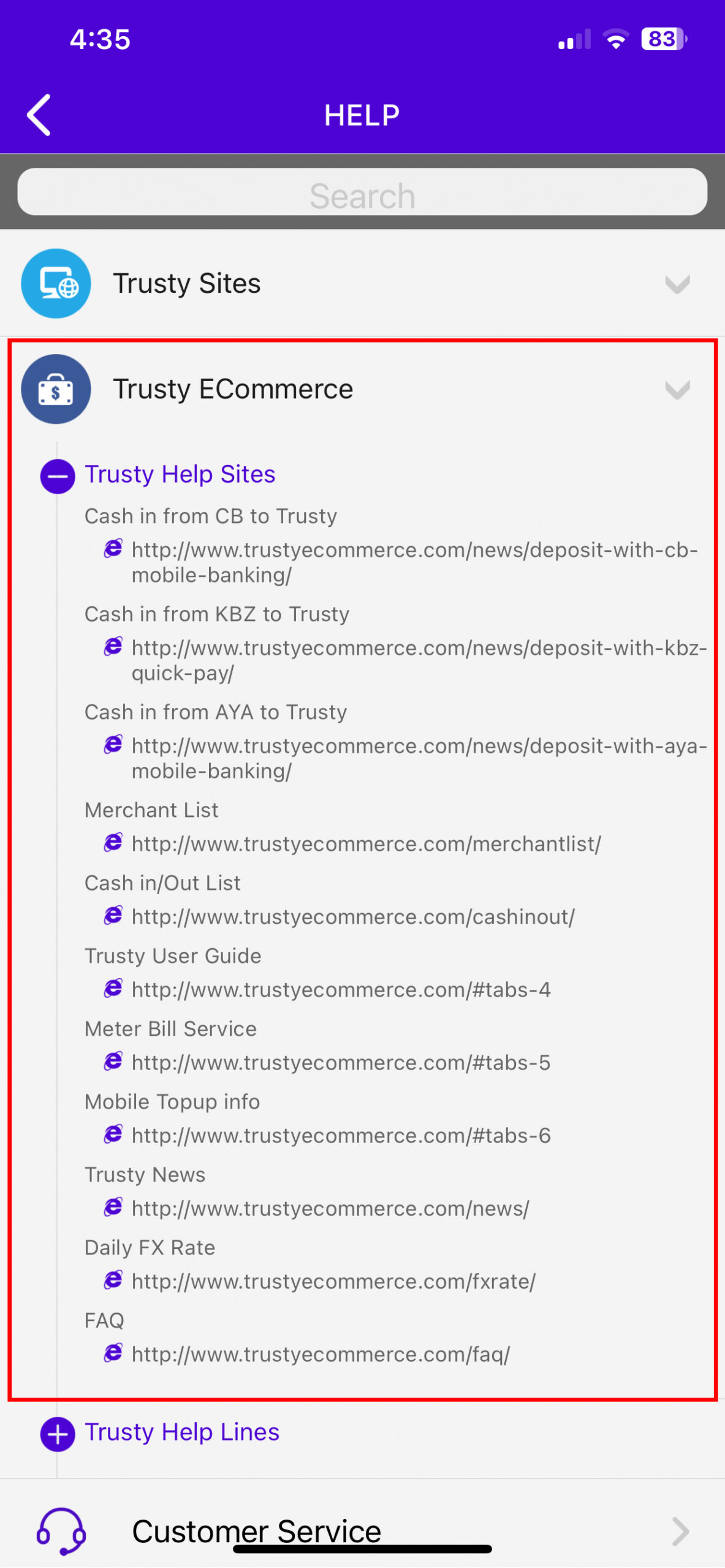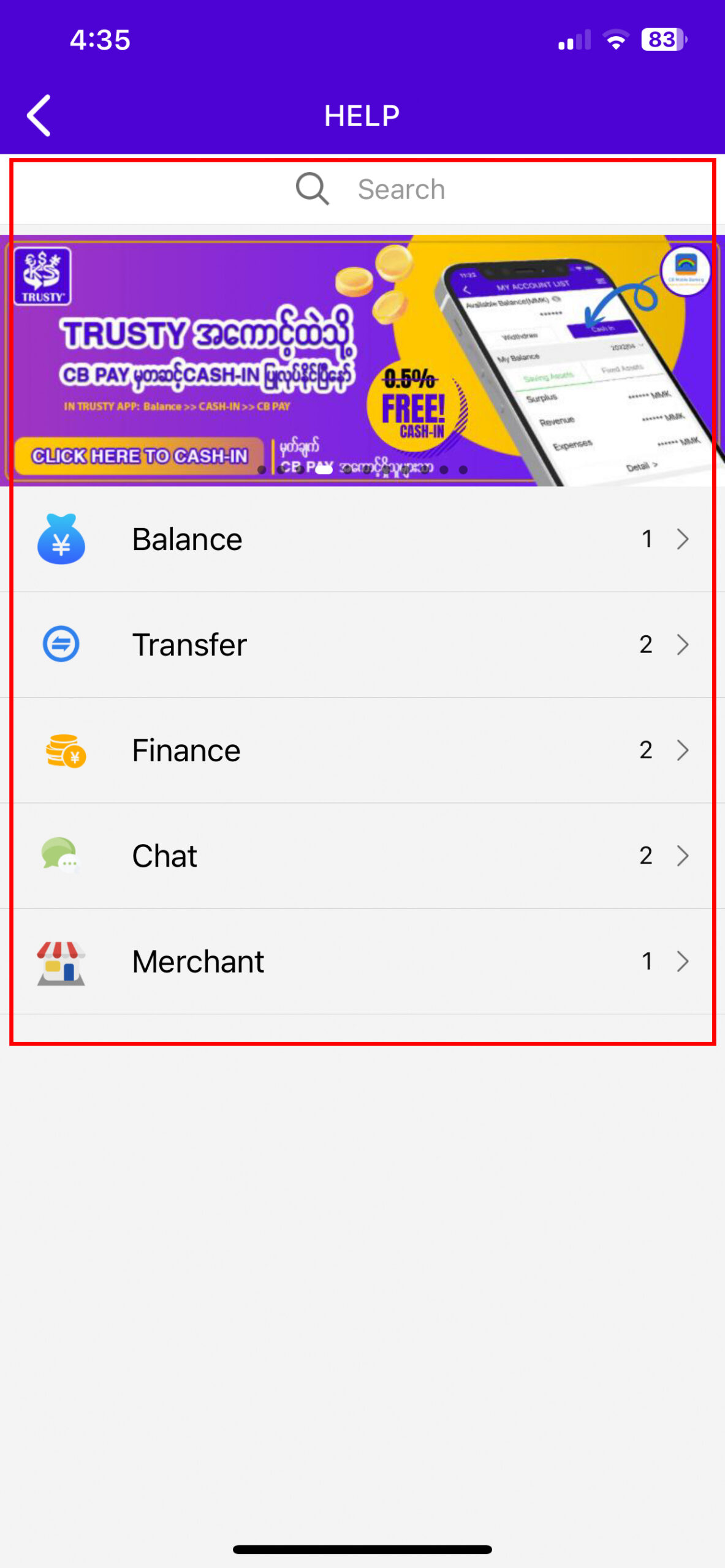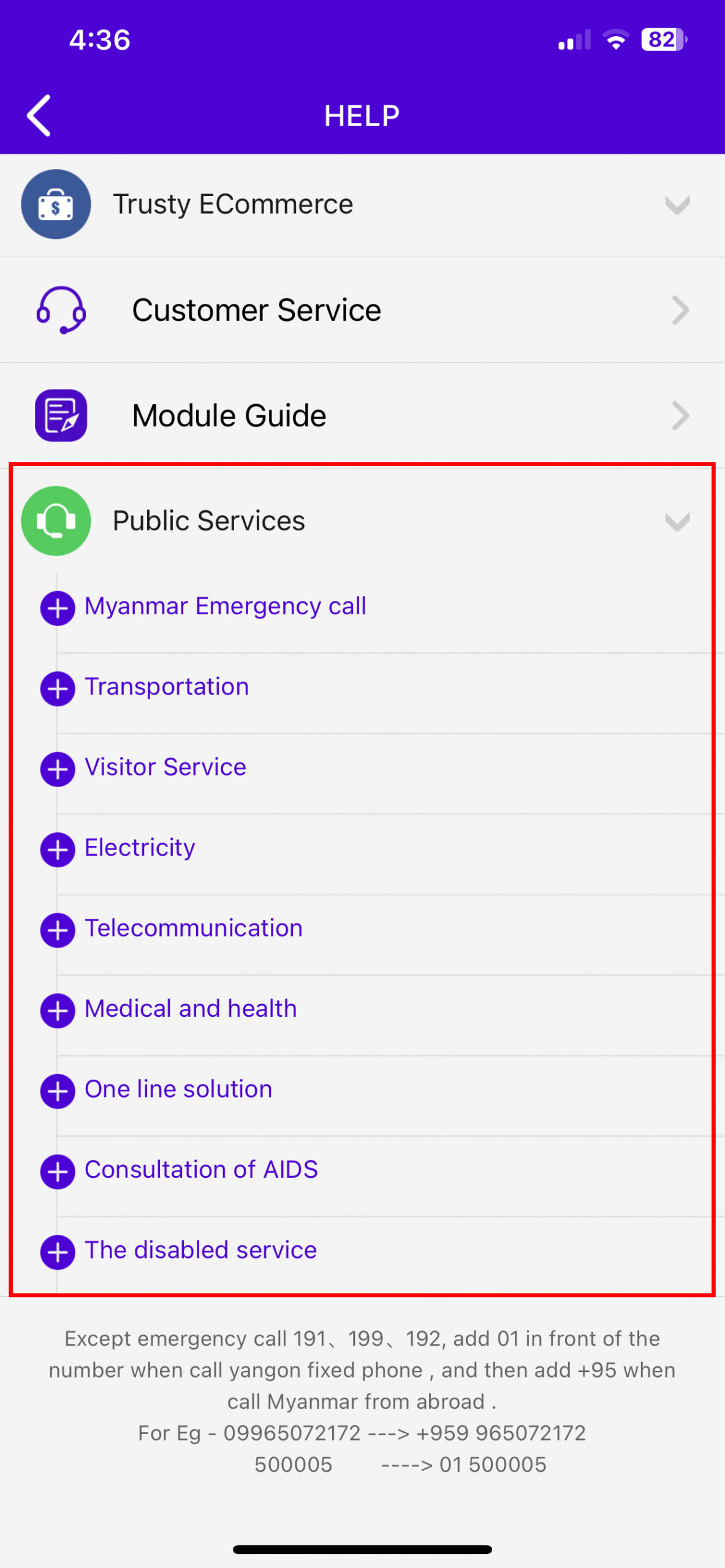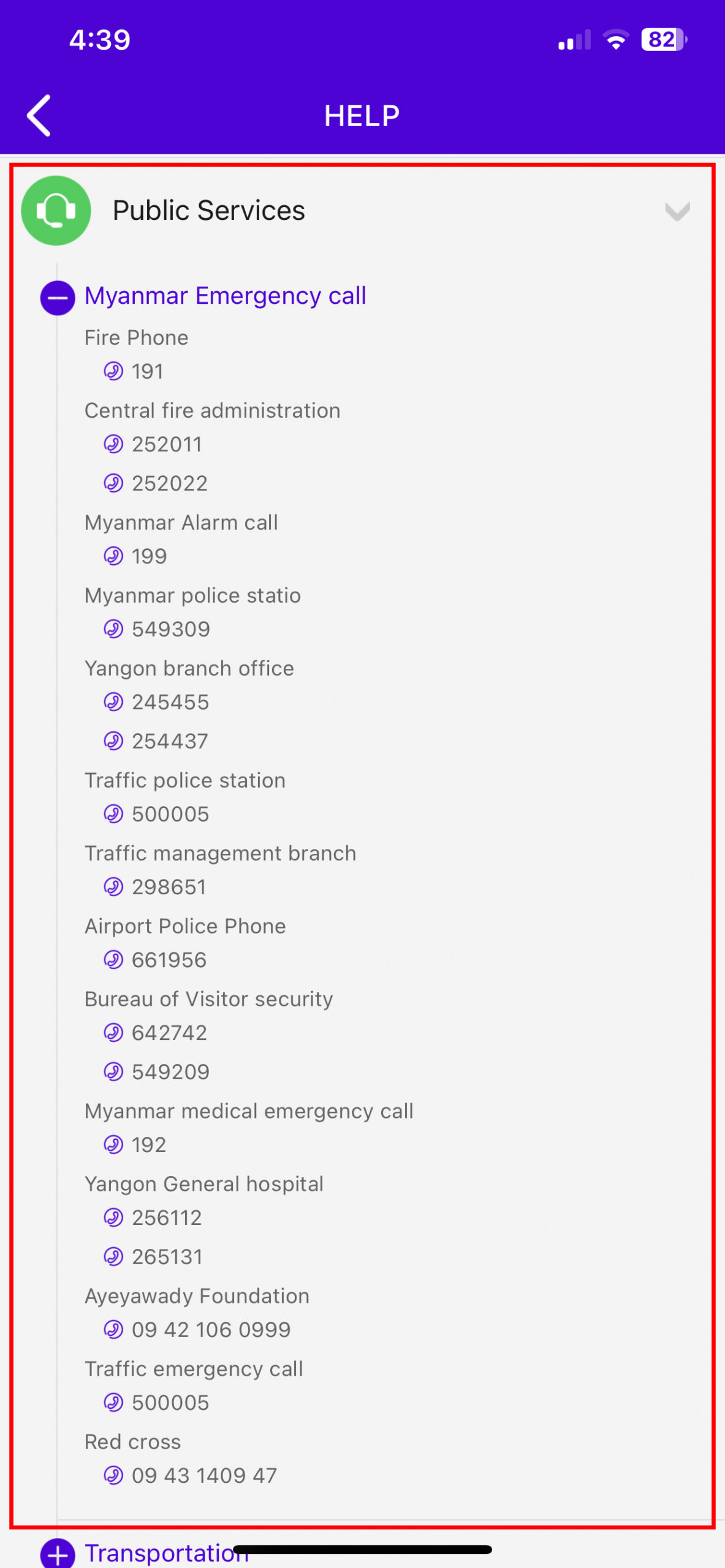 Close


Help
TRUSTY Offices phone numbers, website addresses, emergency phone numbers, and user guides can be viewed and called easily by using the Help function.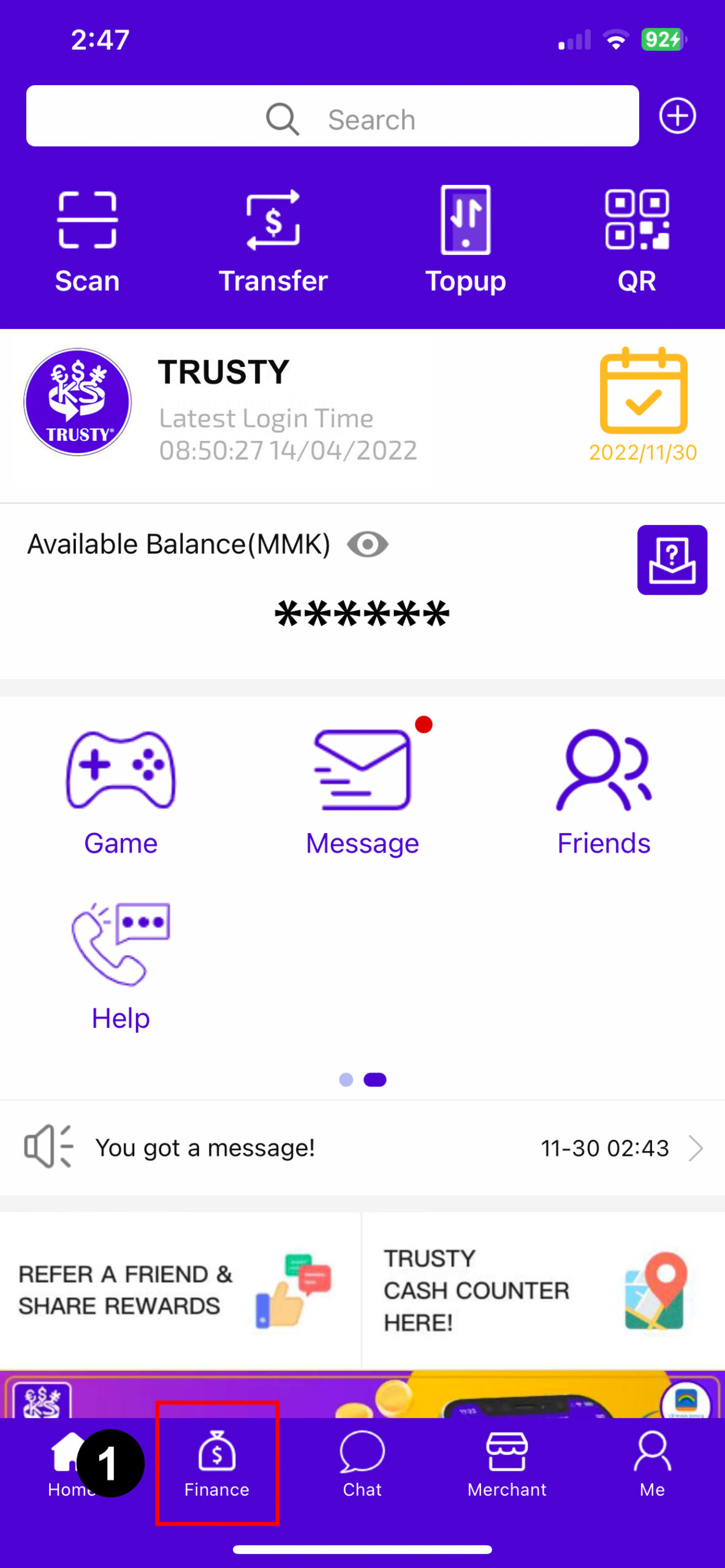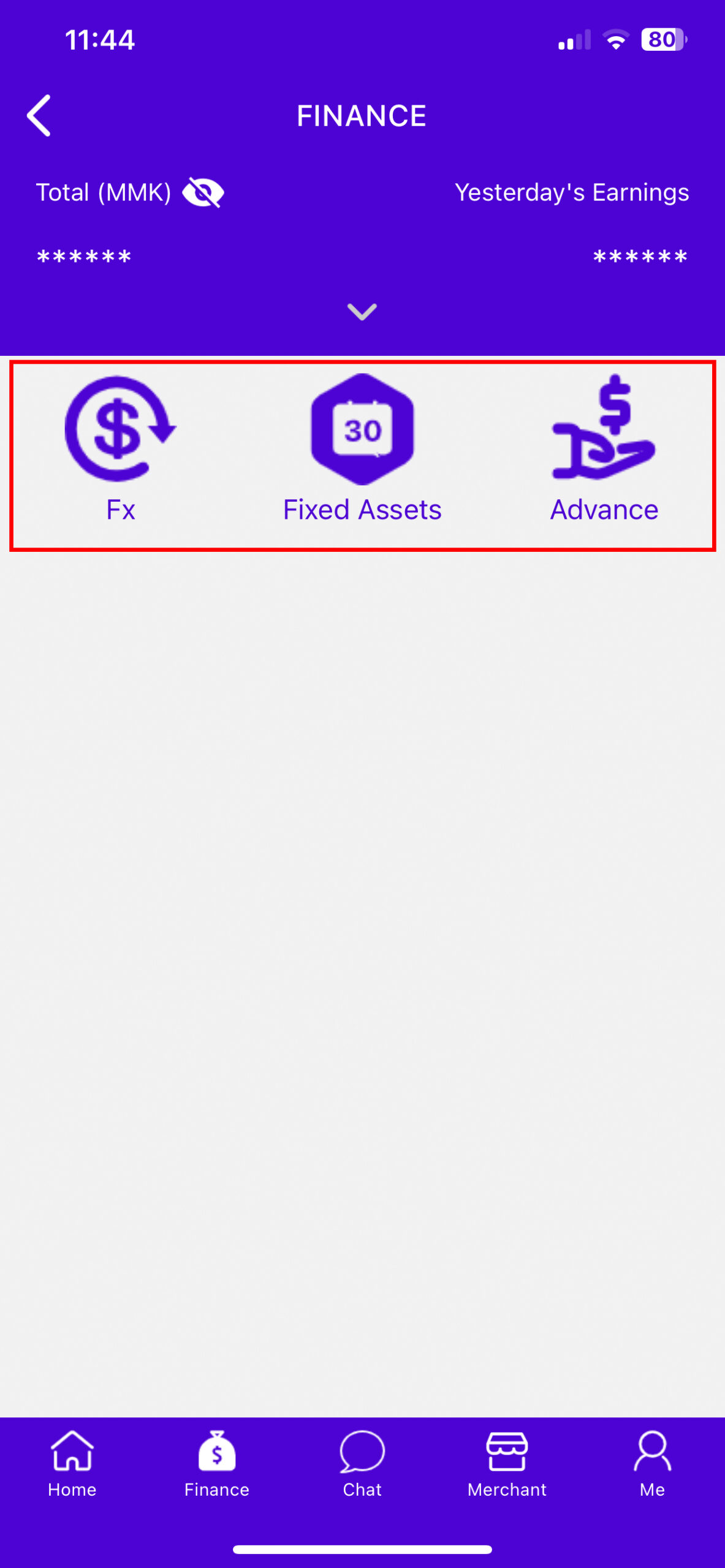 Close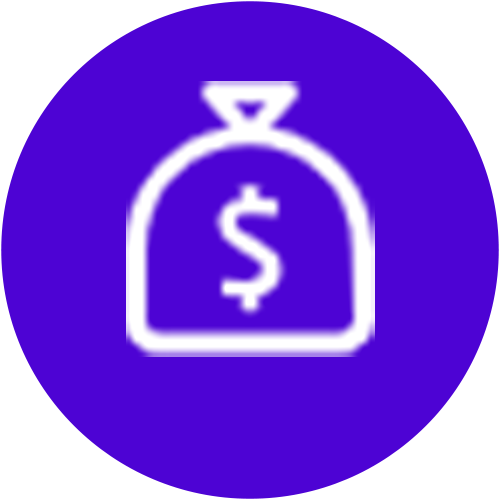 Finance
Finance is a function to view the foreign exchange rate, being able to save money, and use loans.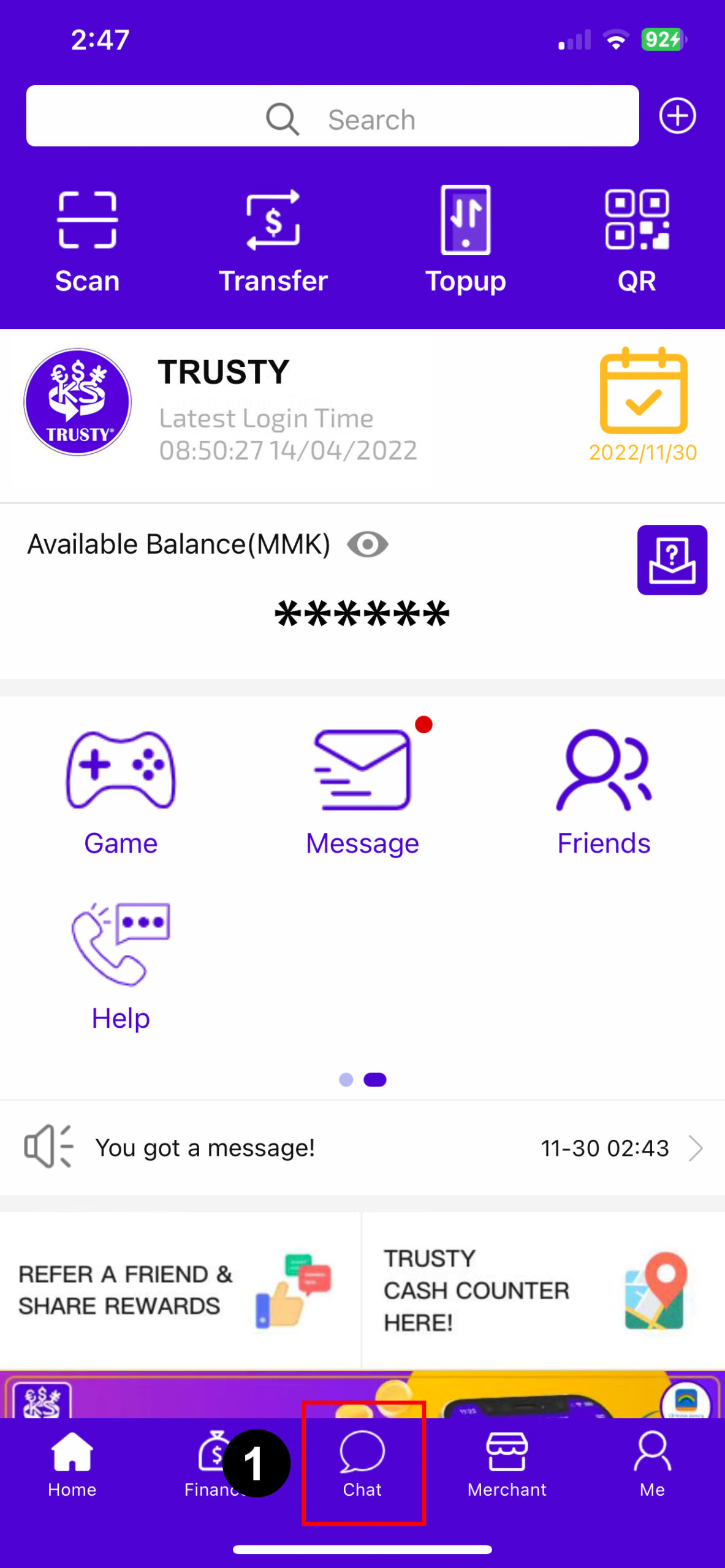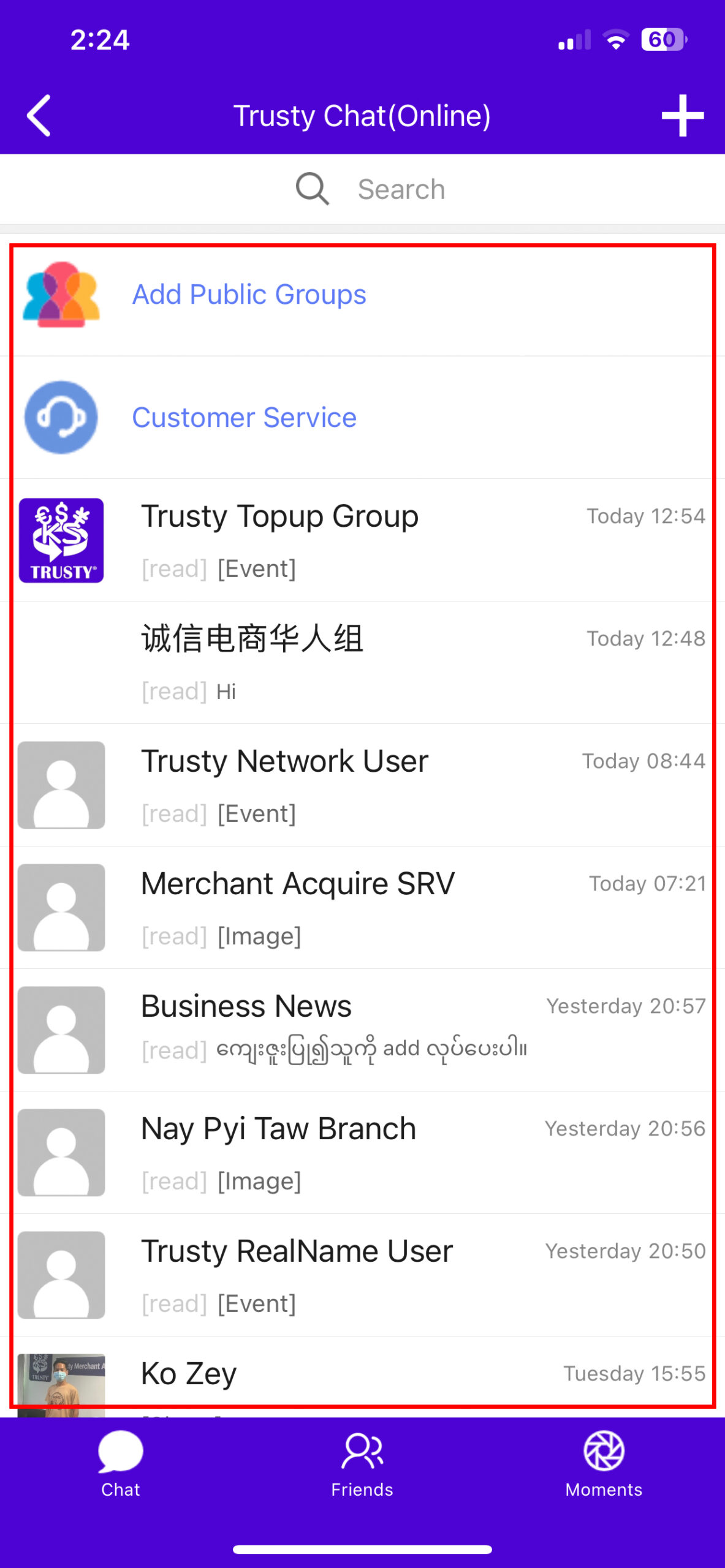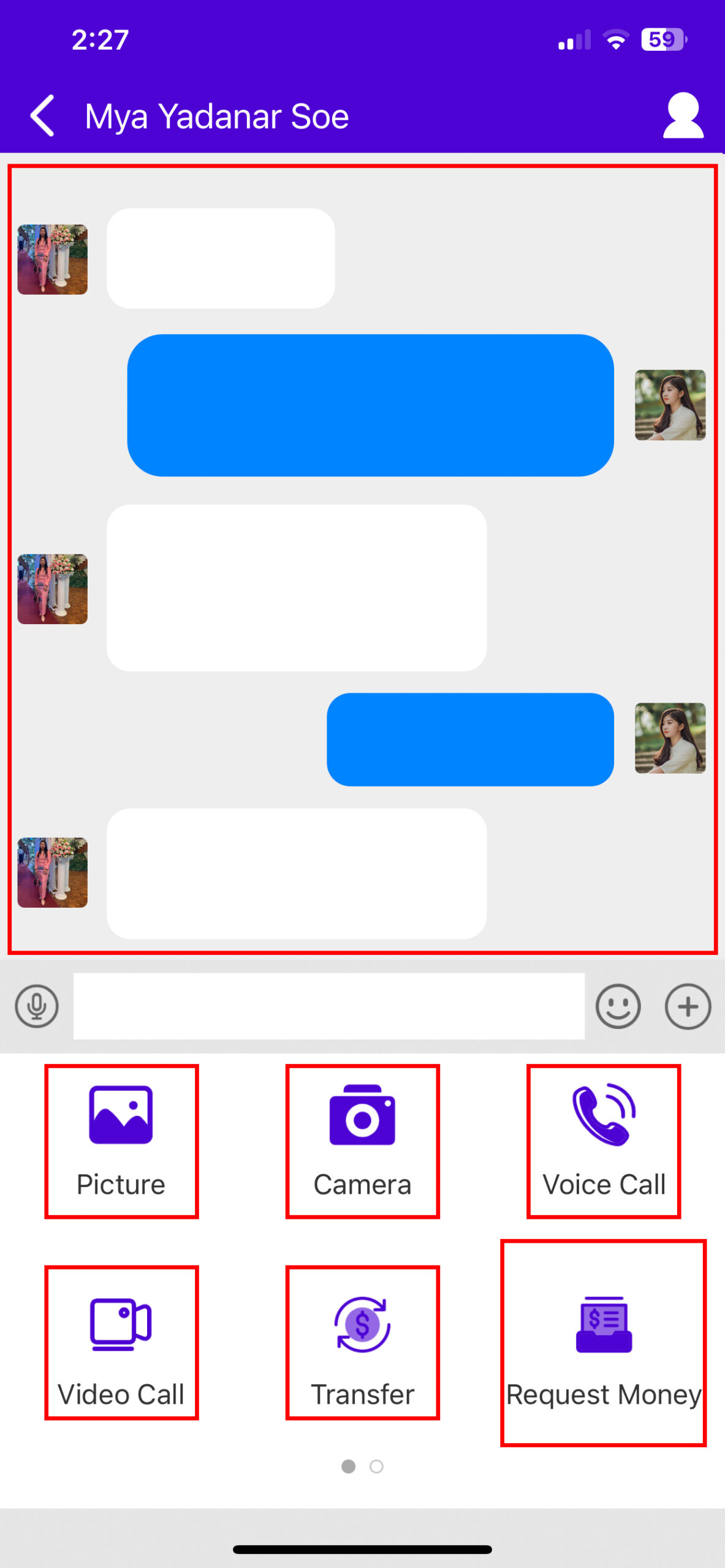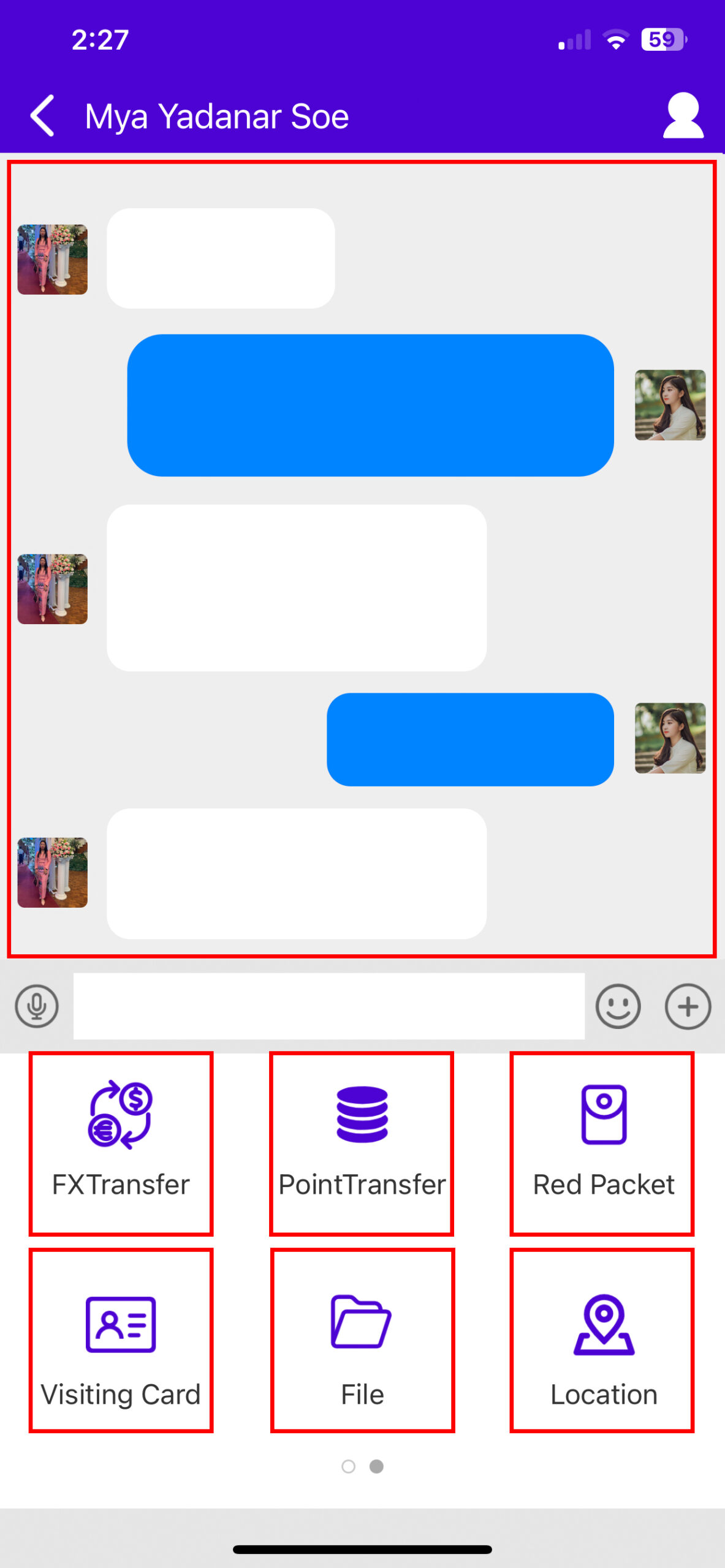 Close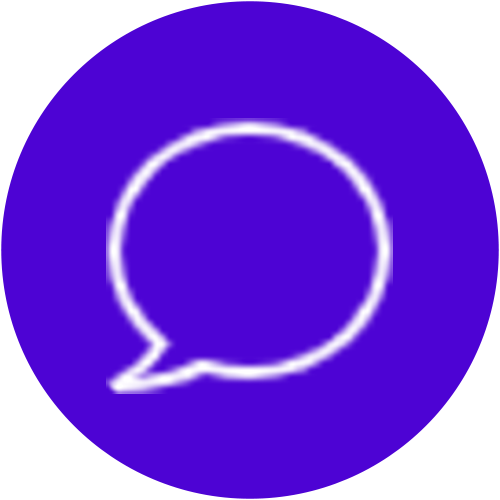 Chat
Chat function is a function that trusty users can send messages to each other, sending photos, using voice Calls and video calls, transfer money, request money and send and receive Red Packets.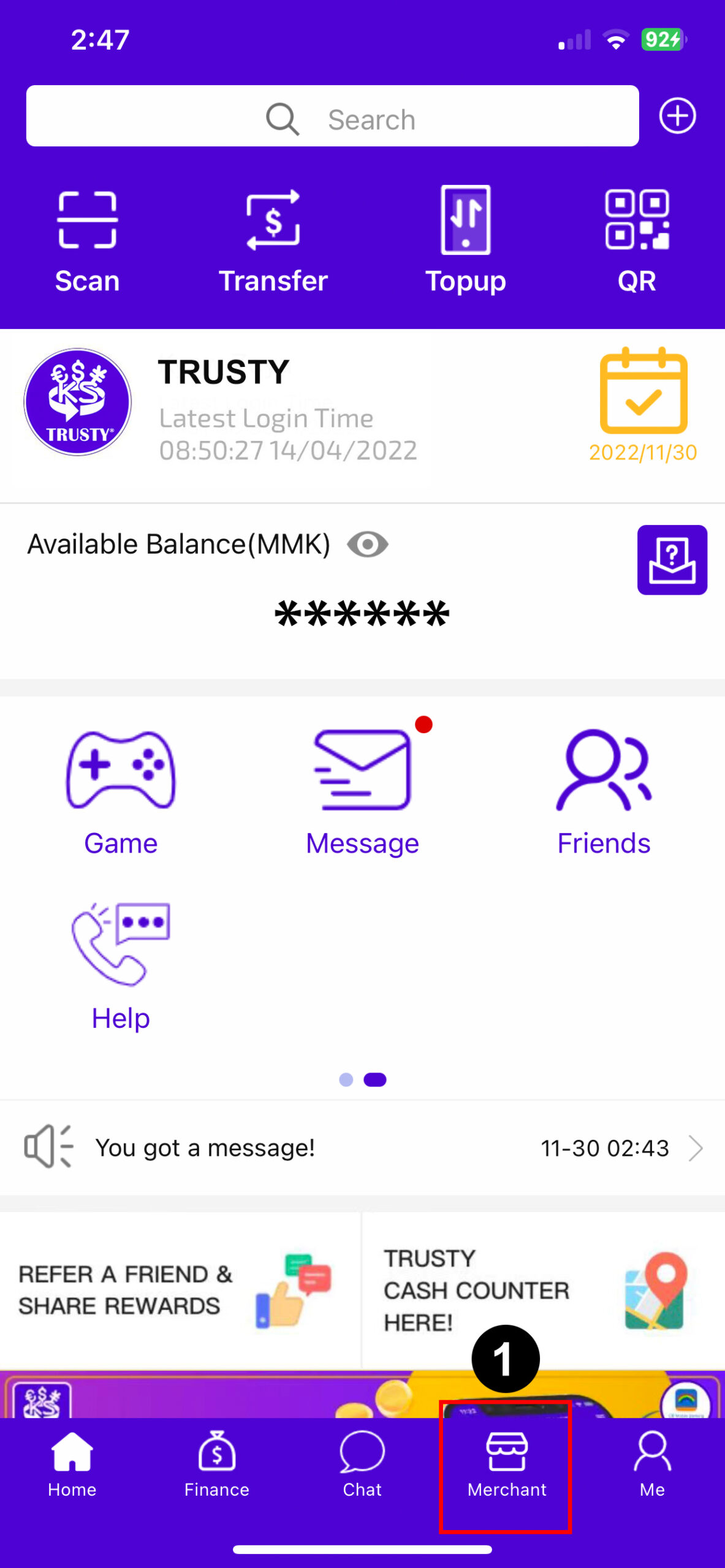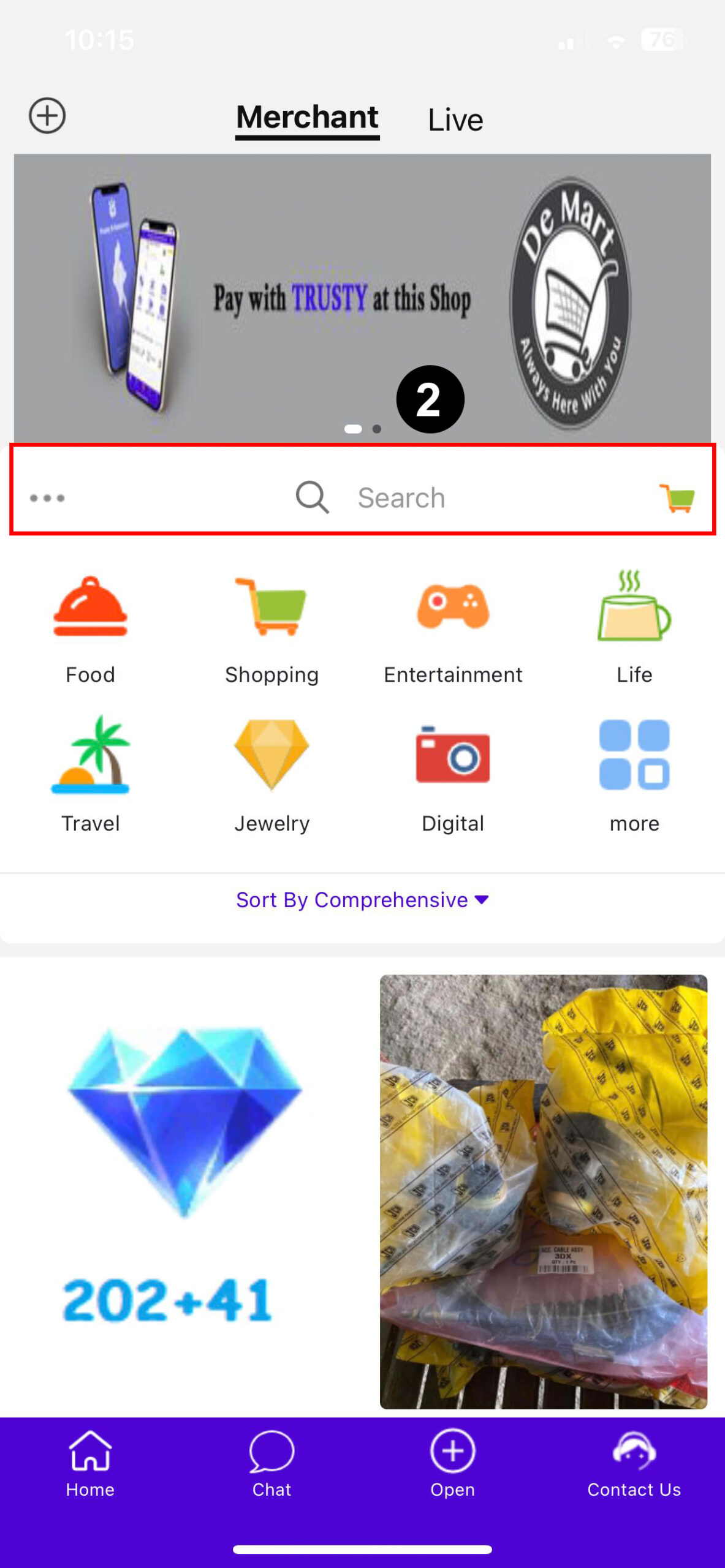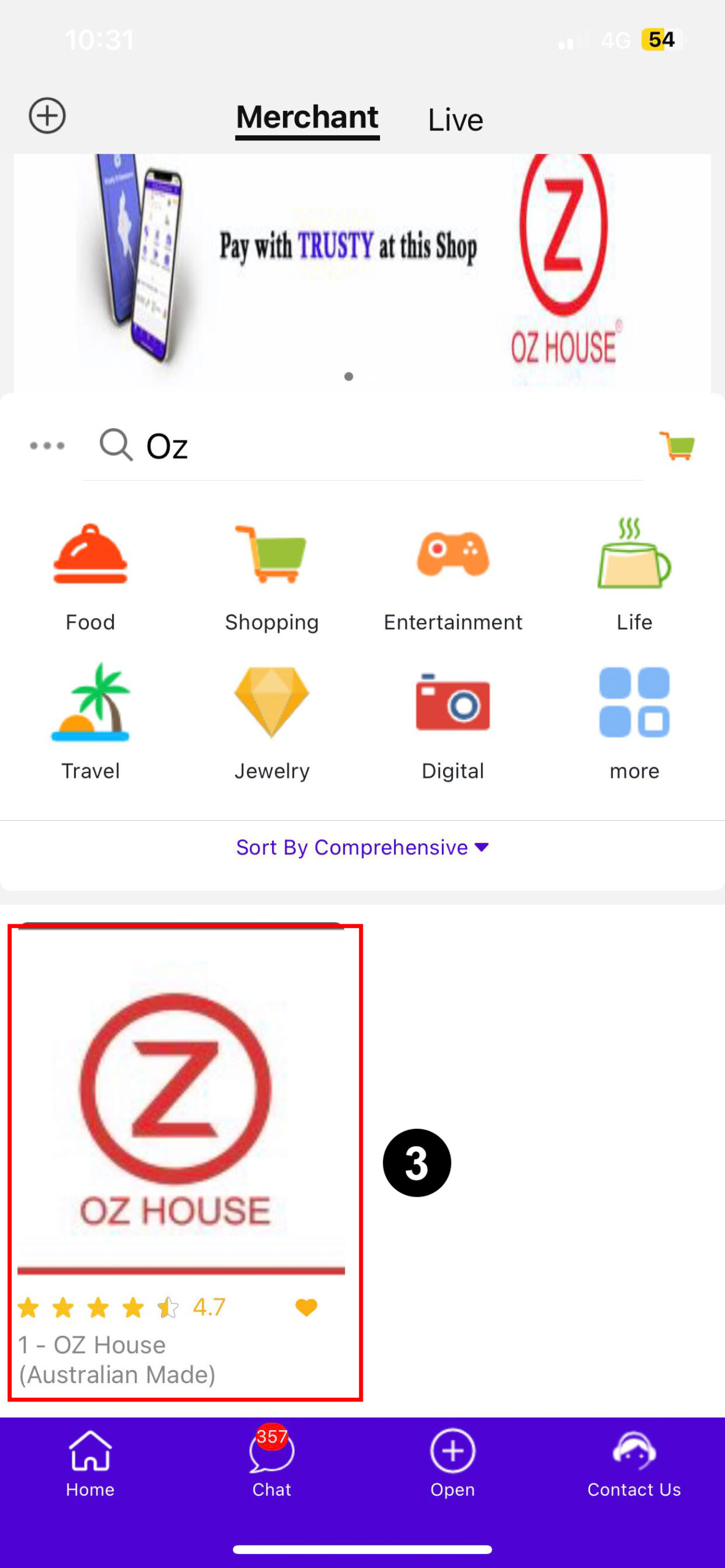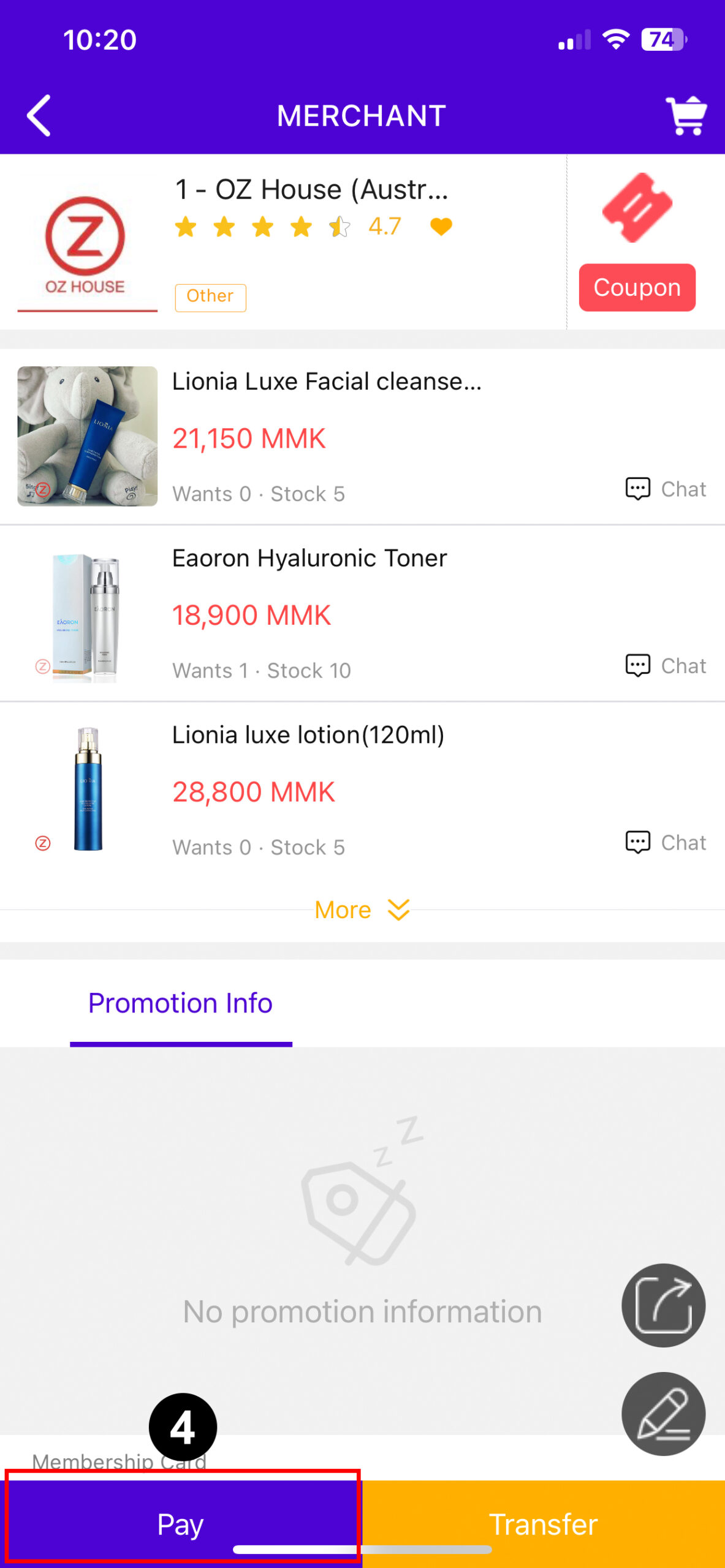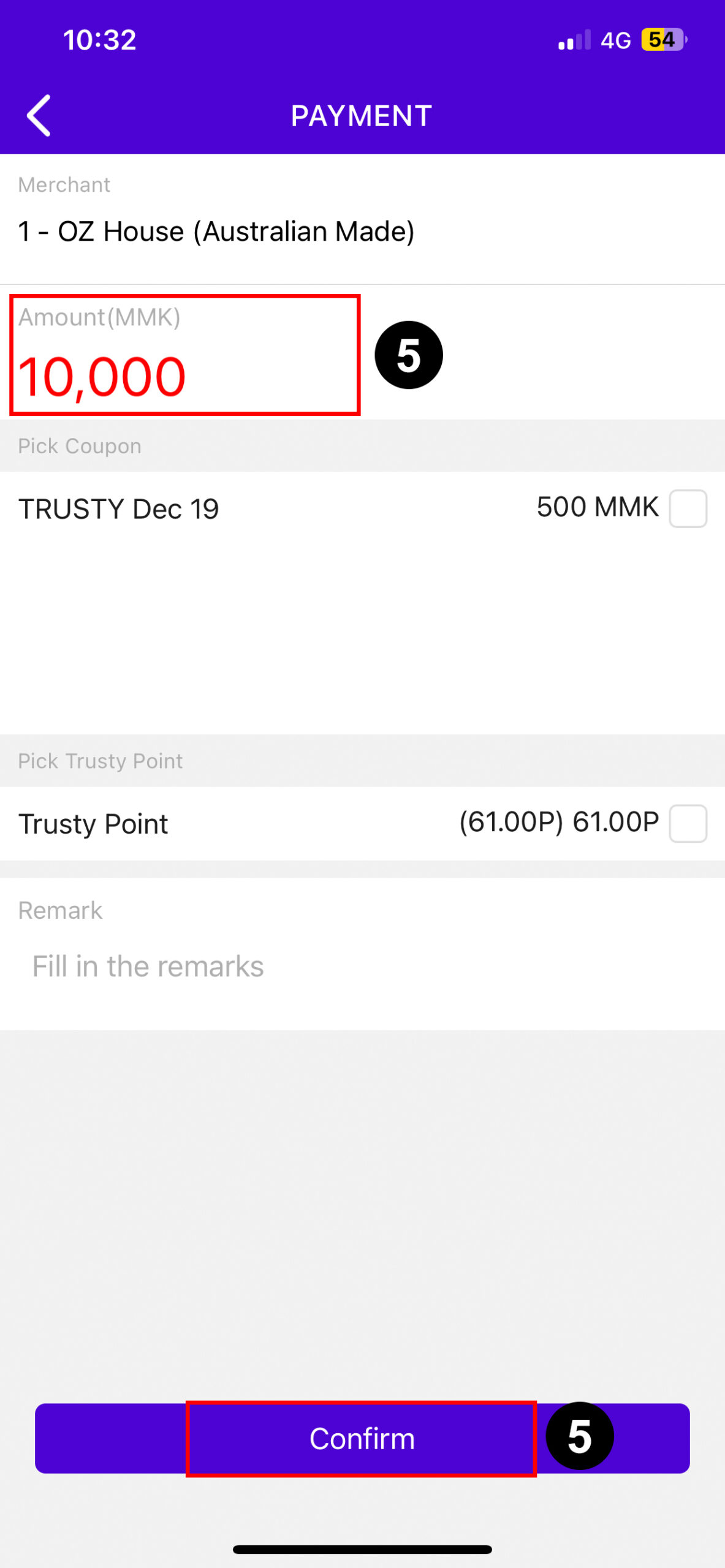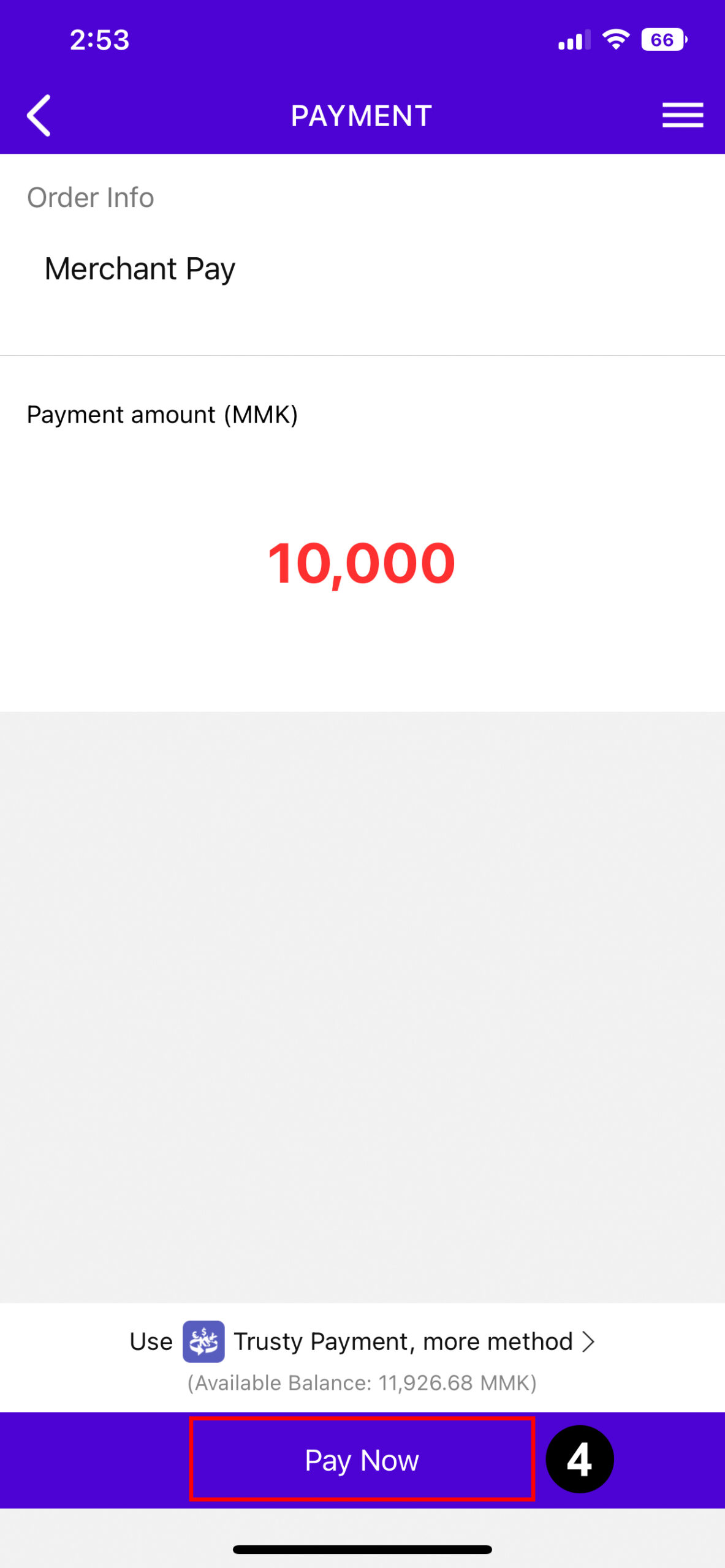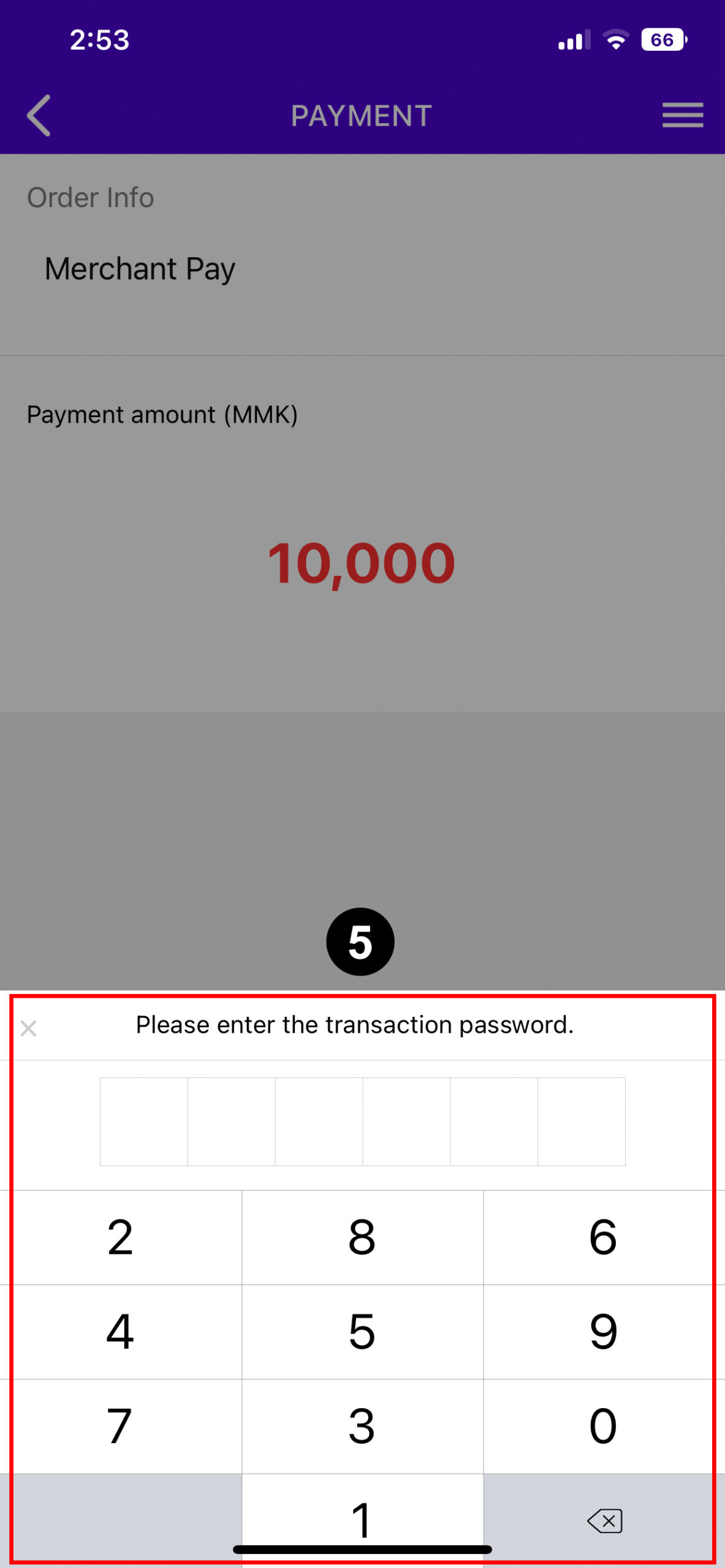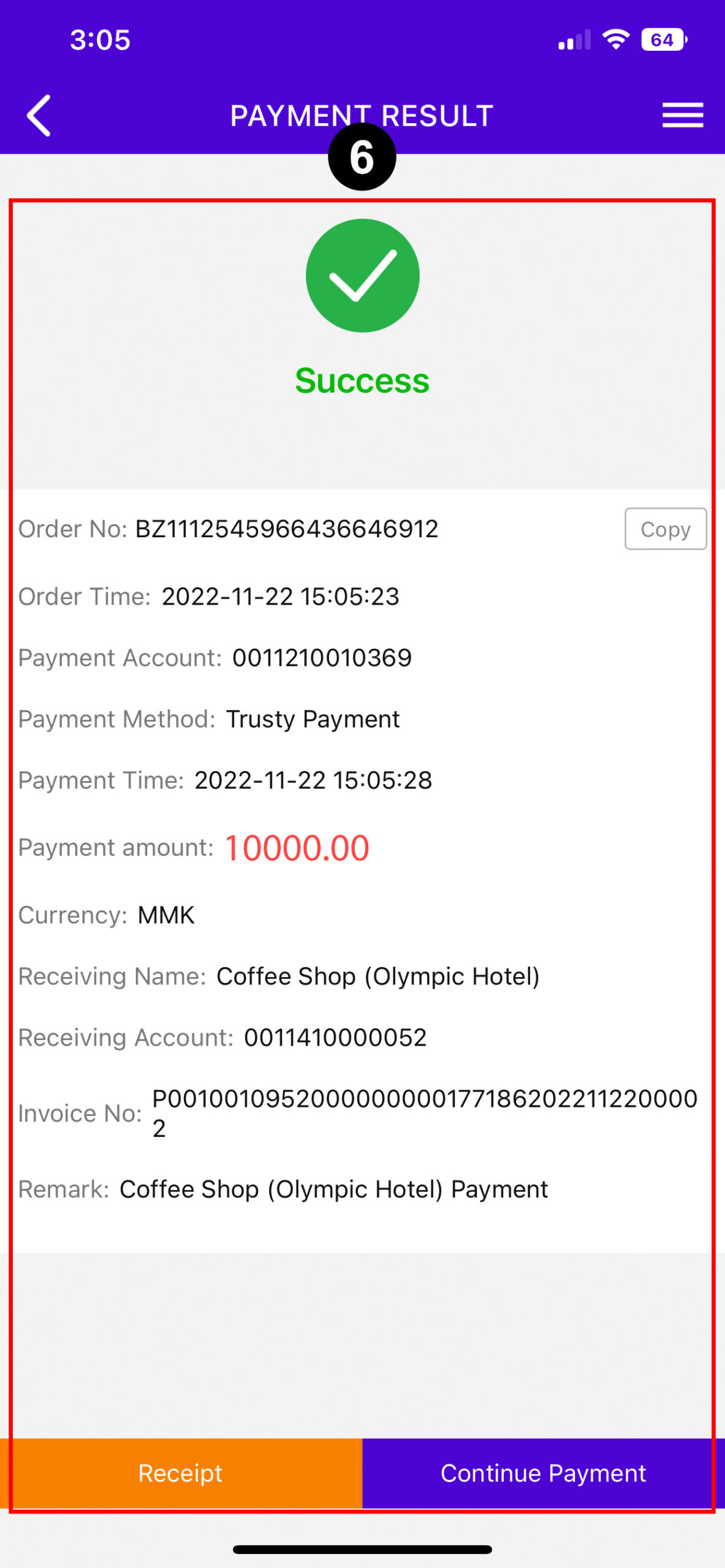 Close


Merchant
You can easily shop at over thousands of merchants by clicking the Merchant icon. You can directly make payment and purchase at TRUSTY merchants such as Food, clothes, cosmetics, Electronic shop, Mobile Phones & Accessories and computers, etc.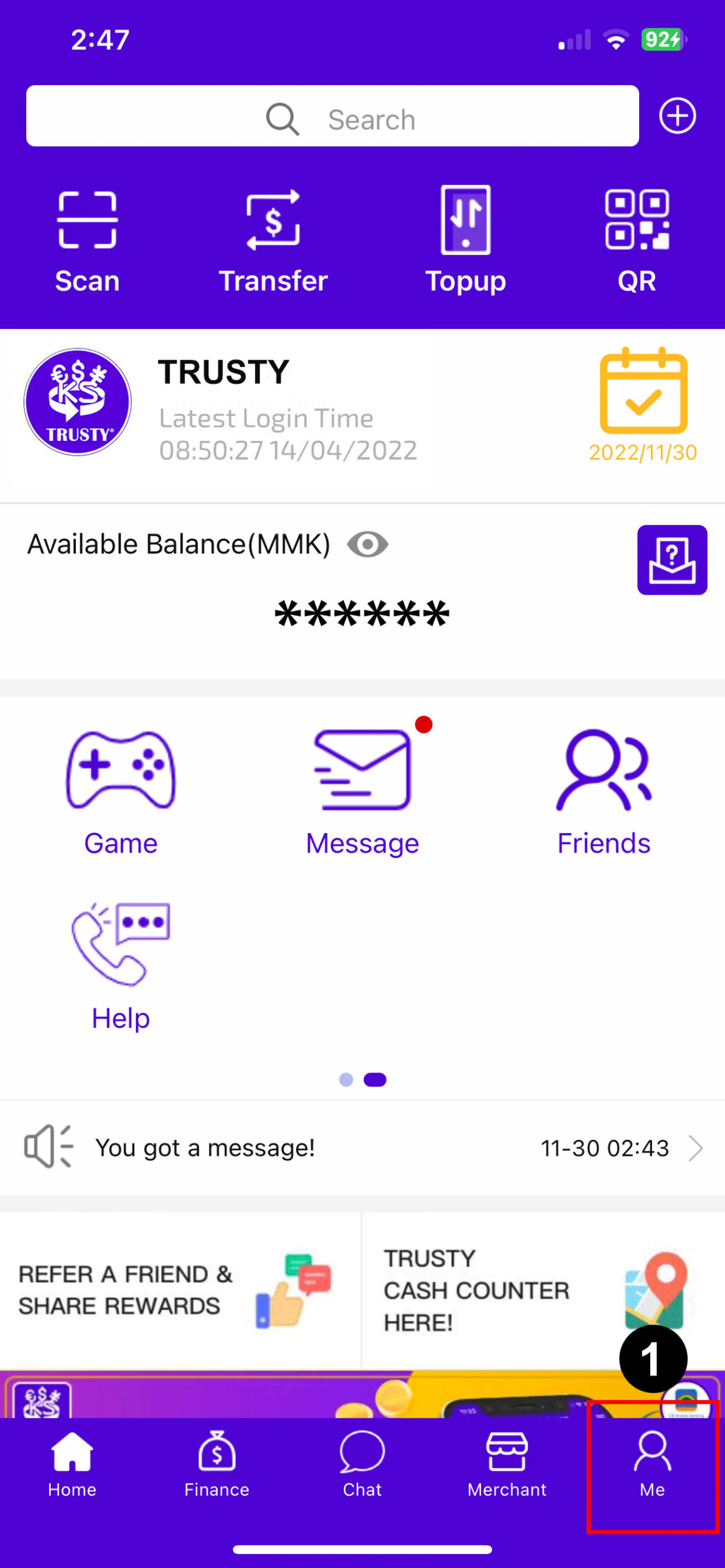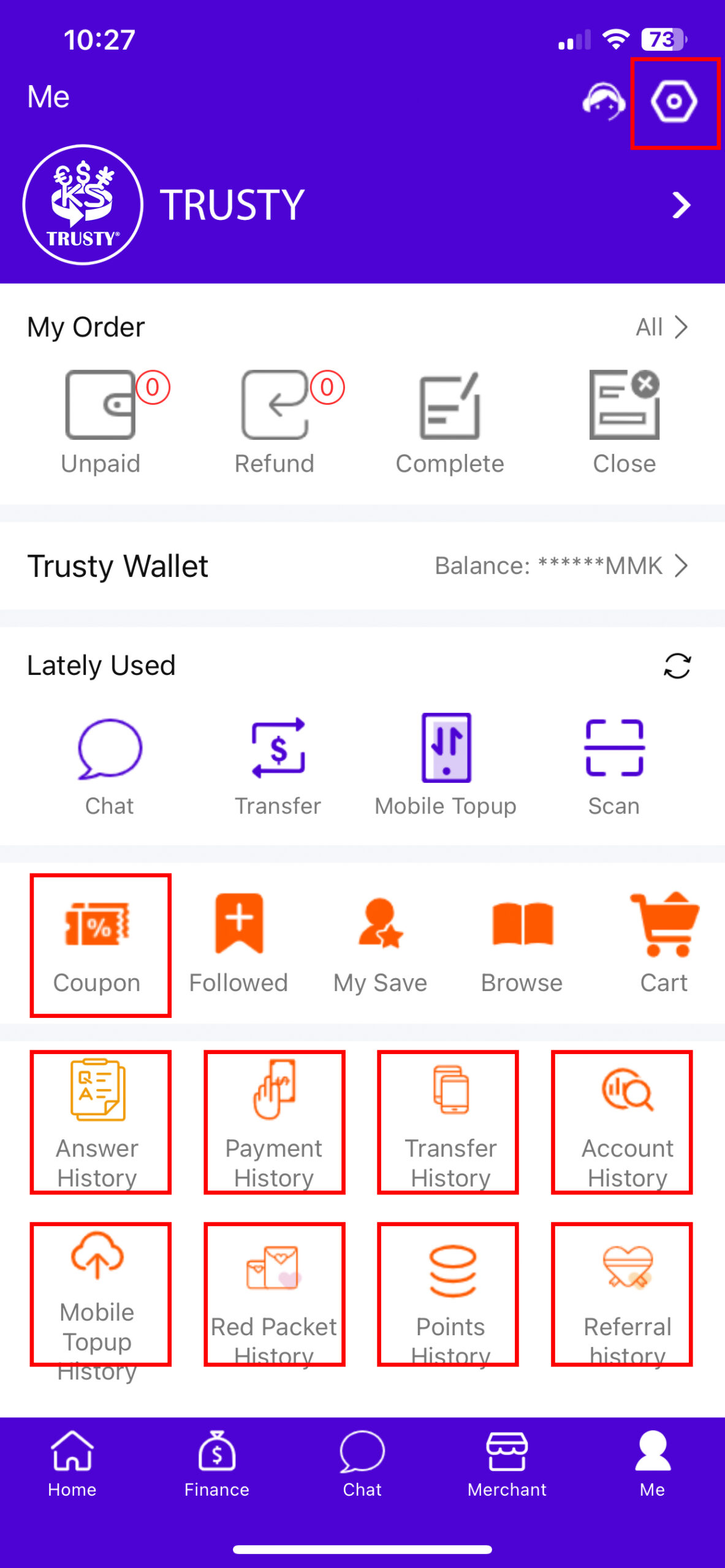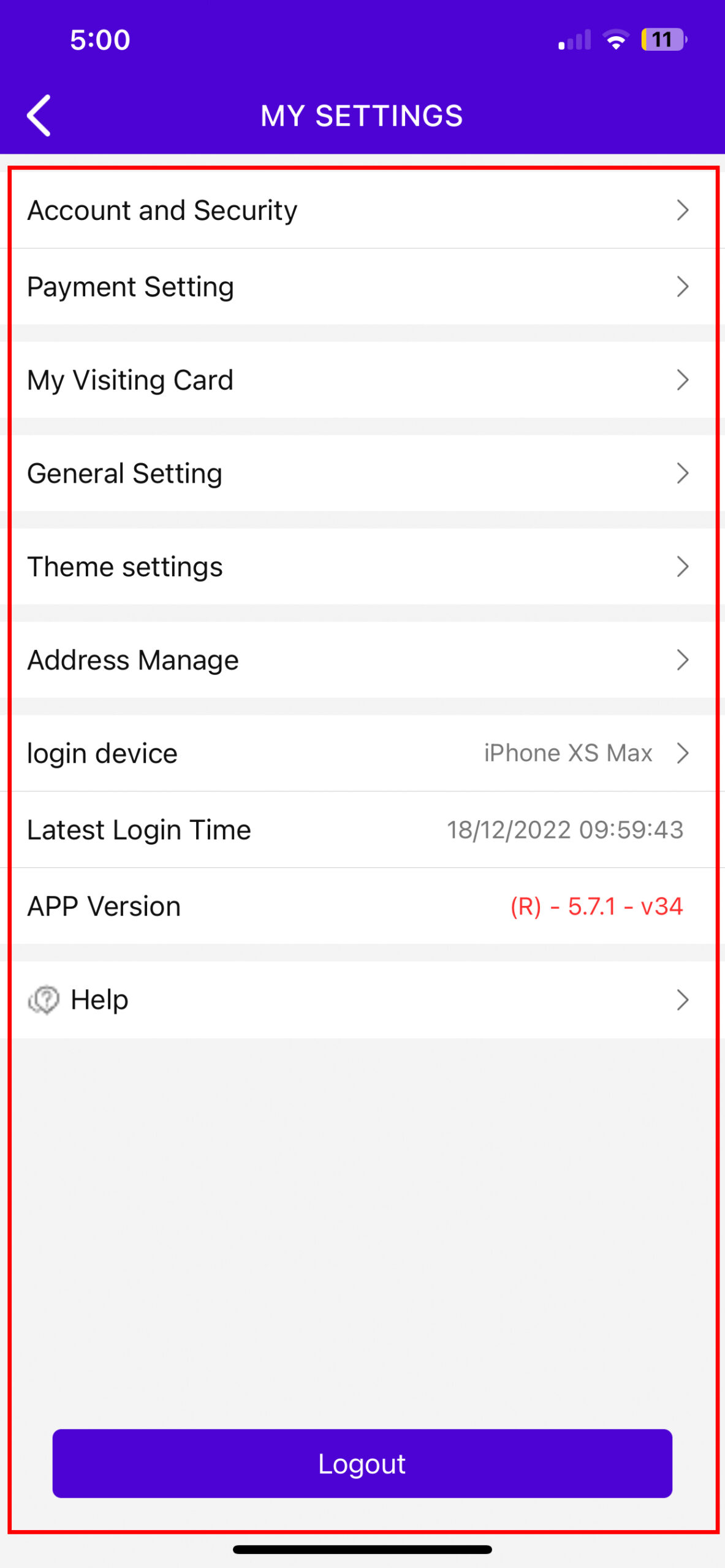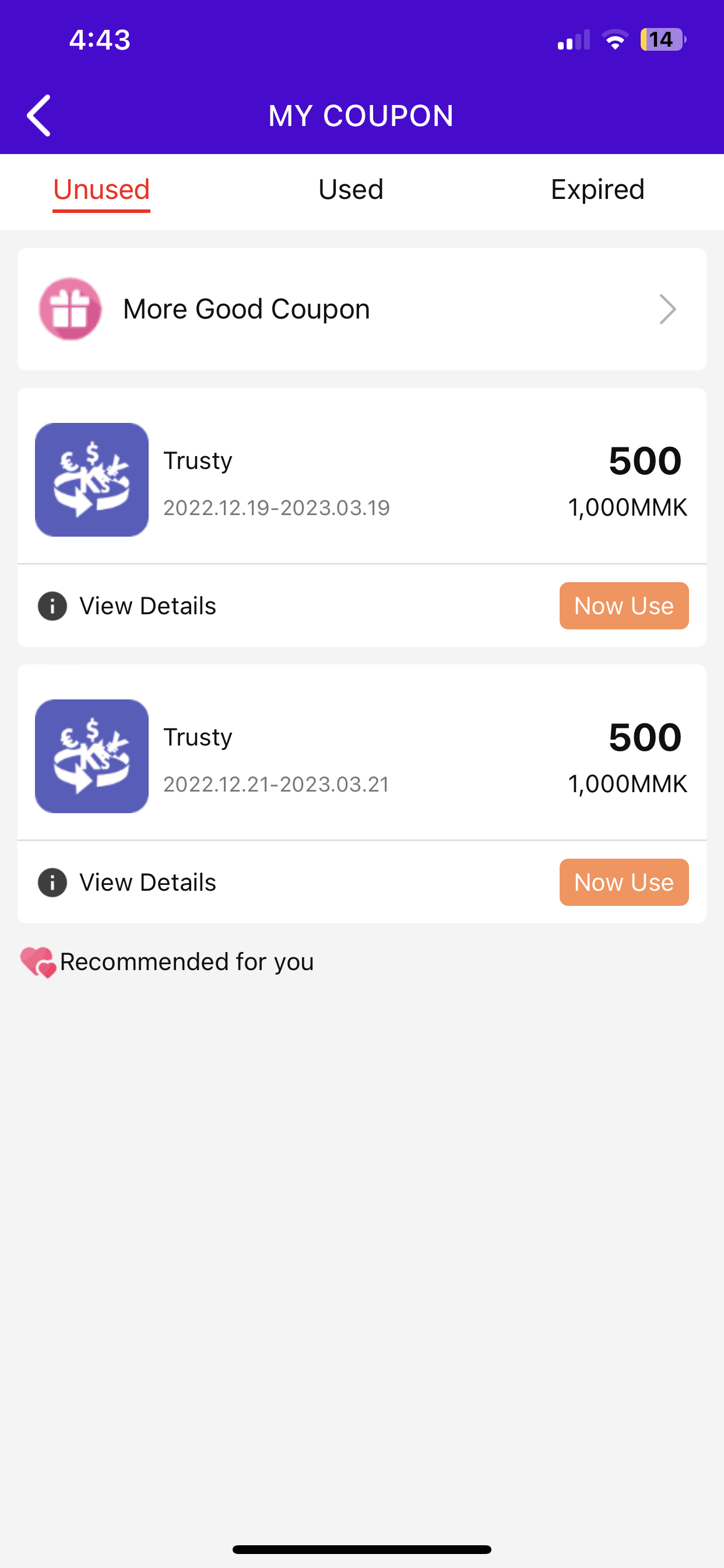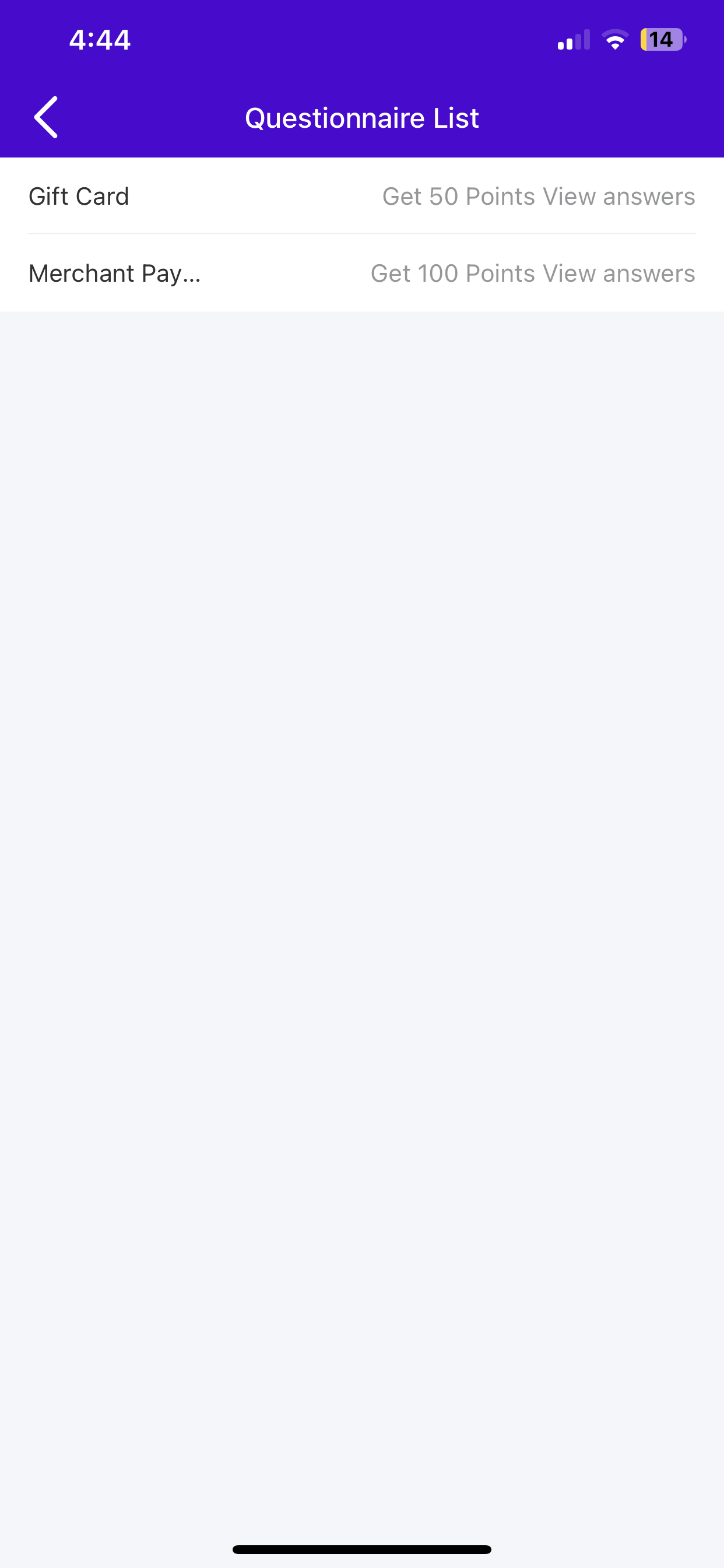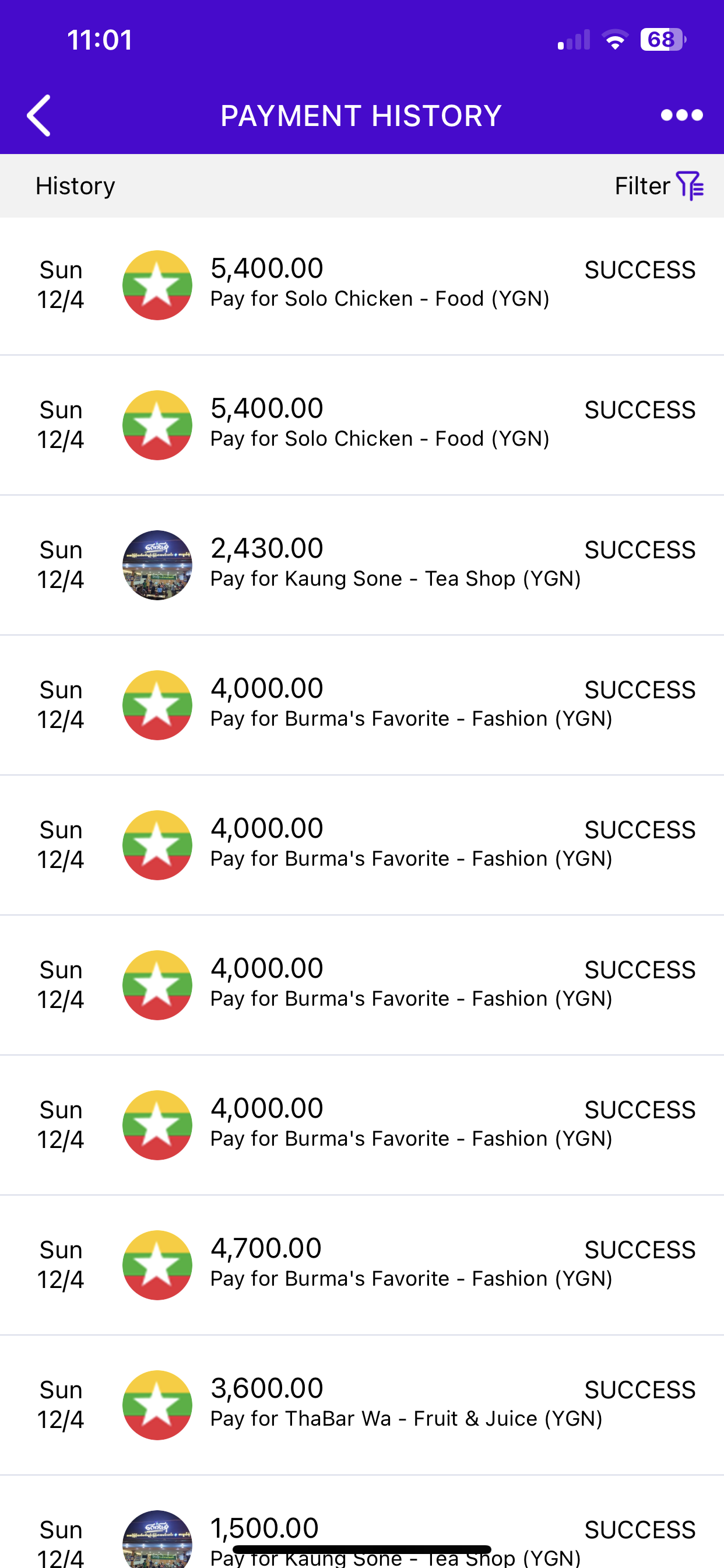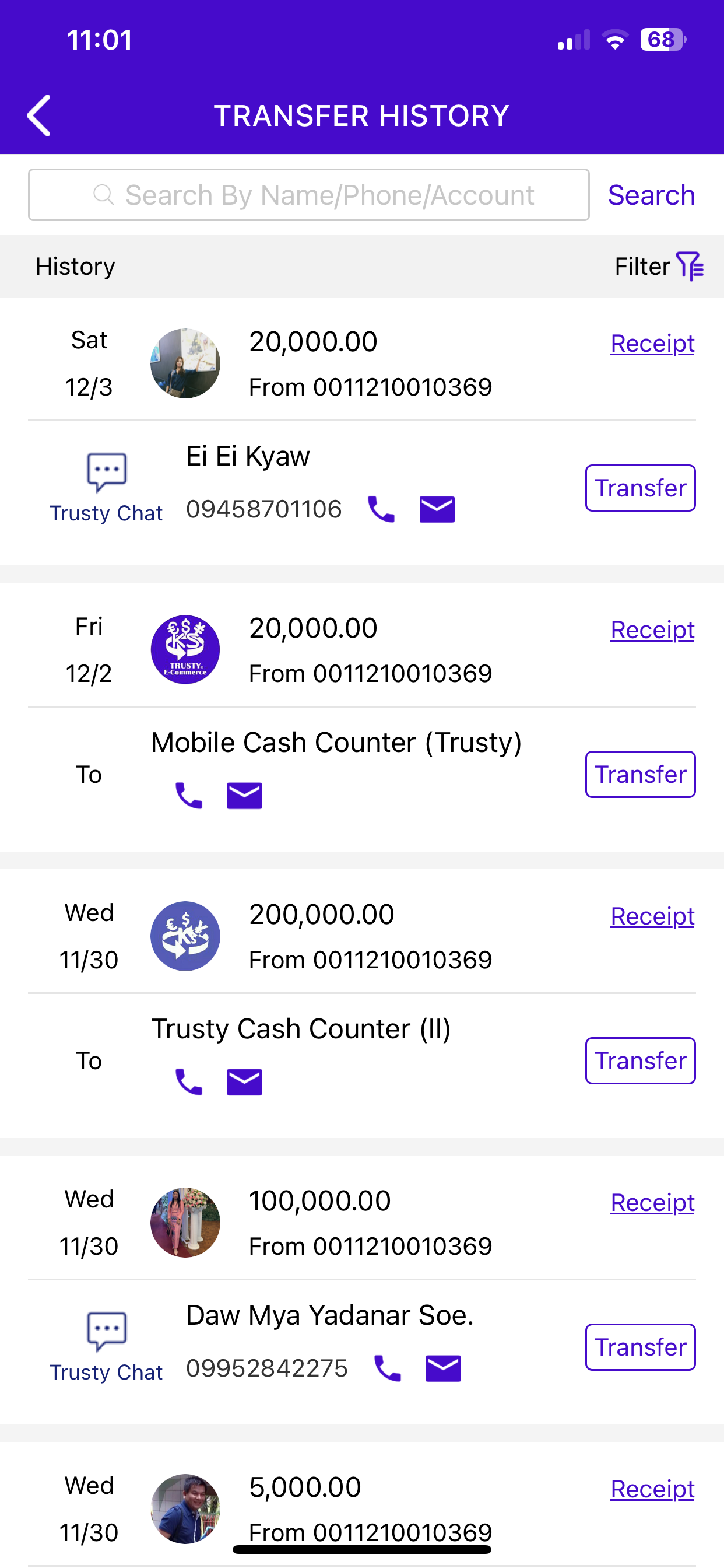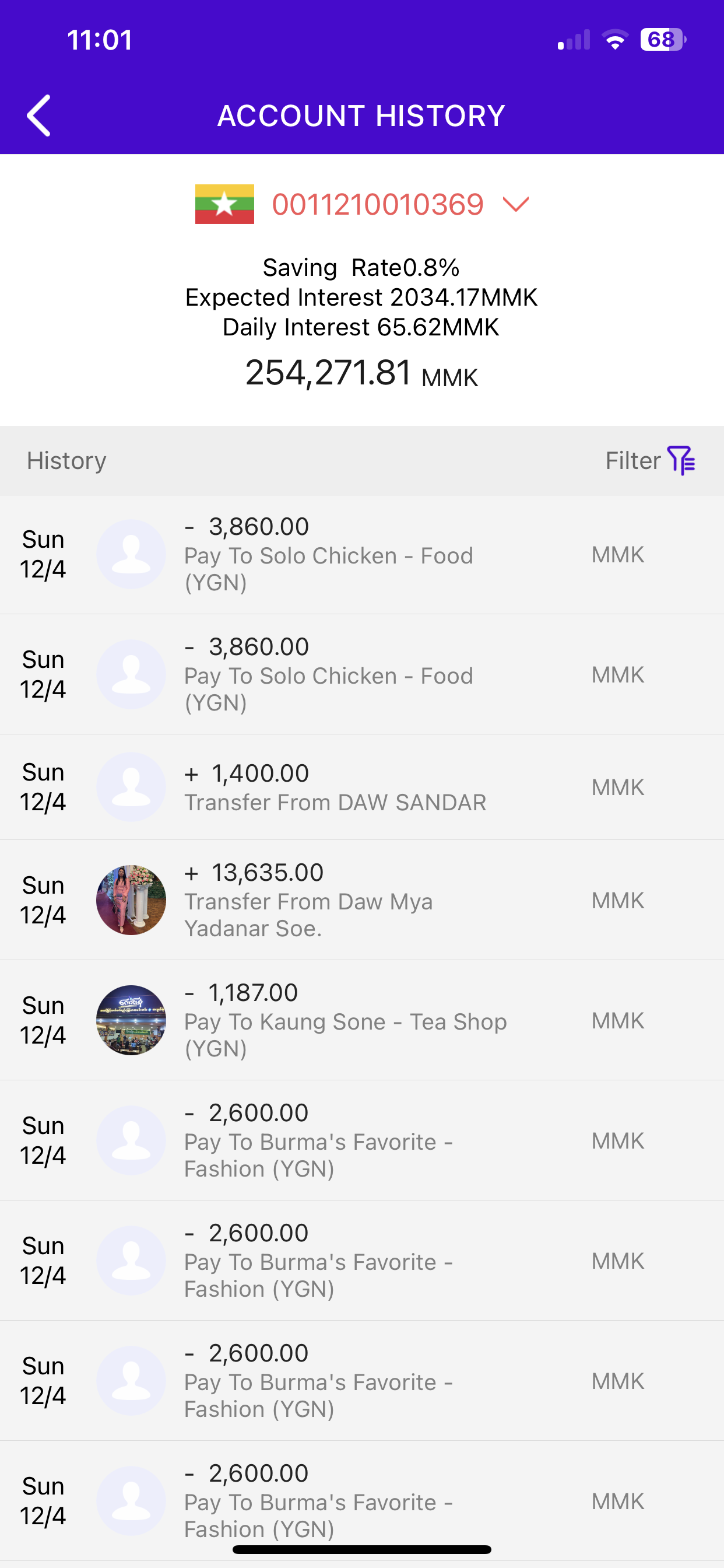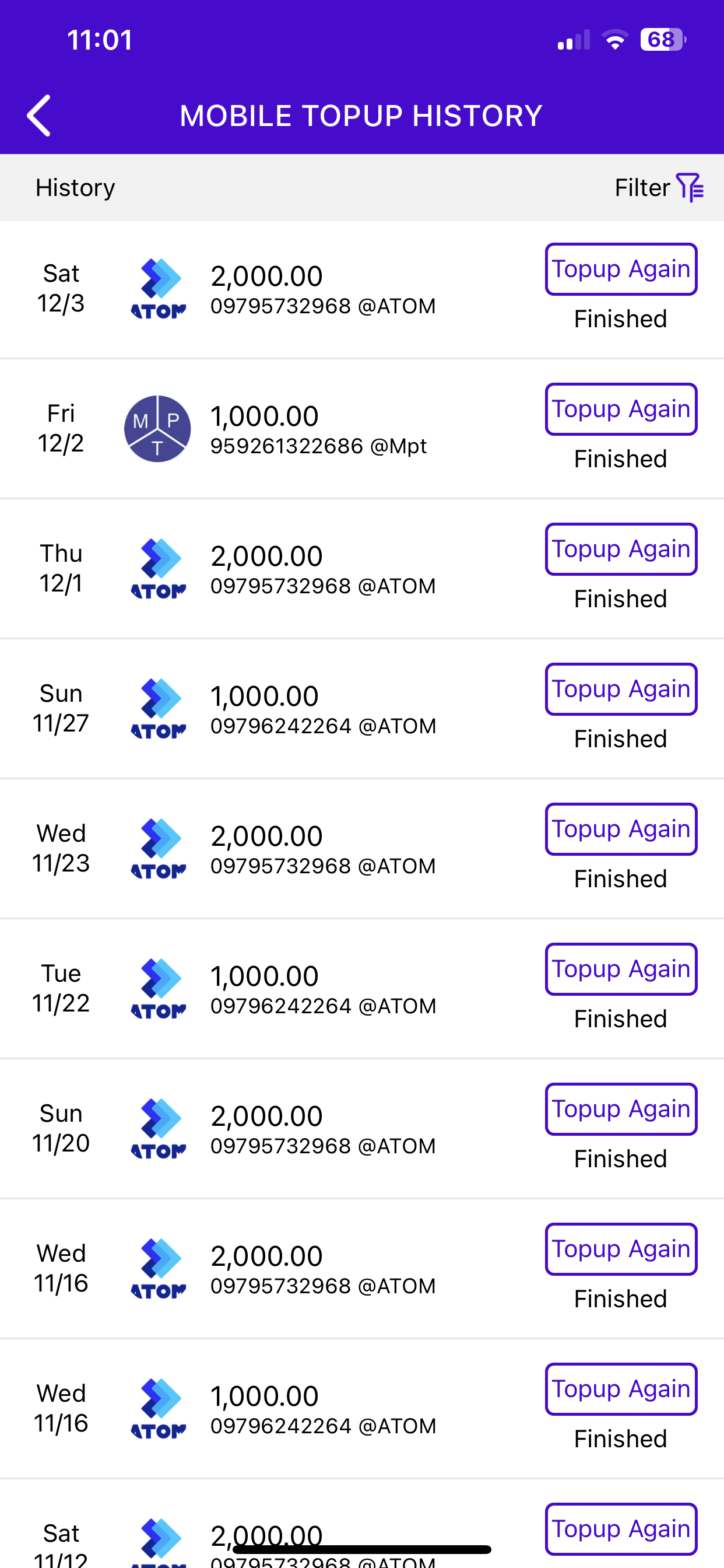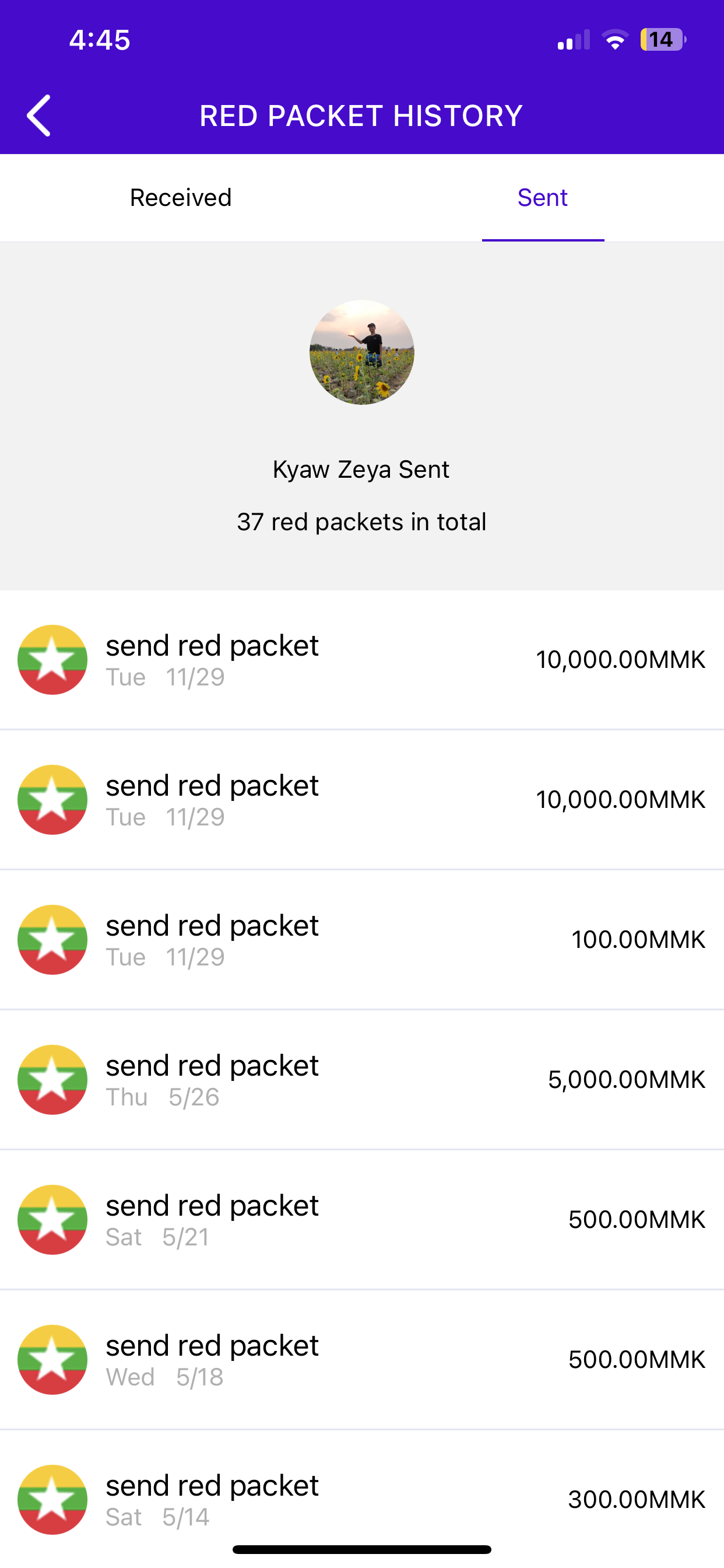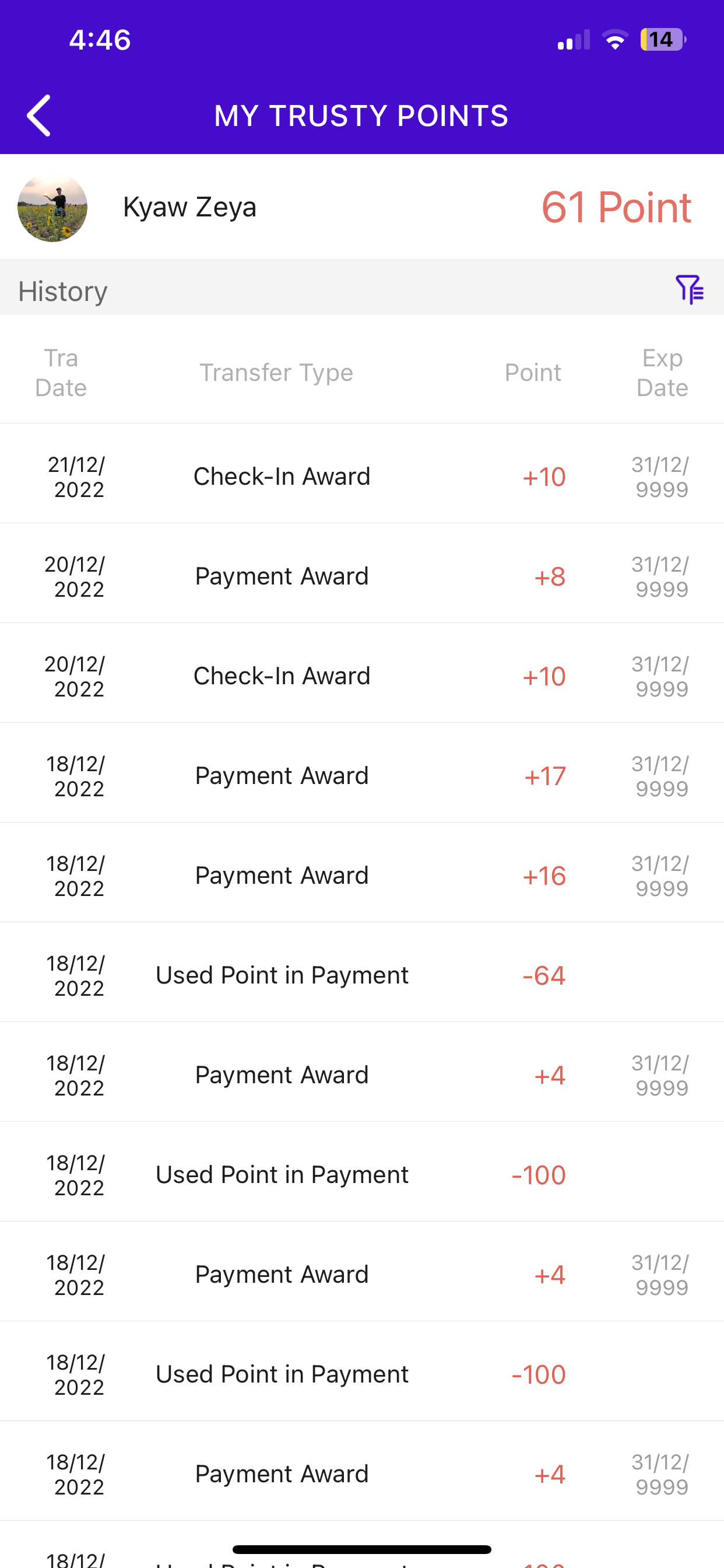 Close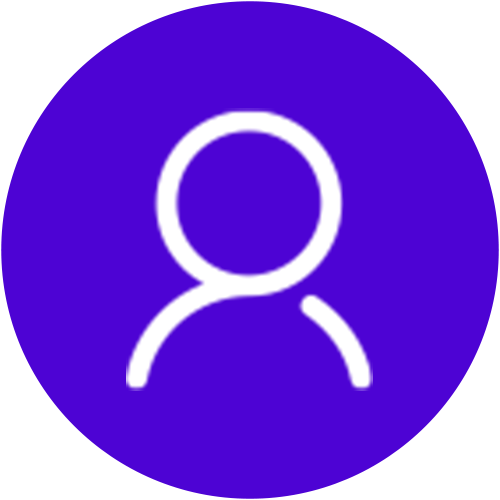 Me
You can use changing the account password, Device change, Finger Payment, or FaceID Payment in Me function. In addition, you can also use My Order List, TRUSTY Wallet balance and the functions that have been used recently. Collecting coupons and you can review Account History, Transfer History, Payment History, Mobile Topup History, etc.
TRUSTY E-Commerce is a mobile payment software that allows you to pay easily, quickly, securely and enjoy special discounts.  Each Trusty user can buy and spend at the cheapest rates at Merchant shops such as restaurants, hotels and goods stores. 24-hour financial services are available through the Trusty Mobile App and all service charges and management fees are free. You can make purchase and payments with just one phone without having to carry a lot of money…
What can we help you find?
Useful Tutorials of TRUSTY APP

Have you upgraded the TRUSTY app to Level 2 by changingyour Real Name? For a more reliable security system, it is onlyavailable after upgrading to Level 2. So, plsease raise Level 2 afteropening a TRUSTY account.

When you need to Change Device
Here is the way of how to change Trusty account from one device to another.

If you forget your TRUSTY password
When you forget your password to login your TRUSTY account,it's convenient and easy If you follow the steps in the video to get back into the account, you can easily login back.


TRUSTY to
TRUSTY
free transfers

Easily and quickly
to make payment


Transaction
history
up to 1 year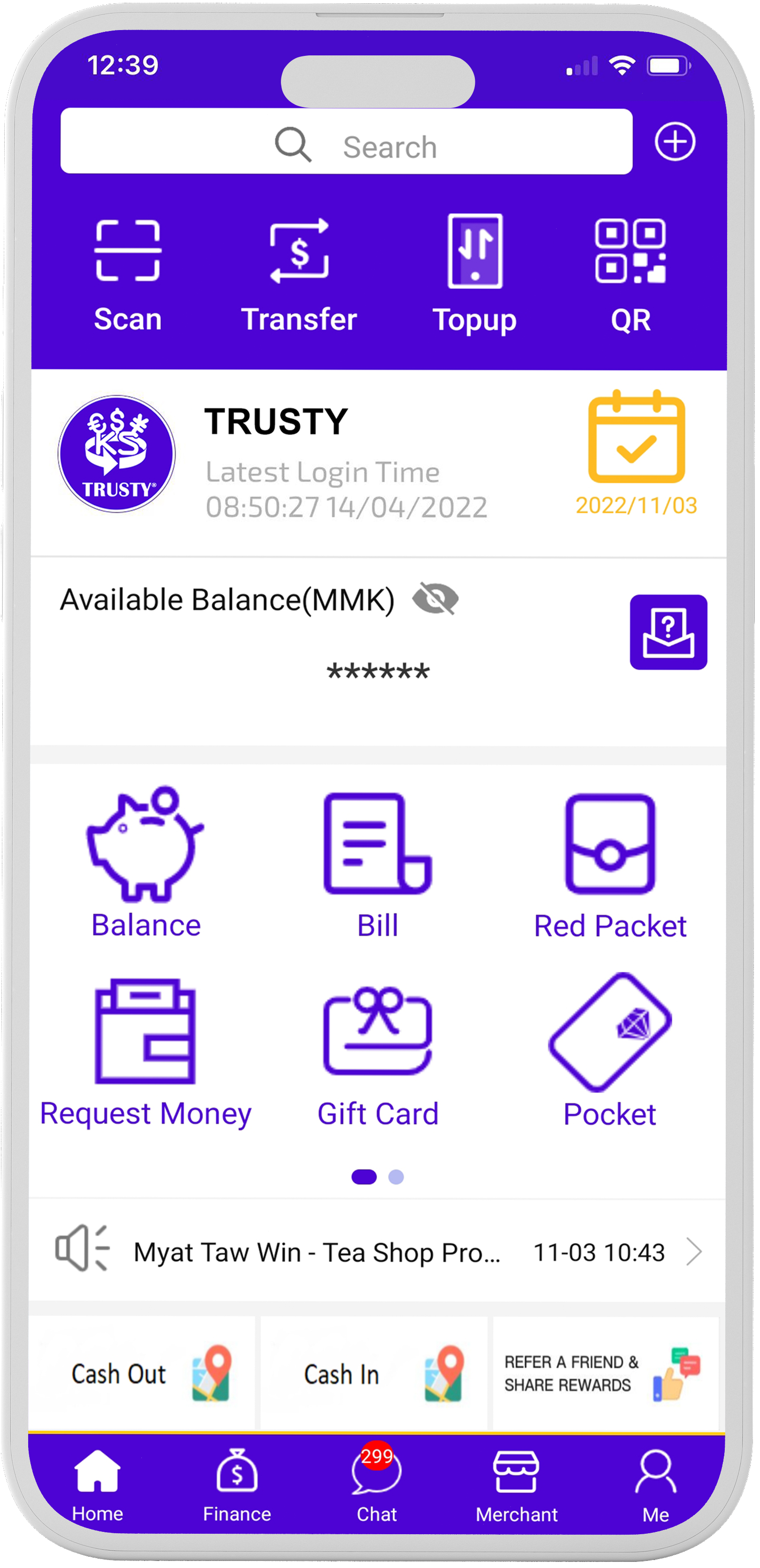 Cash in from CB Pay account to TRUSTY account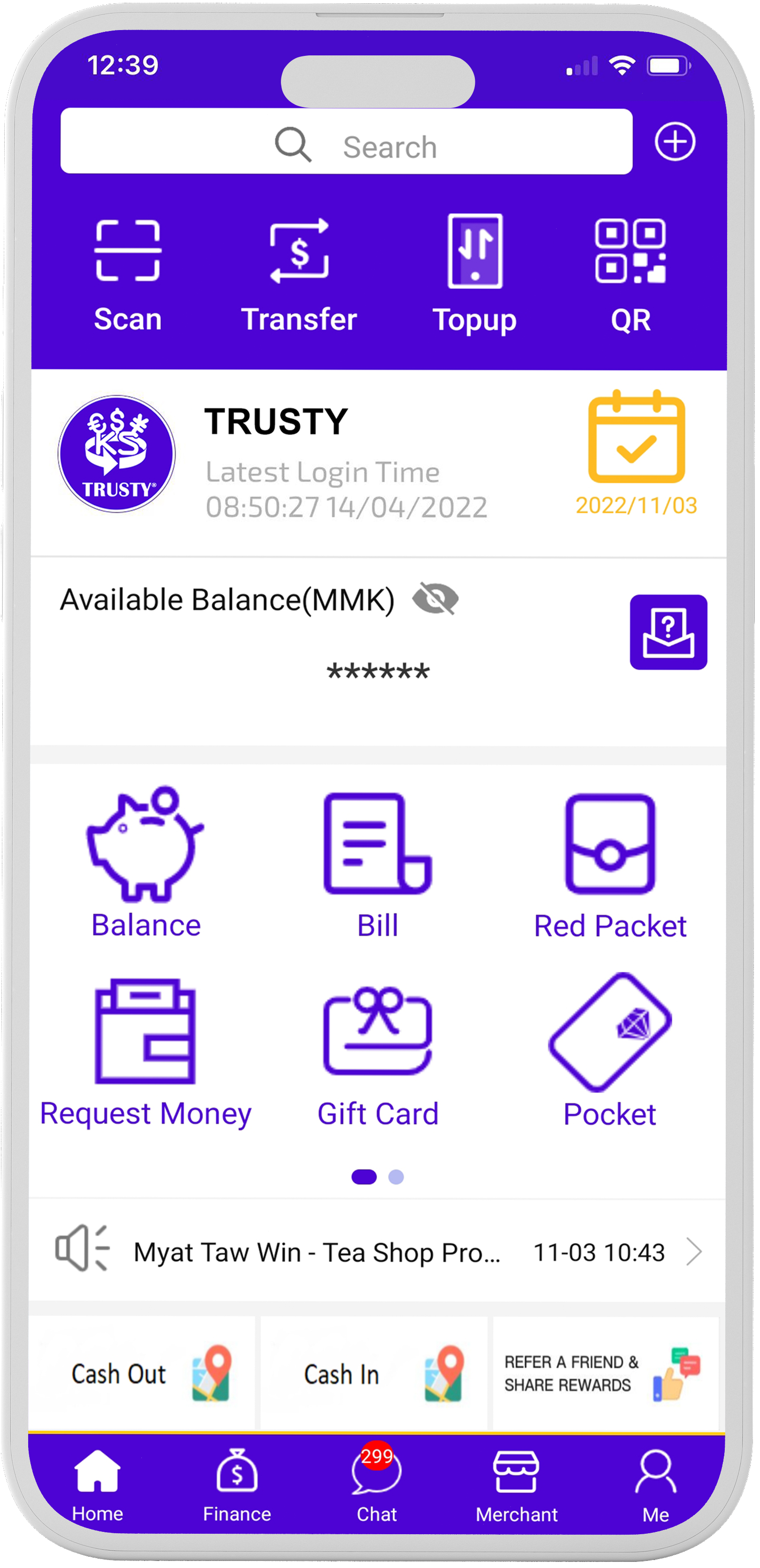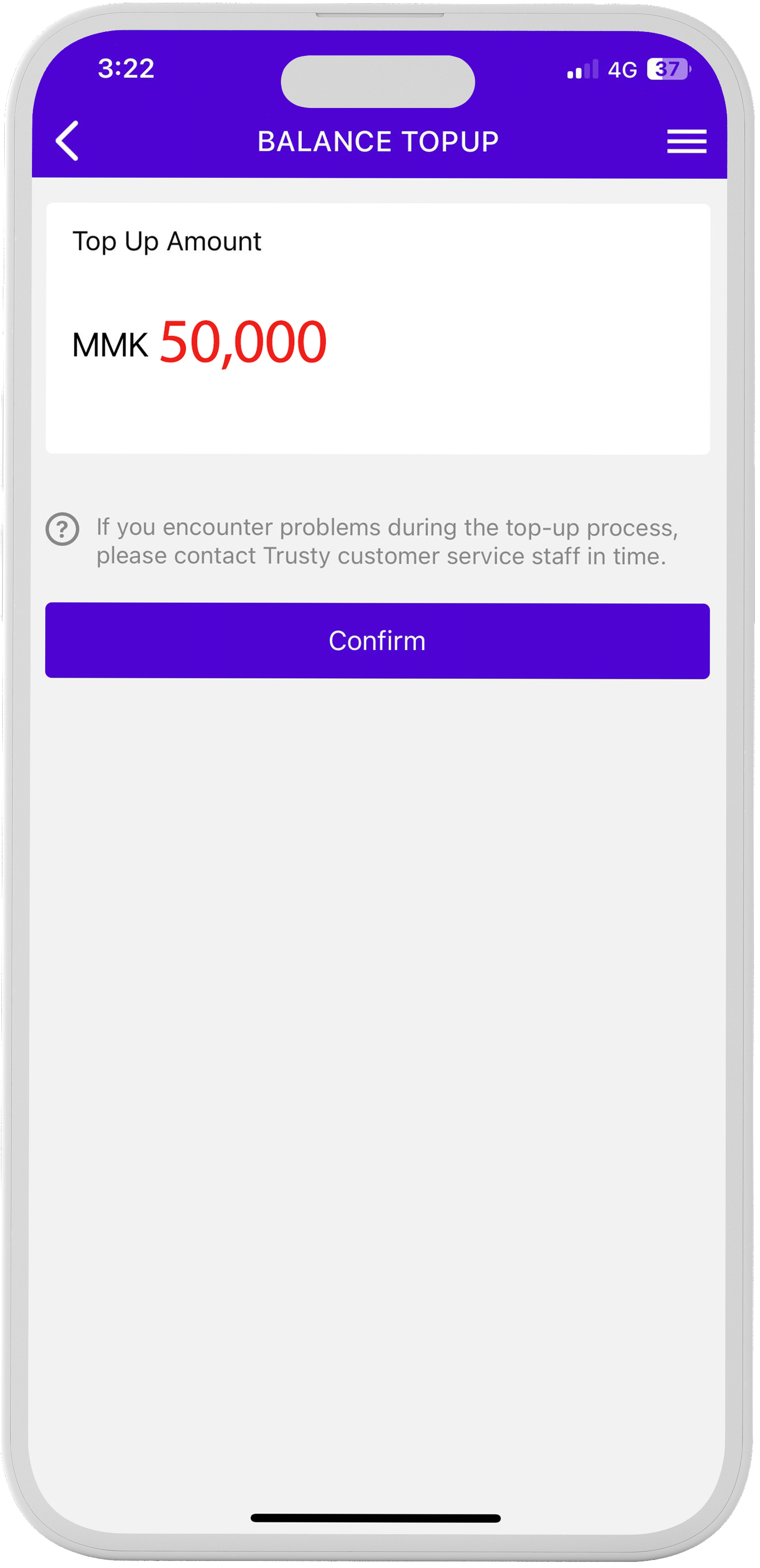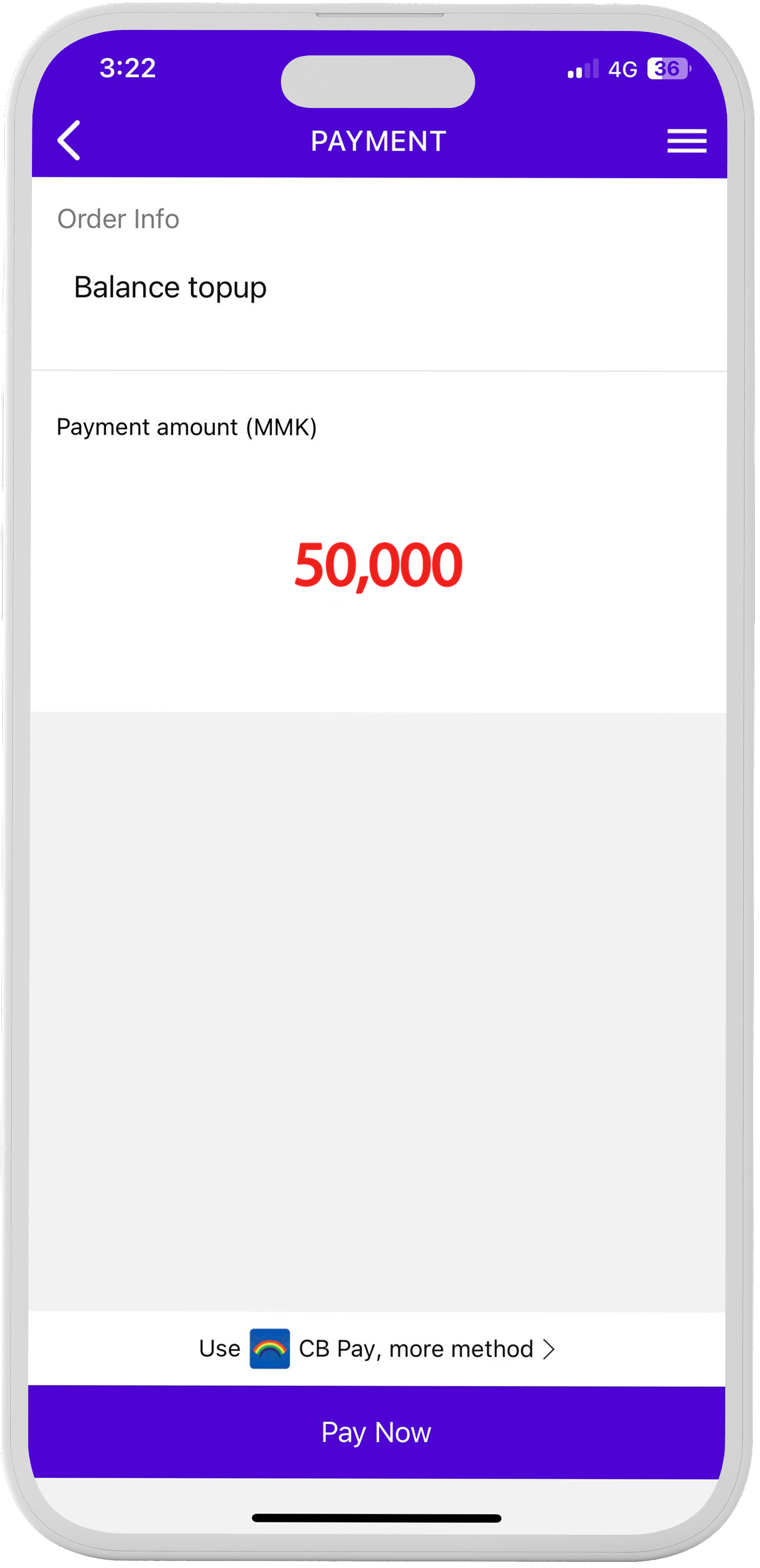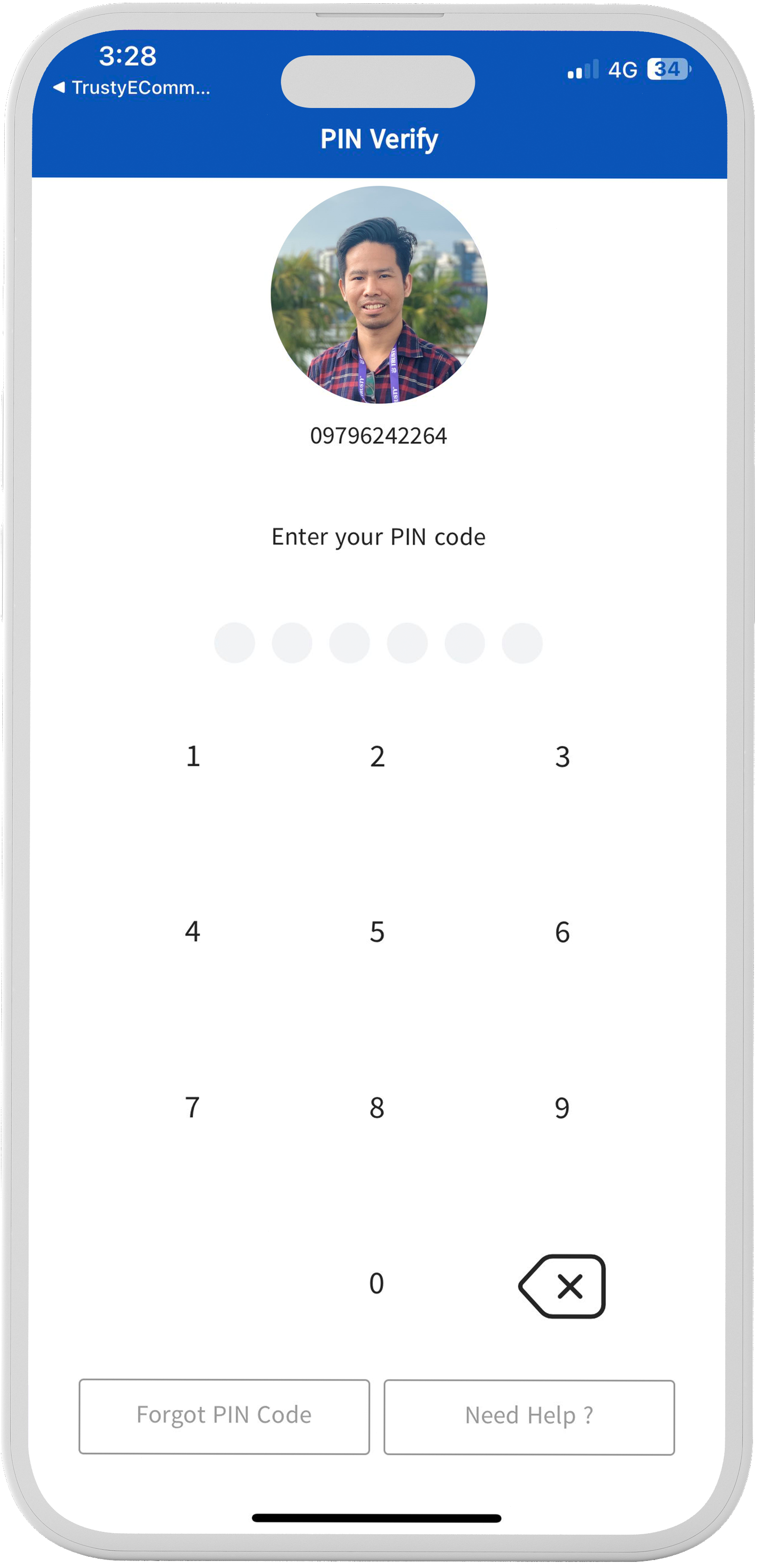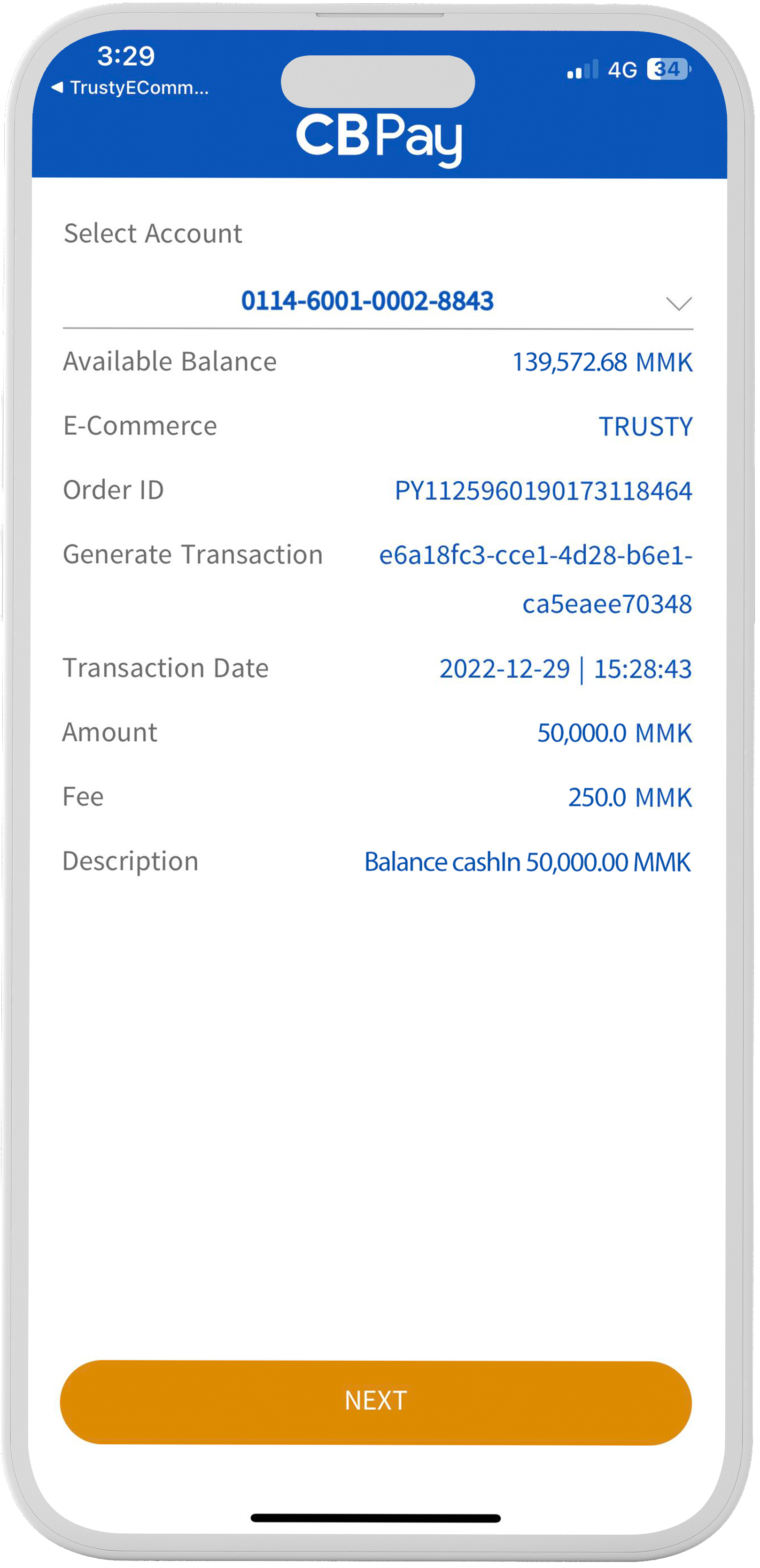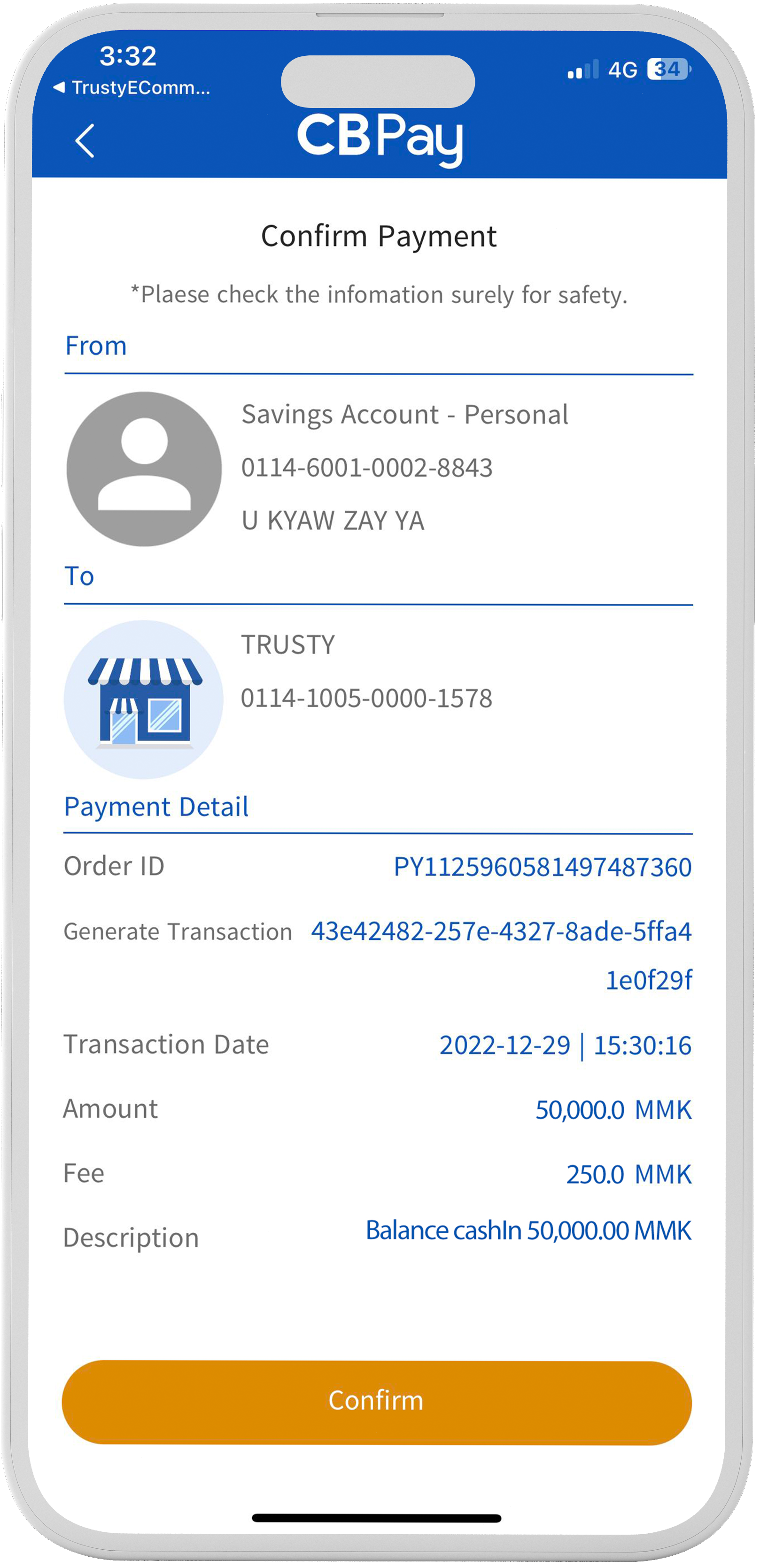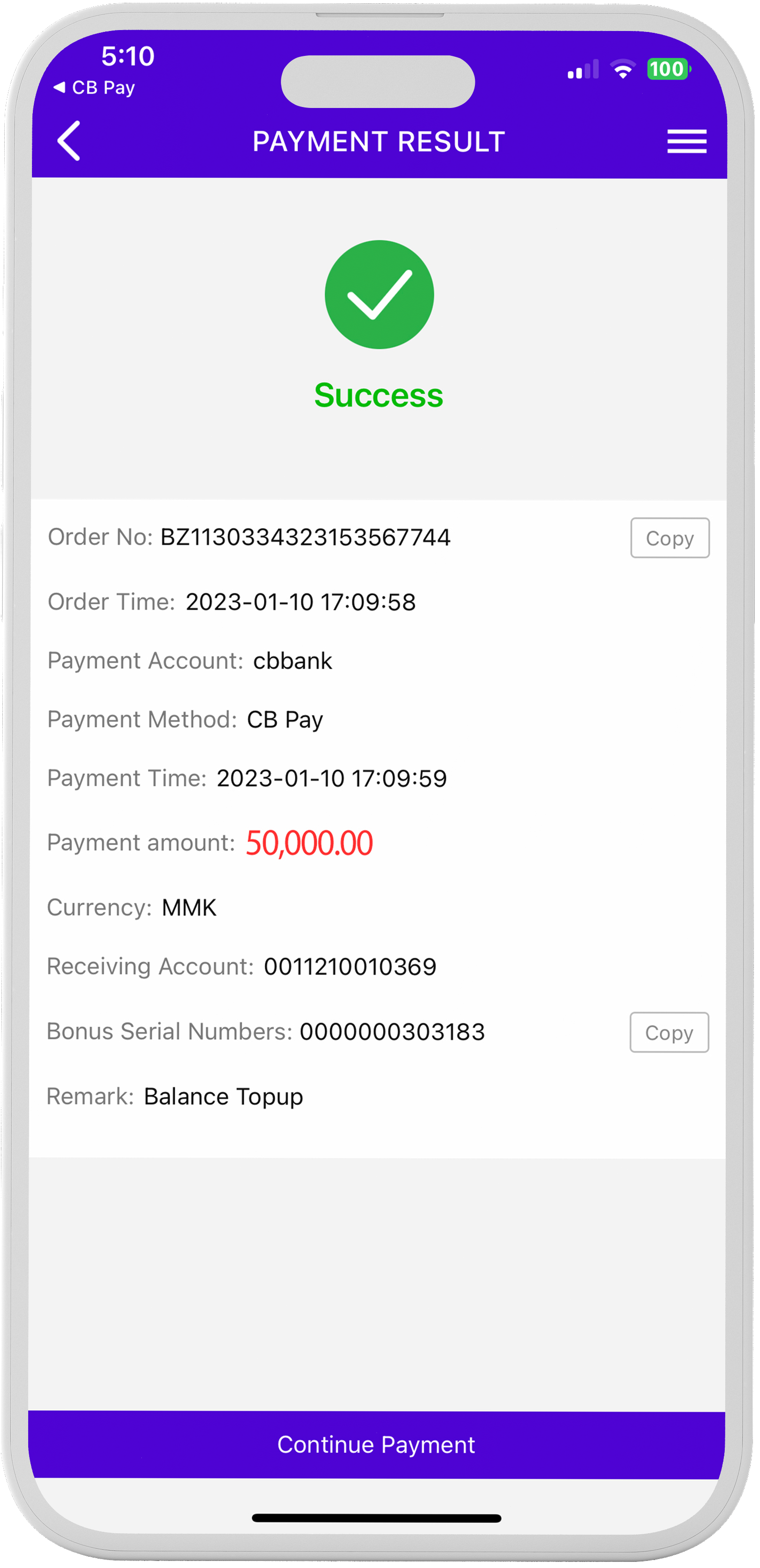 If you want to cash in from CB pay account to TRUSTY APP, you need to have CB Pay account
You can check the transaction at Account History "+" icon from home page of TRUSTY app
Cash in from MPU Card to TRUSTY account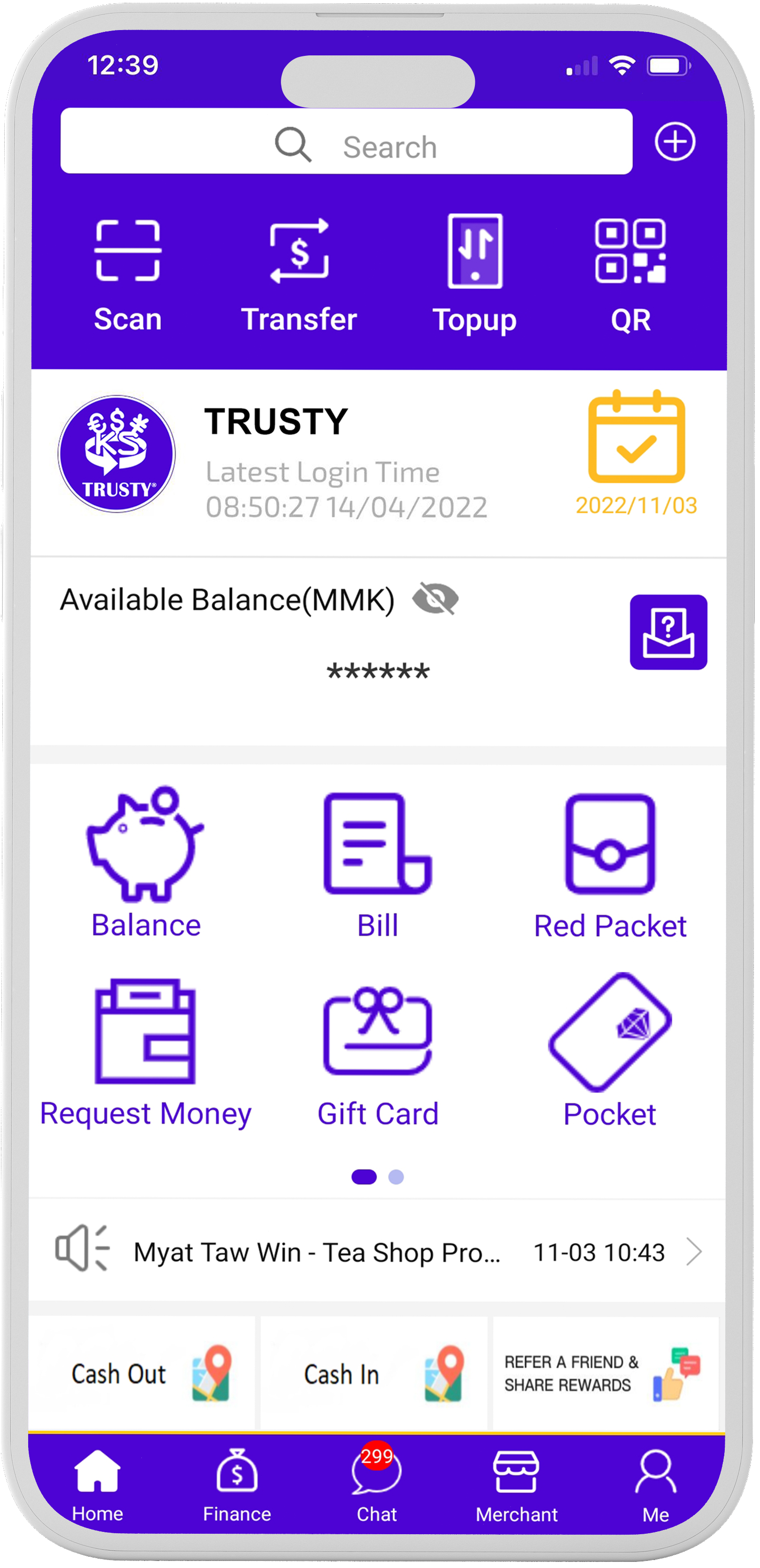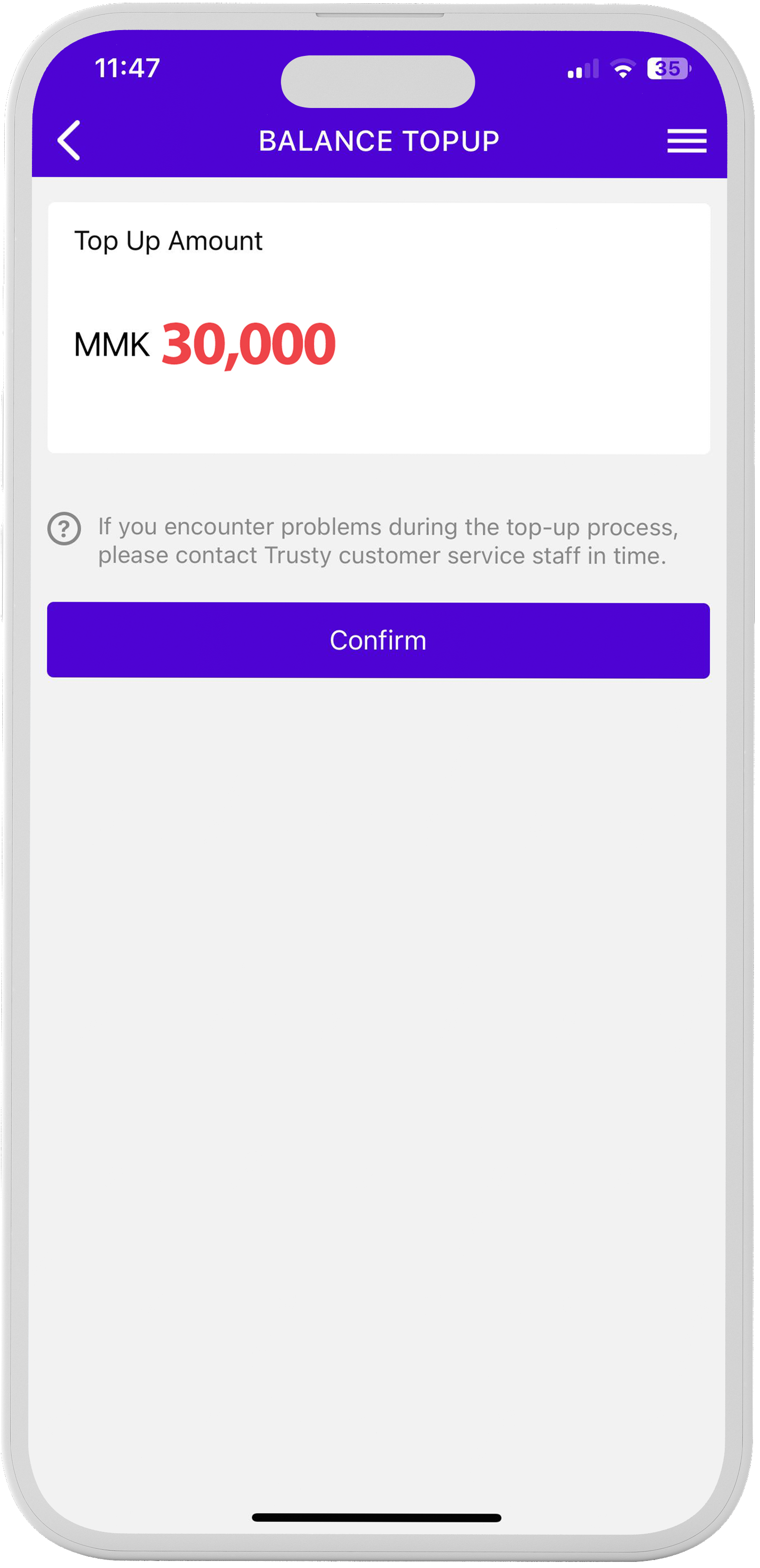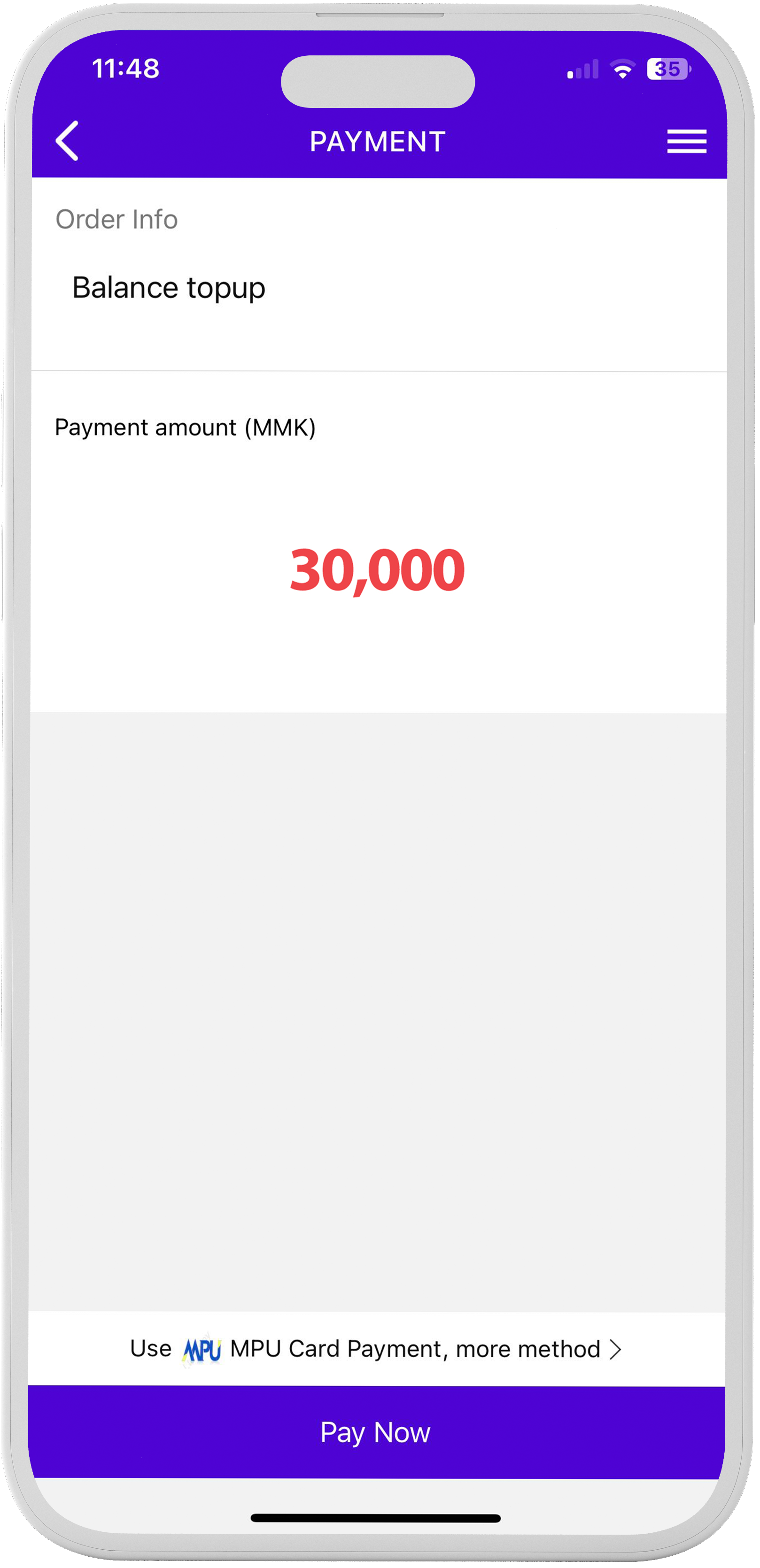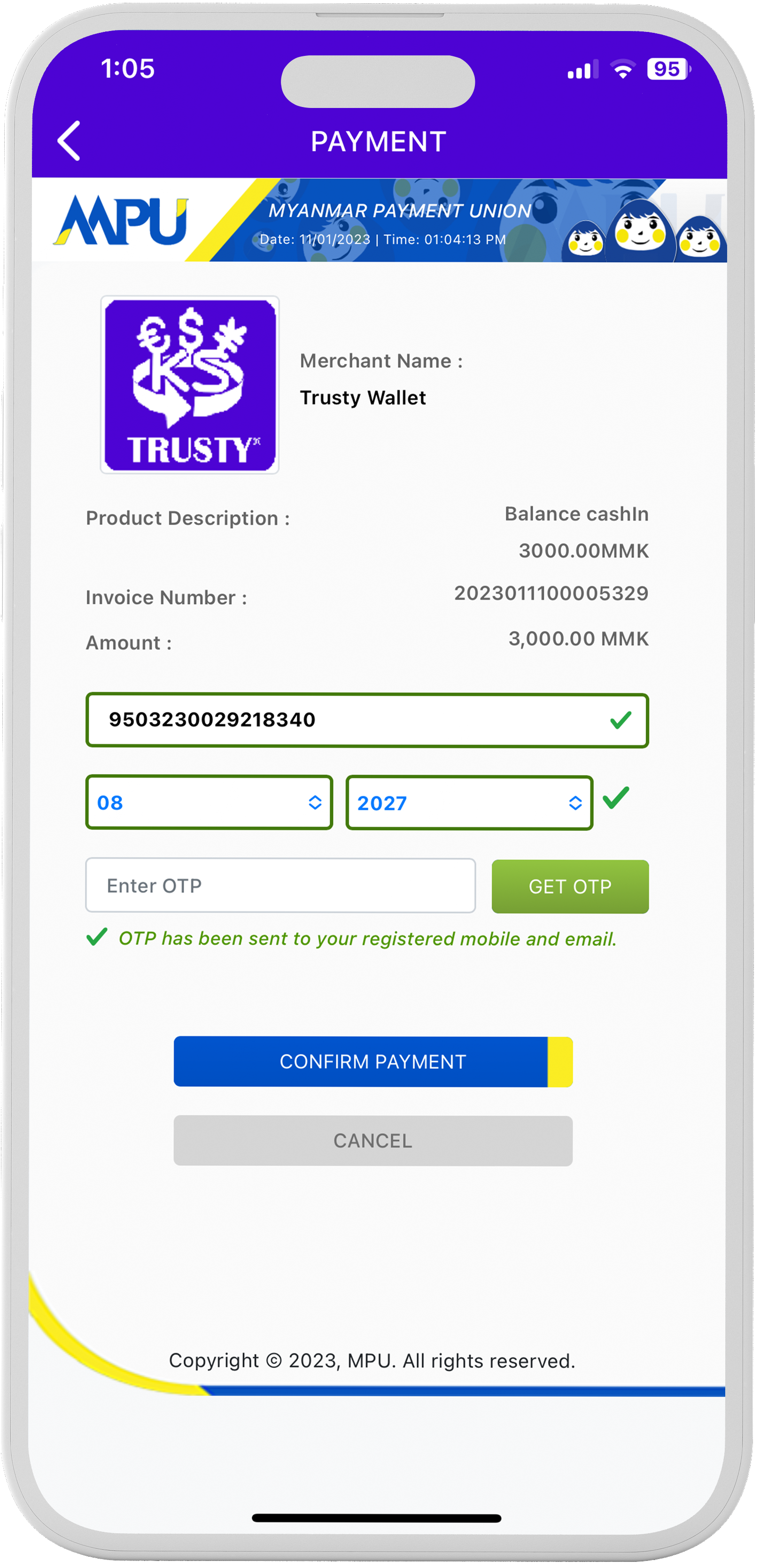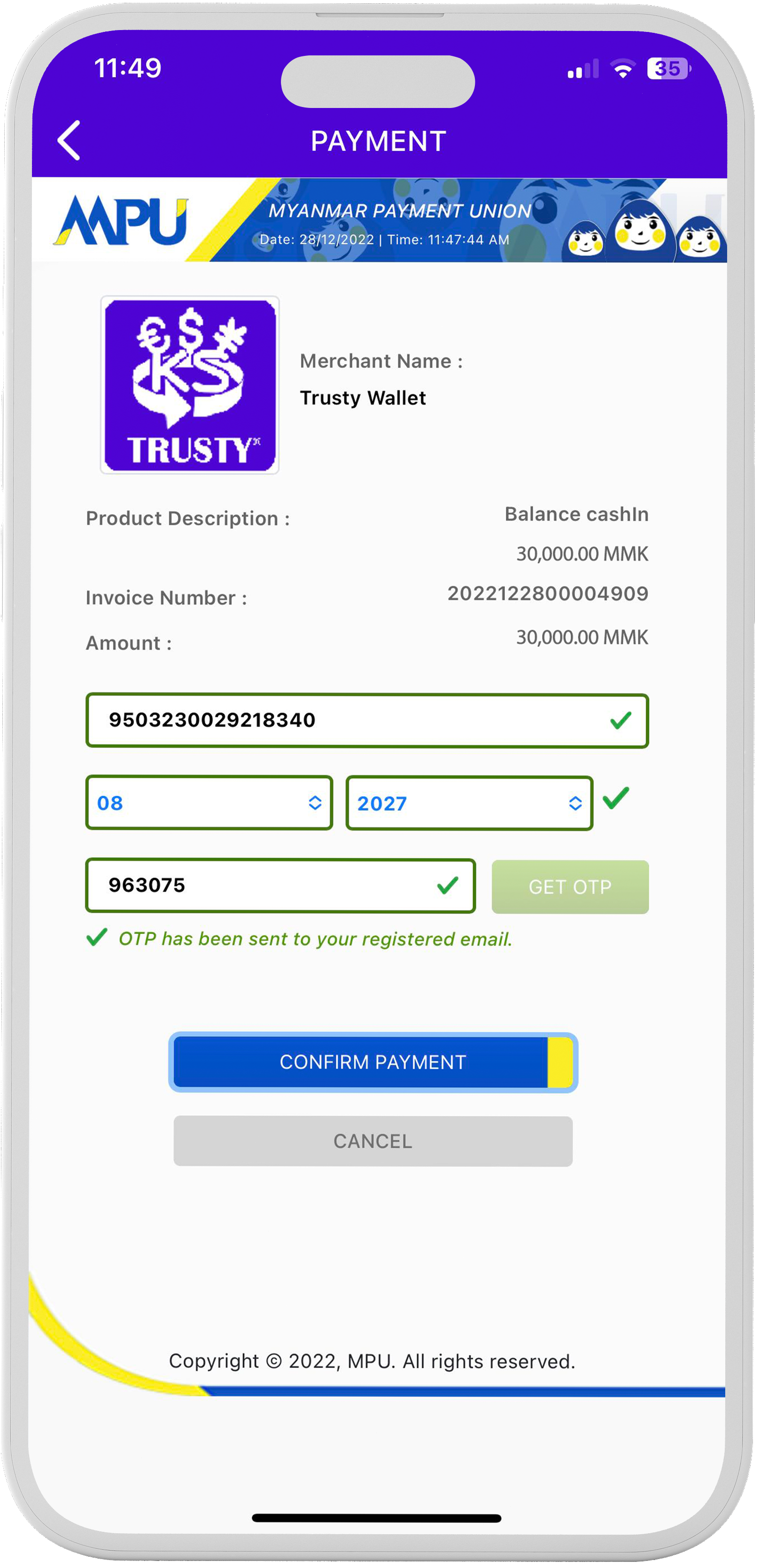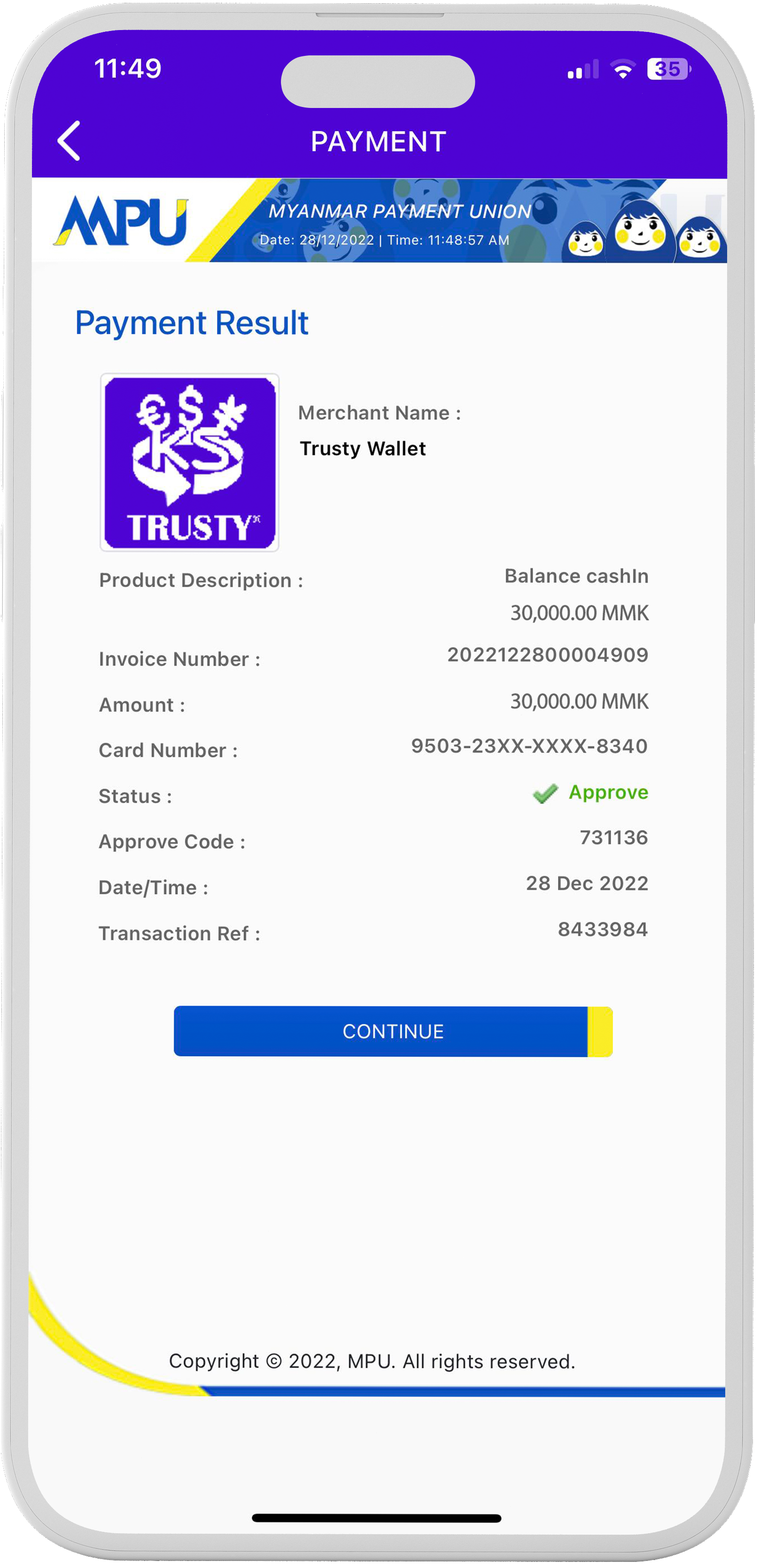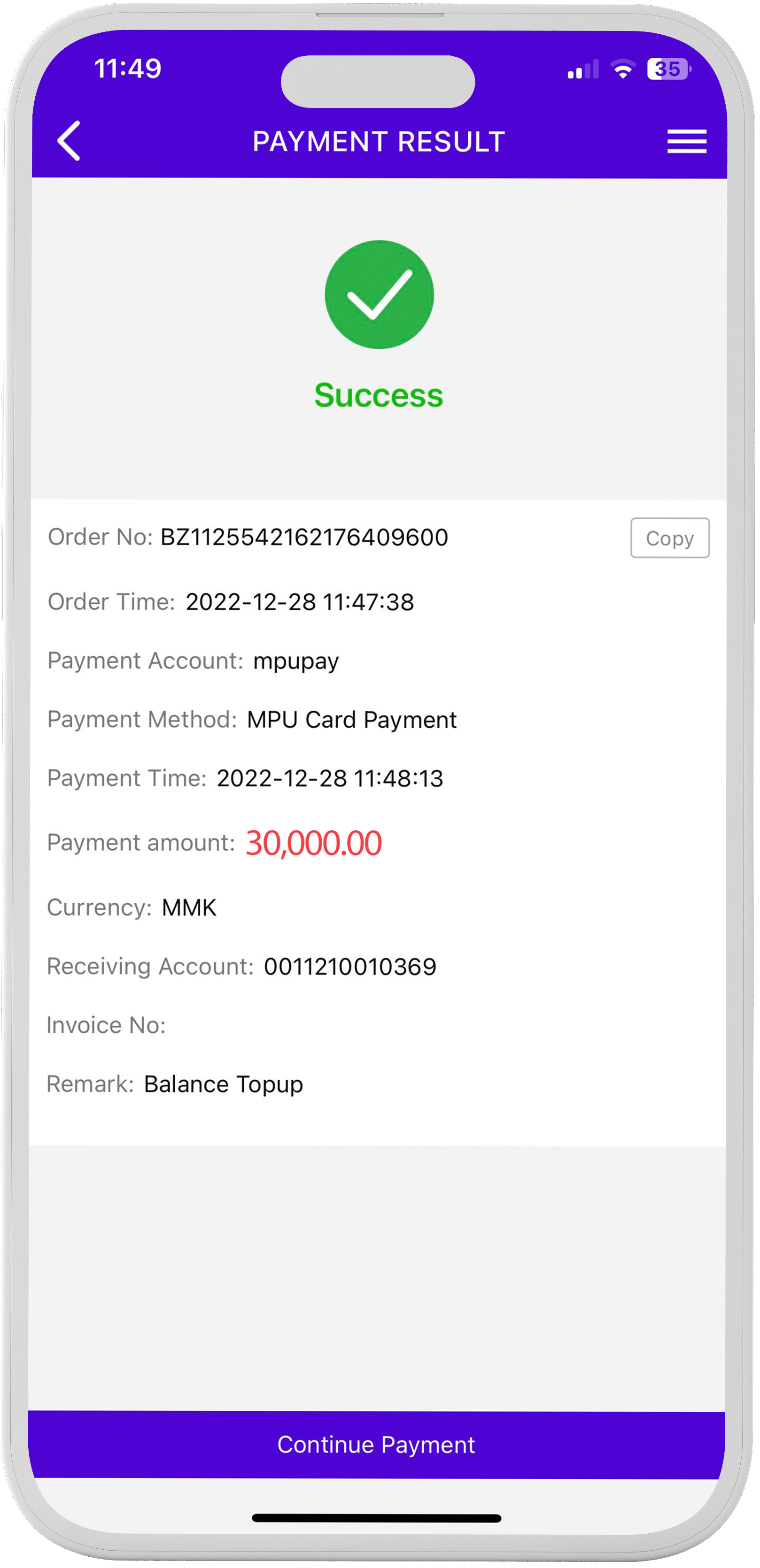 Your MPU must have Ecommerce applied to deposit money from mpu card to trusty app
You can check the transaction at Account History "+" icon from home page of TRUSTY app

200,000+
Active users

2,650+
Merchants

3 M+
Transactions

350 B+
Total Transactions Volume
OUR MERCHANT SHOP